Emilia Clarke Gave 'GOT' Fans QUITE The Hint About The Series Finale At The Oscars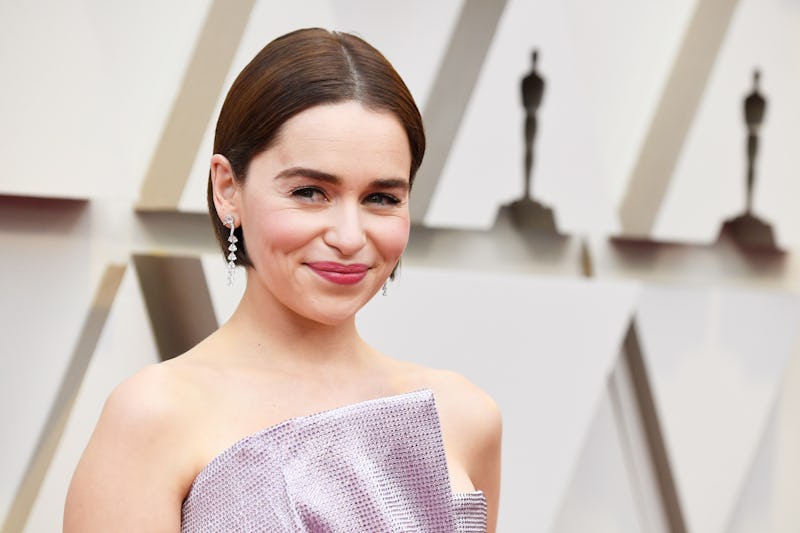 Frazer Harrison/Getty Images Entertainment/Getty Images
Game of Thrones fans are gearing up for an emotional series finale, but the HBO series apparently has some tricks up its sleeve, according to Emilia Clarke. For the series finale, Game of Thrones Season 8 is clearly planning on going out with a bang instead of a whisper. When asked what she could tease about the finale on the Oscars red carpet, Clarke gave quite the hint.
"Shock," Clarke told Ryan Seacrest when he asked what the reaction would be to the series finale. Not closure, or pleasure, enthusiasm, or catharsis — as Seacrest noted. Shock. Yikes!
"It's going to be huge," she added. "That much everyone needs to know. It took us a long time to film this one for a very good reason. But I think there's going to be some things... I know there's going to be some things in this last season that will shock people."
The fantasy series is known for shocking twists. However, previous twists like Ned Stark's death in Season 1 and the Red Wedding in Season 3 came directly from the source material. This time around, George R. R. Martin's books can't help us prepare for whatever carnage or surprises are to come.
Also — pay attention to the fact that Seacrest asked about the final episode, but Clarke's answer was about the last season. We don't know for sure that Daenerys even makes it to the series finale.
I want to know what the "very good reason" is for taking so long to film Season 8, as well. Is it just because winter came, and they could only film during snowy months, or is something else afoot? What exactly took so long? There could be a lot of special effects, more than usual, now that the White Walker army has broken through the Wall and invaded Westeros. The fact that Daenerys is also in Westeros, and interacting with the main characters, means that her dragons have more screen time and more work to do as well. However, that wouldn't necessarily affect the shooting process.
There's also the possibility that Game of Thrones Season 8 could include some time travel, thanks to Bran's powers as the new Three-Eyed Raven. What happened to Hodor could happen to anybody if the youngest Stark isn't careful — we can't forget that happened! That would certainly be shocking, and trippy to boot.
Clarke is not the only cast member to warn fans about what's coming down the pike in Season 8. Kit Harrington called it groundbreaking, and said that his wife and former GOT cast member Rose Leslie gave him the silent treatment after hearing what happens. Sophie Turner has called it both satisfying and divisive. What the heck have they been filming?
The final season of Game of Thrones will finally be in front of our eyeballs starting April 14, 2019 — so get ready. Is it possible for fans to figure out all of the shocking twists before they happen? Challenge accepted, I say. Who's going to end up on the Iron Throne? Will there even be an Iron Throne? We truly have to prepare for anything as this epic saga comes to a surely epic end.