Eminem Has Actually Been Anti-Trump For A While & You Just Didn't Notice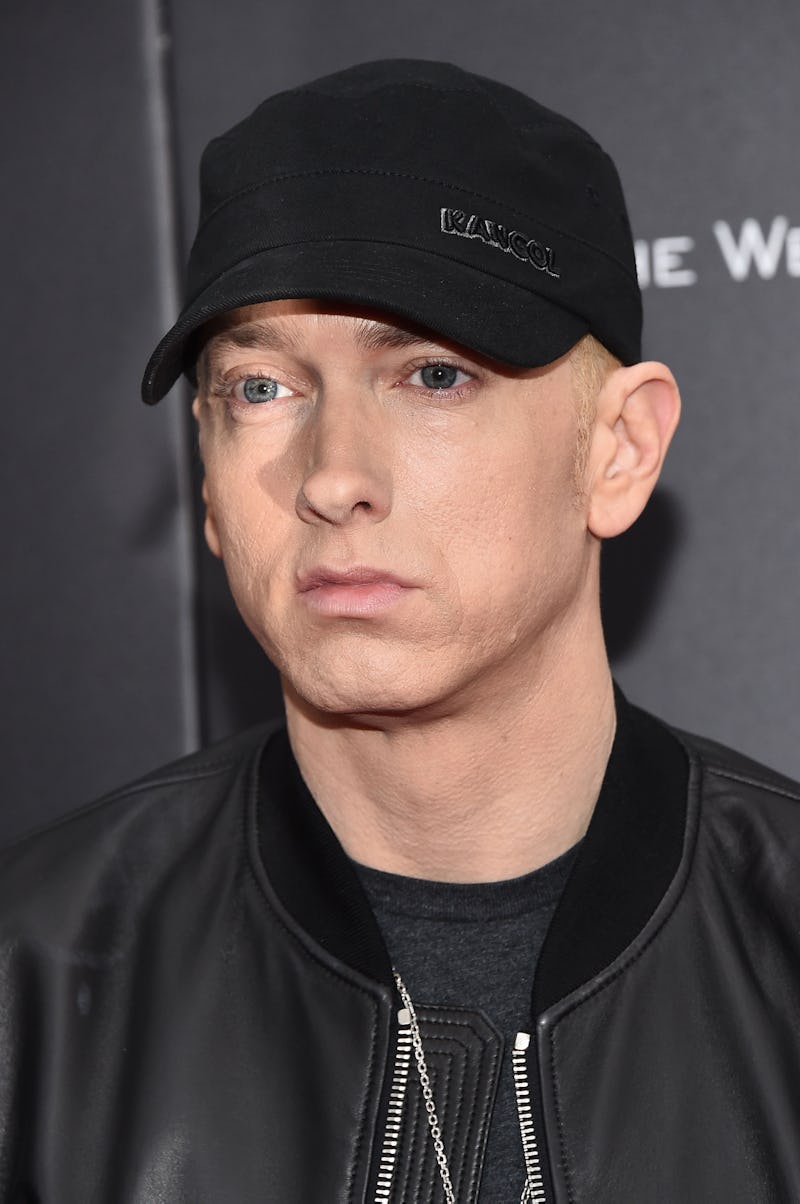 Michael Loccisano/Getty Images Entertainment/Getty Images
For the first time since 2011, Eminem performed on the BET Hip Hop Awards. And as you likely already heard, the Real Slim Shady used his time to throw shade at President Donald Trump. From a parking garage in Detroit, Eminem called out Trump in a blistering four-and-a-half minute a cappella performance known as "The Storm." The rapper condemned the president and his actions, or more specifically, his inaction. He also went after Trump supporters. Ultimately, Eminem's Trump freestyle asked his fans to choose sides. Yet whether you realize it or not, Eminem has gone after Trump before, often using Trump's own words against him.
This time, Eminem really got a reaction for his diss track. Billboard reported that more than 2 million people tweeted about Eminem's BET cypher. The politically charged freestyle had people split down party lines with support coming from LeBron James, Ellen DeGeneres, and Colin Kaepernick, who Eminem raised a fist for. "I appreciate you Eminem," Kaepernick tweeted. Meanwhile, Trump supporters weren't too happy with Eminem's expletive-filled takedown of the current POTUS. Some called Eminem a hypocrite for condemning Trump's extravagance while he's a wealthy entertainer himself. Others vowed to never listen to Eminem again.
With such a split, it's worth taking a closer look at Eminem's criticism of the president, especially since the two seemed to be on good terms back in 2004 when Trump made a cameo in the Eminem MTV concert special, The Shady National Convention. Trump even jokingly endorsed Slim Shady as a presidential candidate during the special. "Donald Trump is telling you right now Slim Shady is a winner," Trump said then. "He's got brains, he's got guts and he's got Donald Trump's vote."
However, Eminem wouldn't show the same support during the 2016 election, and he wasn't the only rapper who went after Trump. According to CNN, between 1989 and 2016, Trump was mentioned at least 318 times in rap lyrics, but after announcing his candidacy for president, 83 songs between 2015 and 2016 mentioned Trump, most of which criticized him.
Over the last two years, Eminem has come up with various ways to go after the man who's said he's going to Make America Great Again. Take a closer look at how Eminem references Trump's worst moments over the past two years.