Emma Watson's Response To Her "Time's Up" Tattoo Typo Is Actually So Chill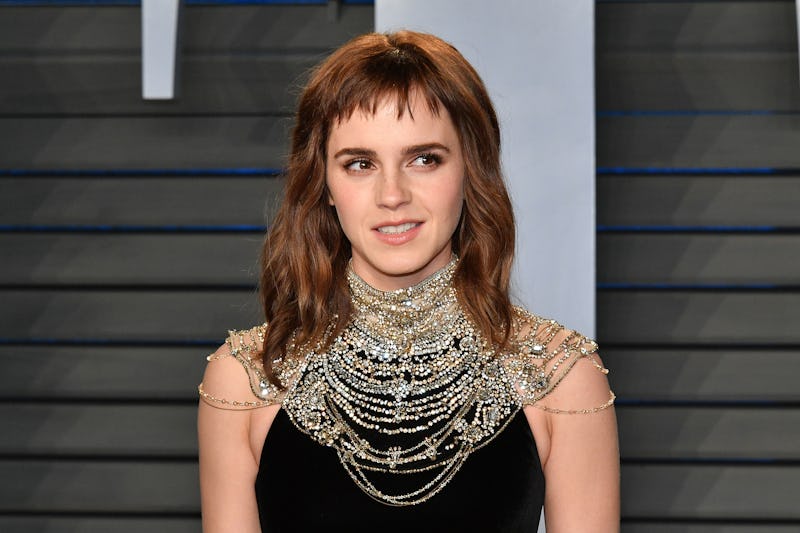 Dia Dipasupil/Getty Images Entertainment/Getty Images
At the 90th annual Academy Awards on Sunday, one actress you probably know sported a temporary "Time's Up" tattoo to show her support for the movement. However, many noticed that something was off about her tattoo as pictures from her at the Oscars emerged online — the phrase "Time's Up" was missing an apostrophe. Emma Watson tweeted about her "Time's Up" tattoo typo on Monday, joking that she is looking for someone to assist her with "fake tattoo proofreading" and that "experience with apostrophes" is a "must."
The Time's Up movement was created in January 2018 by a small group of celebrities. It was designed to raise awareness of and help end "sexual assault, harassment and inequality in the workplace." The movement was announced on the Time's Up organization's website via an open letter. Its members have engaged in a variety of activities to raise awareness about the movement since this time, including donating funds to various causes as well as wearing white roses to the Grammys and black to the BAFTA awards. Members have also worn "Time's Up" pins attached to their outfits at industry events. Some, like Watson and her tattoo, have also chosen their own form of advocacy.
According to MetroUK, the goal of using fashion for advocacy is to raise awareness and secure funds for the organization. According to the outlet, in February, Time's Up recorded that it had raised $20 million thus far. Funds raised by the organization are used to help fund legal defenses for women fighting sexual harassment.
While Watson took a lighthearted approach to her tattoo typo by joking about it on Twitter, it's clear that she is very committed to advocating for women and helping to stop sexual harassment. In addition to her advocacy via Time's Up, last month Watson also donated $1.4 million (or £1 million) to the Justice and Equality fund, an organization based in her native United Kingdom that works to end sexual harassment and assault.
Watson has worked to spread the message about the Justice and Equality Fund online and asked others to donate to the cause. Indeed, she posted a photo of an open letter in The Guardian written by activists in the United Kingdom's Time's Up Movement on Instagram and implored others to help create positive change through the movement:
All of us are responsible for creating change, whatever industry you work in. We're asking everyone to help create a world we can be proud of - one that is safe, just and equal. Please join us and donate to the new Justice and Equality Fund, which will support frontline organisations that are working to end a culture where harassment and abuse are commonplace.
Together we can spread our message, support the strong people of all genders who are taking such personal risks, and make sure that this is one of those watershed moments in history where things never go back to the way they were before. This is the moment we stand together and say. #TIMESUP
Beyond her work with the Time's Up movements in both the United States and the United Kingdom, Watson also further contributes to women's advocacy by working as a United Nations Goodwill Ambassador. In this role, which she has held since 2014, Watson works as an advocate for UN Women's HeForShe campaign, which encourages men and boys to also be active participants in the worldwide fight for true gender equality.
Overall, Watson's tattoo faux pas may have (unintentionally) simply served to draw even more attention to the Time's Up movement and the need for gender equality. Moreover, her lighthearted reaction to the typo seems to render the star all the more impressive — she is very seriously committed to several important global causes, but also isn't afraid to make fun of herself when it seems fitting.