Emma Watson's Statement About Sexual Harassment Goes Beyond The Weinstein Allegations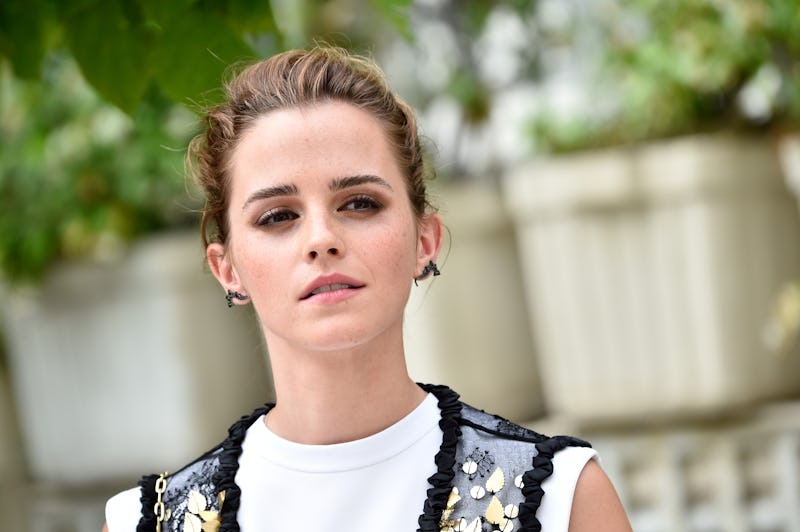 Pascal Le Segretain/Getty Images Entertainment/Getty Images
In light of the exposés surfacing in Hollywood, Emma Watson responded to the Harvey Weinstein allegations via Twitter on Tuesday. Last week, a New York Times investigation revealed decades' worth of accusations against Weinstein related to sexual harassment, which reportedly resulted in eight settlements. Then, on Oct. 10, The New Yorker published a feature that included interviews with 13 women, a few of whom claimed Weinstein allegedly raped them. (A spokesperson for Weinstein "unequivocally denied" these allegations.) On the same day, Gwyneth Paltrow and Angelina Jolie spoke about alleged harassment they claim they experienced from the movie producer.
Since the release of the Times and New Yorker pieces, Weinstein and his team have made several public statements. Weinstein told the Times about his commitment to "do better" and wanting a "second chance," while apologizing to those he hurt. And on Oct. 5, his then-lawyer Lisa Bloom posted a statement that her client "denies many of the accusations as patently false." That same day, his attorney Charles Harder revealed Weinstein's plan to sue the Times for "false and defamatory statements" about him. As a result of all of this, Weinstein was fired from The Weinstein Company and four members of his all-male board resigned.
The unfolding story clearly affected Watson on a deep level, not only as a woman, but as an entertainment industry worker and a U.N. Women Ambassador. On Tuesday morning, the actor tweeted the following statement,
"I stand with all the women who have been sexually harassed, and am awestruck by their bravery. This mistreatment of women has to stop."
A half hour later, she followed up with a second tweet, saying, "In this instance it was women affected but I also stand with all the men, indeed any person, who has suffered sexual harassment."
In her statement, Watson acknowledged the bravery of women who came forward. She also reminds people that although women have thus far been the only reported victims in Weinstein's case, people of other genders and many walks of life are victims of sexual harassment as well.
This issue is one that the 27-year-old has been passionate about for some time. In September 2016, the U.N. Women Global Goodwill Ambassador spoke on behalf of her initiative HeForShe, the U.N.'s gender equality organization she launched in 2014. Her speech focused on the importance of speaking about sexual assault, specifically on college campuses.
"We must not see or experience double standards. We need to see equal respect," Watson said in her speech to the U.N. "When one person's safety is violated, everyone feels their own safety is violated." The actor used her experience at Brown University to help inform what a safe environment for college students should look like.
"What if, as is the case at far too many universities, we are given the message that sexual violence isn't actually a form of violence?" she asked. "A university should be a place of refuge that takes action against all forms of violence."
Watson's HeForShe "10x10x10 impact report" included plans made by 10 universities in which 10 heads of state, 10 global C.E.O.s, and 10 university presidents worked together toward equality and to stop sexual violence on school grounds.
Many of Watson's fellow actors have spoken out about the story surrounding Weinstein as it continues to unfold. On Oct. 9, the Times published an op-ed by Lena Dunham, in which she explained the importance of men in the industry speaking up. (Meanwhile, The Wrap founder Sharon Waxman claims actors like Matt Damon and Russell Crowe helped kill prior exposés on Weinstein, which Damon has denied. Bustle reached out to Crowe regarding the report, but did not hear back.) Actor Angelina Jolie told the Times via email, "I had a bad experience with Harvey Weinstein in my youth, and as a result, chose never to work with him again." She recalled experiencing alleged unwanted advances from Weinstein in a hotel room during the release of Playing by Heart in the late '90s.
If you or someone you know has been sexually assaulted, call the National Sexual Assault Telephone Hotline at 800-656-HOPE (4673) or visit online.rainn.org.