Matt Damon & Russell Crowe Reportedly Helped Stop An Article About Harvey Weinstein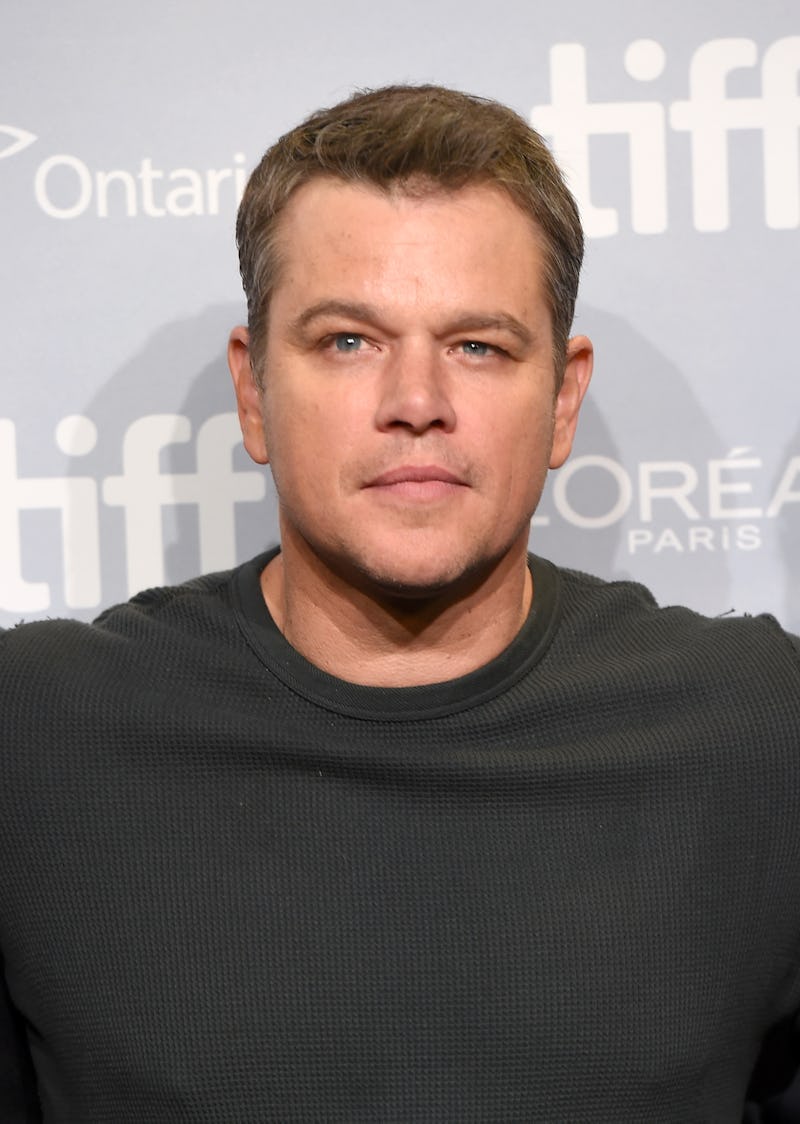 Kevin Winter/Getty Images Entertainment/Getty Images
On Thursday, The New York Times published a report on Hollywood producer Harvey Weinstein and his alleged decades of sexual assault and harassment claims and settlements involving numerous women. Now, The Wrap founder, Sharon Waxman, is alleging that actors Matt Damon and Russell Crowe helped kill a Weinstein exposé she wrote for the Times in 2004. According to Waxman, she discovered that the then head of Miramax Italy, Fabrizio Lombardo, was allegedly hired to "take care of Weinstein's women needs" and other things. Waxman claims Weinstein pressured the Times into not running the story, and his tactics allegedly included having Damon and Crowe call Waxman directly to vouch for Lombardo. Bustle has reached out to Damon and Crowe's representatives regarding this report, but did not hear back before the time of publication.
UPDATE: Damon spoke about talking to Waxman in an interview with Deadline in which he said he had a very short phone call with Waxman, after being asked by Weinstein, to vouch for Lombardo. Damon told Deadline he wasn't aware of the point of Waxman's story and said, "For the record, I would never, ever, ever try to kill a story like that. I just wouldn't do that. It's not something I would do, for anybody."
EARLIER: While Waxmen commended the Times' reporters Jodi Kanter and Megan Twohey for their article detailing the allegations against Weinstein, she felt motivated to comment on her own experience at attempting to report on the producer's alleged history of misconduct after the paper ran an article by Jim Rutenberg. On Friday, the Times published Rutenberg's article on "media enablers" who reportedly helped cover up the accusations against Weinstein for years. As a former employee of the paper who claims she had her own Weinstein story buried and sanitized, Waxman decided to come forward with her claims.
It's important to note that it's unclear how much either Damon or Crowe may have known about Lombardo's alleged role at Miramax Italy. In Waxman's 2004 article, Crowe is quoted as stating in an email that Lombardo helped organize a premiere party for Master and Commander: The Far Side of the World that "just happened to include almost every" Oscar voter who was living in Italy at the time. Both actors have had films produced by Weinstein in the past, including Damon's breakout hit Good Will Hunting.
Throughout Hollywood, Weinstein and the Weinstein Company have been considered hit-makers for years. As a producer, he's known for getting his films into Oscar races, and as a result, he has produced movies starring a plethora of Hollywood heavyweights — both women and men. Among them is actor Ashley Judd, who has accused Weinstein of misconduct.
As of Sunday, Weinstein has been fired from the Weinstein Company, which he co-created. The company issued a statement on Oct. 8:
"In light of new information about misconduct by Harvey Weinstein that has emerged in the past few days, the directors of the Weinstein Company — Robert Weinstein, Lance Maerov, Richard Koenigsberg and Tarak Ben Ammar — have determined, and have informed Harvey Weinstein, that his employment with the Weinstein Company is terminated, effective immediately."
For his part, Weinstein issued an apology for his past behavior in the Times, though he did not admit that all of the claims in the article were true. "I appreciate the way I've behaved with colleagues in the past has caused a lot of pain, and I sincerely apologize for it," he told the paper. However, he also released a statement through his then lawyer Lisa Bloom, who has since resigned from the case, saying that "he denies many of the accusations as patently false."
His new attorney Charles J. Harder released a statement as well, one that suggests Weinstein will be suing the Times. The statement reads,
"The New York Times published today a story that is saturated with false and defamatory statements about Harvey Weinstein. It relies on mostly hearsay accounts and a faulty report, apparently stolen from an employee personnel file, which has been debunked by nine different eyewitnesses. We sent the Times the facts and evidence, but they ignored it and rushed to publish. We are preparing the lawsuit now. All proceeds will be donated to women's organizations."
Ultimately, Waxman's claims points to exactly what the Times itself suggested — that Hollywood and the media have been protecting Weinstein for years. Whether or not Damon and Crowe knew of Lombardo's alleged role at Miramax, and whether or not they did vouch for the colleague of Weinstein's, it's apparent that rumors of Weinstein's alleged behavior have been circulating for years. And even when people — particularly women like Judd and Rose McGowan — came forward with claims, their voices were drowned out by people with far more power both inside and outside of the industry.
If you or someone you know has been sexually assaulted, call the National Sexual Assault Telephone Hotline at 800-656-HOPE (4673) or visit online.rainn.org.