Why Lena Dunham Is Focusing On Men In Light Of The Harvey Weinstein News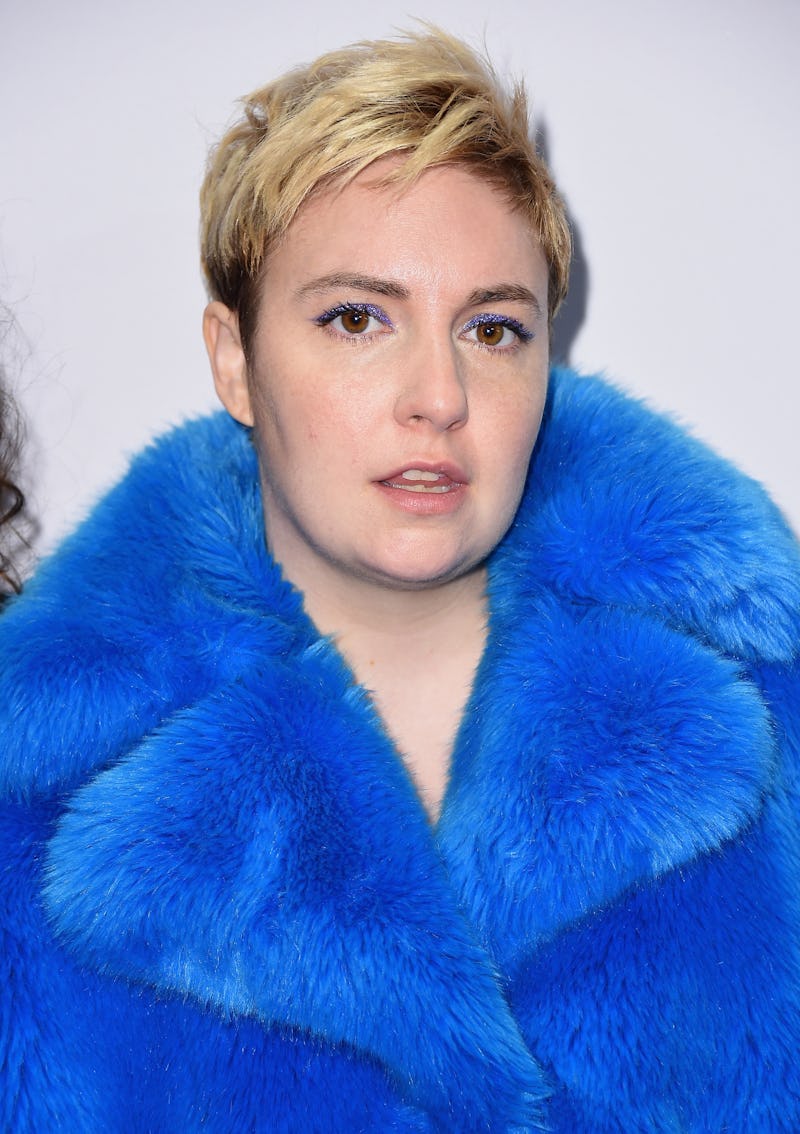 Michael Loccisano/Getty Images Entertainment/Getty Images
It's been less than a week since The New York Times published an investigation into sexual assault allegations against Harvey Weinstein spanning decades, and now, Lena Dunham is speaking out about what Hollywood needs to do next. On Monday, The New York Times published an op-ed by Dunham about Weinstein, in which she asks men in the entertainment industry to stand up for the women they work with by making it known that the famed producer's alleged behavior was unacceptable. As Dunham wrote, after a reported eight settlements with different women over the years, the time to end the silence around the situation was a long time ago. (Although Weinstein apologized for past behavior, his attorney also issued a statement denying allegations in the NYT story.)
Last Thursday, The New York Times published a report about Weinstein and his accusers, detailing their investigation that uncovered nearly 30 years of allegations against him made by women who have worked with him or were employed by him. In the days since the report went live, Weinstein has been fired from the Weinstein Company. And now, Dunham is pointing out why the silence of Weinstein's fellow Hollywood men needs to end.
In her op-ed, Dunham explains that while she's encountered sexism in her career, she's been lucky enough never to face any encounters like the ones being alleged against Weinstein. But not being personally involved isn't an excuse to stand idly by, and that's why she thinks men in her industry need to take action.
She wrote:
The reason I am zeroing in on the men is that they have the least to lose and the most power to shift the narrative, and are probably not dealing with the same level of collective and personal trauma around these allegations. But here we are, days later, waiting for Mr. Weinstein's most powerful collaborators to say something. Anything. It wouldn't be just a gift to the women he has victimized, but a message to the women who are watching our industry closely. They need a signal that we do not approve of the abuse of power and hatred of women that is the driving force behind this kind of behavior.
Unfortunately, Dunham is right — men do hold the most power in Hollywood. In recent years, more female actors than ever have come forward to talk about how they've felt threatened or belittled by the men they've worked for. Last month, Amber Tamblyn wrote an NYT op-ed of her own after receiving backlash after accusing James Woods of trying to pick her up when she was only 16, which Woods tweeted was "a lie." In her essay, Tamblyn said that the entertainment business is "a famous man telling you that you are a liar for what you have remembered. For what you must have misremembered, unless you have proof."
And now, Dunham's words are echoing Tamblyn's, even as a few actors have come forward to condemn Weinstein. While talking to The Daily Beast, George Clooney called Weinstein's alleged actions "indefensible" despite their working relationship, while other celebrities like Lin-Manuel Miranda and Seth Rogen have tweeted in support of the women who are speaking out against him.
But it's not enough. Famous men still hold so many cards, and without them standing with the women who have made these accusations against Weinstein, the pattern of not being believed will only continue.
It has already become obvious that not only have men not stood up for women who have been affected by Weinstein's alleged actions, but that they may have also actively tried to prevent the allegations from coming out. According to The Wrap's founder, Sharon Waxman, Matt Damon and Russell Crowe reportedly contributed to the shut down of her 2004 exposé about him. The actors have yet to confirm or deny Waxman's claims and reps for the actors did not respond to Bustle's request for comment. (UPDATE: Damon spoke about the incident in an interview with Deadline in which he said he had a very short phone call with Waxman, after being asked by Weinstein, to vouch for Fabrizio Lombardo. Damon told Deadline he wasn't aware of the point of Waxman's story and said, "For the record, I would never, ever, ever try to kill a story like that. I just wouldn't do that. It's not something I would do, for anybody.")
Later in her essay, Dunham wrote:
Men of Hollywood, what are you sorry for? What will you refuse to accept anymore? What will you say to fill the void and change the standard? Are you afraid because you heard the whisperings but accepted a role or a position on a host committee or a glass of Champagne and a pat on the back? Are you embarrassed because you're in a photo with him smiling broadly or because he gave money to your organization or introduced you to your girlfriend or earned you your Oscar nomination? Are you operating under the assumption that this is very sad but that it is not your problem?
There are plenty of reasons for the men of Hollywood to stay silent on the Weinstein accusations, but none are worth passing up this opportunity to speak out. It's not too late for them to publicly stand up for their female coworkers, especially since it could help prevent even more women from suffering sexual assault in the future.
After the allegations came out, Weinstein apologized for his behavior in a statement he issued to The New York Times, although he did not confirm any of the accusations outright. Weinstein's attorney, Charles J. Harder, released the following statement:
The New York Times published today a story that is saturated with false and defamatory statements about Harvey Weinstein. It relies on mostly hearsay accounts and a faulty report, apparently stolen from an employee personnel file, which has been debunked by nine different eyewitnesses. We sent the Times the facts and evidence, but they ignored it and rushed to publish. We are preparing the lawsuit now. All proceeds will be donated to women's organizations.
As Dunham says in her op-ed, staying silent is the same as condoning Weinstein's alleged behavior, and it's damaging to women who feel like they can't come forward. It can't just be women who are vocal against this kind of harassment — it has to be everyone, including men, even the ones who haven't worked alongside Weinstein.
If you or someone you know has been sexually assaulted, call the National Sexual Assault Telephone Hotline at 800-656-HOPE (4673) or visit online.rainn.org.