These Envelopegate Memes & Tweets Are On Point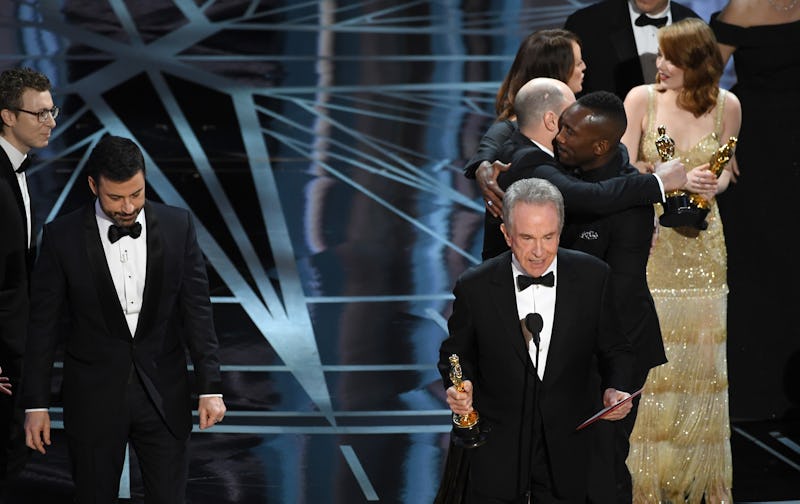 Kevin Winter/Getty Images
It was the Oscars moment that would live in infamy, whether it actually should or not. The Oscars moment henceforth to be referred to as Envelopegate, in which La La Land was mistakenly named the Best Picture winner at the 2017 Oscars, despite the fact that Moonlight had actually won the coveted trophy. The mistake was due to a mix-up in the envelopes for Best Actress (Emma Stone of La La Land) and Best Picture, but no one really cares how it happened anymore. No, these Envelopegate memes and tweets are focused on the fact that it happened, and that we can never let anyone forget that it happened.
I mean, are you really surprised? This is the internet, and the quicker they can come up with a catchy name for something that they are going to add to the annals of meme fame, the better. And thus Envelopegate has been embraced, and thus the memes and tweets have bloomed like flowers in the spring, and thus I have gathered some of the highlights for you so you can laugh through your Monday morning tears. (The tears are because you stayed up late to watch the Oscars run overtime, of course. Or maybe they're because Moonlight's moment was stolen by this whole mess. Or hey, maybe both. I don't know your life.)
Enjoy these memes and tweets, because Envelopegate is going to be the talk of the town for at least a week.
1. Remember What I Said About Infamy
Personally, I was in bed, thinking about how much sleep I wasn't getting.
2. The Smoking Gun
The truth always comes out.
3. Cough, Cough
Somebody should tell her...
4. This Is Serious Business
I'm not saying this should be a season of American Crime Story, but it should.
5. This Political Zinger
Funny and socially relevant.
6. The Best Idea Ever
Someone make this happen.
7. The Internet Detectives Are The Most Effective
Or not. IDK, man.
8. Pretty Soon, We'll Be Watching This On The Big Screen
The movie version of Envelopegate will probably win an Oscar, let's be real.
9. Now That's Just Mean
Leonardo DiCaprio will always have my heart, OK?
10. This Miss Universe Reference
Is this too soon?
11. This The Revenant Reference
You leave that bear alone!
12. Perhaps The Most Important Tweet of Them All
Can we focus on this? Maybe? Please? For a little while?
No matter where you were when Envelopegate went down, you witnessed a small part of history. Or something.