Eric Basically Just Auditioned To Be 'The Bachelor'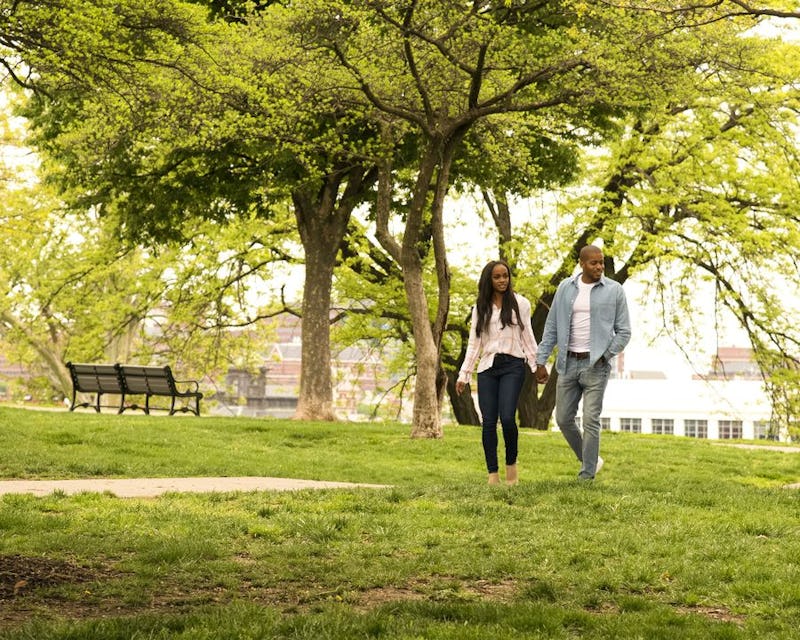 Randy Sager/ABC
There is an end to the season for every Bachelorette suitor, and Eric has reached the end of his. Rachel gave him the boot early in the finale of her season of The Bachelorette, and his parting words — both at the time of the dumping and live, sitting with Rachel and Chris Harrison — were very nice. But Eric's goodbye speech on The Bachelorette also sounded like an audition tape for The Bachelor.
While Chris Harrison said before the finale that the new Bachelor wouldn't be announced until after Bachelor In Paradise, just in case there's a Nick Viall fan favorite situation, Eric would be a good Bachelor. Perhaps he thinks so, too, because his parting words to Rachel were not bitter or angry. In fact, he was a true introspective gentleman, and he confessed that being with Rachel was transformative for him. Eric said:
"I definitely want you to know that when you stay open in life, you can experience some amazing things. So, I just want to say thank you for being open, for allowing me to be open and experience an amazing thing with you and confess my love to you. Thank you for allowing me to get what I need. And God willing, I promise you, I know you're going to get what you want. And that's a husband. And truth be told, I'll always love you. That's just the truth."
What a far cry from the men that leave The Bachelorette and stomp and cry about how it's not fair and she's making a mistake and yadda yadda yadda. Eric is just a gentleman.
In case you're not in love with Eric enough right now, ABC did this thing this finale in which Rachel gave live commentary after every big moment on the show. Well, Eric came out, and his words for her were just as supportive three months later:
"Prior to this experience, my heart was broken. I never had love in my heart. And with Rachel, she fulfilled my heart. And so that's what I was lacking my whole life. And I want to say thank you for giving me that and allowing me to receive love from you because now I'm a man. I was a boy, became a man because I got love now. So now I'm full and my life can really begin. I really can take off and do things I always wanted to do. Thanks to you young lady, you helped me help you help us."
Eric said on The Bachelorette that he thinks too much, and that may be so, but that thoughtfulness would definitely come in handy in the search for love, maybe with say, 25 other women vying for his heart? Eric has proven himself to be a wonderful choice for any woman, and I think he'd be an excellent Bachelor. Let's see if the producers (and Chris Harrison probably has a say) listen.