The Menendez Brothers Both Got Married While In Prison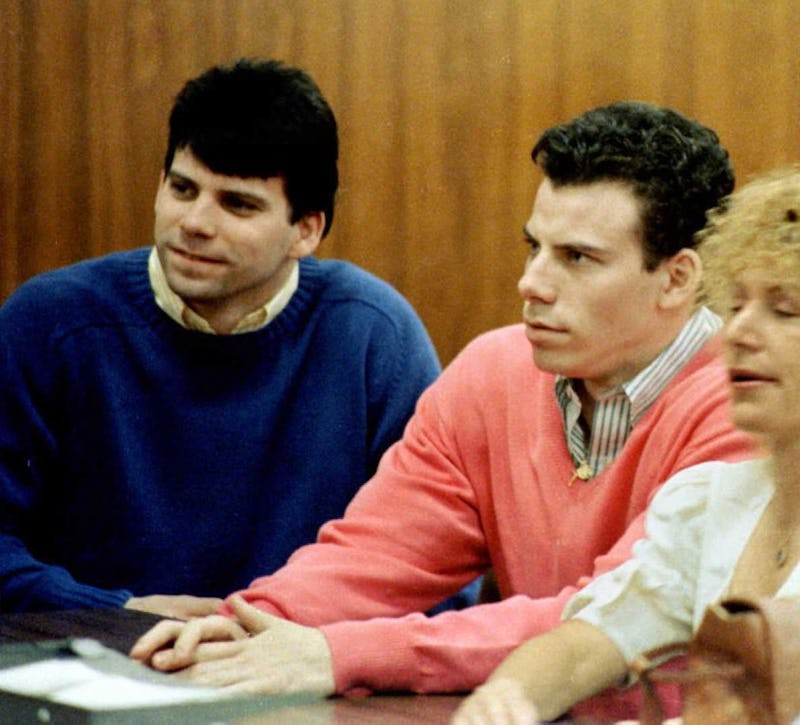 MIKE NELSON/AFP/Getty Images
It is hard to believe that it has been nearly three decades since the world was introduced to the Menendez brothers. Now that '90s true crime has taken over television in recent years, Lyle and Erik Menendez are being introduced to a whole new generation. Their story is being retold for the debut season of Law & Order True Crime: The Menendez Murders and the fascinating case will likely have audiences wondering where the brothers are now. Both were convicted of murdering their parents and sentenced to life in prison and both Menendez brothers are now married in 2017.
Of course, the fact that they have found spouses in these circumstances isn't as shocking as it may initially seem. After all, according to Rolling Stone, convicted serial killer Ted Bundy got married and allegedly fathered a child with his wife from behind bars. As for their own marriages, Lyle is more frequently willing (or perhaps able) to speak to the press than his younger brother Erik has been during their time in prison. In a 2017 interview with People, Lyle discussed life in prison and explained that his marriage to his second wife Rebecca, "helps sustain me and brings a lot of peace and joy." It was only months after their conviction that the L.A. Times reported that Lyle married his first wife, a model named Anna Eriksson, but Inside Edition reported that the two divorced in 2001. Lyle later married again in 2003, per Inside Edition, to his current wife of 14 years, Rebecca Sneed. According to the same article, Sneed is an attorney.
Unlike his brother, Erik only married once and is still married to that same woman named Tammi Saccoman 18 years later. In a 2005 interview with People, Saccoman said that she wrote to Erik in 1993 because she felt sympathy for him during their trial. At the time, she was married with a teenage daughter and a nine-month-old. She and Lyle began corresponding regularly after that first communication and when her husband died in 1996, she turned to her prison pen pal for comfort. Saccoman told People, "He comforted me; our letters started taking on a more serious tone." The first time she flew out to see him in prison was in 1997 and after that, she moved herself and her two daughters to Sacramento to be closer to him. The pair married in 1999 and Saccoman even wrote a book about their lives called, They Said We'd Never Make it: My Life With Erik Menendez.
Both brothers have said that their marriages help bring them peace and joy during their imprisonment, with Erik telling People in a rare interview in 2005:
"Tammi's love was a major step in my choosing life. Having someone who loves you unconditionally, who you can be completely open with, is good for anybody. To know that this person loves me as I am. You can't imagine what it was like those first five years in prison never being told, 'I love you.' It makes you a colder, harder person. Tammi's love has propelled me to become a better person."
According to the same People article with Saccoman's interview, she said that Lyle's wife briefly lived with her, but that the brothers have drifted apart because, "I wasn't getting along with Lyle's wife."
Despite their long-lasting marriages, Lyle and Erik won't ever be able to become parents and father children with their wives because, as People reported, "Conjugal visits are prohibited for those sentenced to life without parole in California." But, that lack of physical intimacy hasn't stopped their wives from staying by their sides for all these years, and likely many more.