The Ethics Complaints Filed Against Kavanaugh Aren't Being Dismissed Just Yet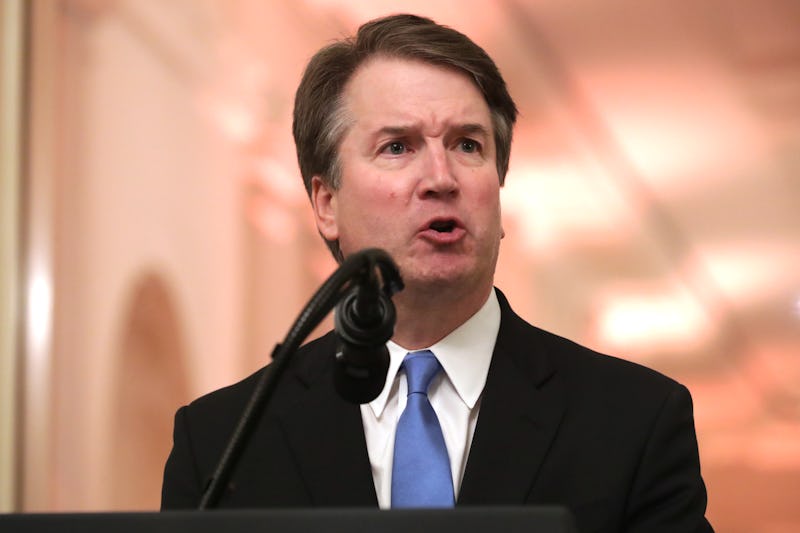 Chip Somodevilla/Getty Images News/Getty Images
Brett Kavanaugh was sworn in to the Supreme Court on Saturday, but that doesn't mean the controversy around his confirmation is going away. Ethics complaints filed against Kavanaugh in September and October will continue to follow him, but they're being referred out of Washington D.C., according to a letter written by Chief Justice John Roberts.
Some 15 judicial misconduct complaints were originally filed with the D.C. Circuit Court of Appeals, where Kavanaugh served as a judge prior to his confirmation. Chief Judge Merrick Garland, a D.C. Circuit Court Judge and President Obama's defunct Supreme Court nominee, recused himself from handling the complaints. His colleague on the bench, Judge Karen LeCraft Henderson, clarified last week that the complaints "do not pertain to any conduct in which Judge Kavanaugh engaged as a judge." Instead, she said, they focus on the public statements he made while a Supreme Court nominee.
According to Politico, under federal law, any person can file a complaint against a federal judge in their district. If the complaint is found to be credible, a special committee then looks into the allegations. The Washington Post reported last week that the allegations in these 15 complaints have already been discussed widely in public — specifically that Kavanaugh was allegedly dishonest in his Senate testimony and displayed a temperament not befitting a Supreme Court justice during the followup hearing. Kavanaugh swore to deliver honest testimony before his hearings, and Bustle has reached out to his lawyer for comment on the allegations.
According to Buzzfeed News, Henderson requested that Judge Roberts transfer the complaints to a different circuit, a standard procedure to avoid conflicts of interest. From Roberts' letter, it appears he opted to transfer them to the 10th Circuit, which is based in Denver and serves six western U.S. states.
The situation is unusual, to the say the least, and experts are unsure of what will happen with the open complaints. Buzzfeed News reported that in the past, complaints against retiring or resigning judges have been thrown out because they are no longer relevant. However, there is no precedent for complaints against a judge who is resigning in order to join the highest court in the country. In fact, the Supreme Court isn't even included in the same complaint review process that applies to lower-court judges.
"If Justice Roberts sits on the complaints, then they will reside in a kind of purgatory and will never be adjudicated," Stephen Gillers, a professor at New York University Law School, told The Post last week before Roberts' transfer request. "This is not how the rules anticipated the process would work." According to The Post, a Supreme Court nominee has never been confirmed while a fellow justice recommends that ethics concerns against that nominee be investigated.
It's possible that nothing will come of the complaints, if they are found to be untenable. Alternatively, 10th Circuit federal court judges could decide that they don't have jurisdiction over allegations made against a Supreme Court justice. But in an interview with PBS News Hour, Gillers disagreed with that potential outcome, saying the complaints "allege misconduct that occurred while Kavanaugh was on the D.C. Circuit and subject to the Code of Conduct for U.S. Judges. Any violation of the Code does not disappear because he is now on another federal court."