Eugene Levy's Kids Teach Him On 'Schitt's Creek'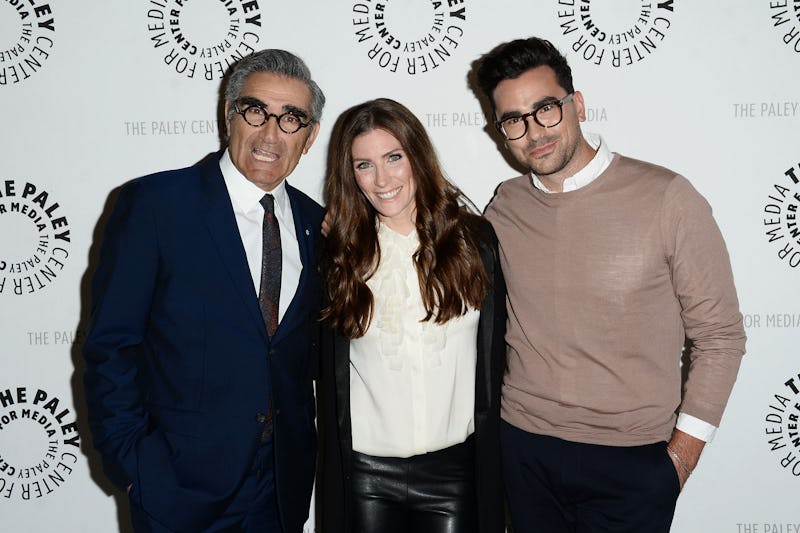 Matt Winkelmeyer/Getty Images Entertainment/Getty Images
Eugene Levy, who's taken on roles as an actor, writer, producer, and director, has been in Hollywood for over 45 years. He's been America's favorite dad since the American Pie franchise premiered and has starred in dozens of films over the years. But little did he know that at 70 years old his biggest teachers would be his own kids, two up-and-coming talents in entertainment. Levy stars in the Pop comedy Schitt's Creek with his 33-year-old son Daniel (who he co-created the series with) and his 29-year-old daughter Sarah. At The Women's Cancer Research Fund's event in LA Levy tells me how "surreal" the project continues to be for him, mostly because of how blown away he is by his kids.
Currently in Season 3, Schitt's smartly retells the classic Overboard story of a rich family who loses everything and has to suddenly survive in a life of poverty. Living in a small town (of the show's name) they once bought as a joke, Johnny (Levy) and Moira (Catherine O'Hara) cope with the new lifestyle alongside their spoiled kids David (Daniel Levy) and Alexis (Annie Murphy). Sarah Levy plays Twyla Sands, a friendly waitress at the town's local joint. Levy admits working so closely with his kids on a daily basis is a strange experience, but an incredible one, nonetheless.
"It's pretty amazing, it's kind of surreal," Levy says. Being with his kids at work and outside of work can get confusing quickly. "I'm in front of the camera in scenes with my kids, and that line blurs between: Where am I now? Am I at home? Am I in somebody's apartment? Oh no, I'm in front of the camera," he says. "It's weird, but it's great."
Levy also admits that he's constantly taken aback by how Daniel and Sarah conduct themselves on set and behind the scenes. Although they're working hard, they're pretty green in the business, especially when stacking up to their famous pops. Sarah made her film debut in 2011's Larry Crowne. Still, they have more grace and knowledge in the business than Levy would've expected.
"[My son and I] started this thing together and I was always thinking that I had to mentor him when we started," he explains. "In a matter of weeks, I realized he is so far ahead of where I thought he was. I thought, 'Just let him go and listen to him because his ideas are great.' It was a very, very proud moment." Levy continues to admire his son's talent and work ethic. "He's just blossomed creatively, as a writer, an actor, a producer, in front of my eyes."
His daughter Sarah has that effect on him as well. "I'm proud of my daughter, seeing her in a scene with Catherine O'Hara and I'm just like, 'There's my daughter holding her own in a scene with Catherine O'Hara,'" Levy says. "Those things I never take for granted. It's really amazing."
And although he's seen his fair share in show business, he continues keeping an open mind when learning from those much younger and less experienced. Levy shares advice for any parents working with their kids, regardless of profession. "Don't think you're better than your kid. Your kids usually have ideas that are better than your[s], that you may not understand," he says.
Thus, the kids Levy raised now teach him a thing or two about work and life. Who knew?
Editor's Note: This article has been updated to more accurately reflect Daniel Levy's career.
This post was originally published on Feb. 21, 2017. It was updated on Aug. 22, 2019.