Eva Longoria's Comments On Spotify's R. Kelly Removal & Time's Up Will Make You Proud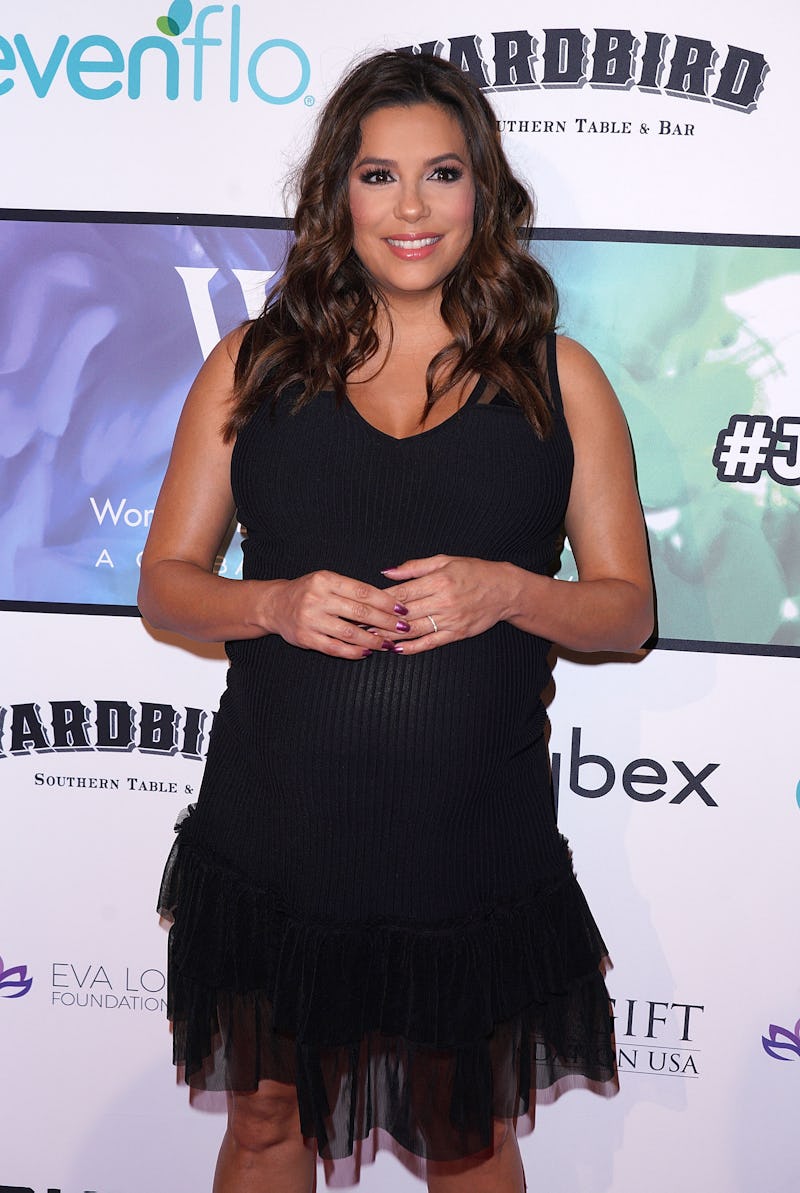 JC Olivera/Getty Images Entertainment/Getty Images
Since the Time's Up initiative began on Jan. 1, Eva Longoria has been a Time's Up leader and pioneer. Her efforts alongside the Time's Up team are continuously paying off. Eva Longoria's comments on Spotify removing R. Kelly from its playlists will make you proud of the movement's progress. The same day of the music service's announcement on Thursday, May 10, Longoria told Bustle about why this was a huge step for the organization and how the news is indicative of where the Time's Up movement is headed.
"Today, Spotify announced it's dropping R. Kelly from its playlists. That was a huge thing," Longoria says on the red carpet at the Global Gift Foundation USA Women's Empowerment Luncheon at Yardbird Southern Table & Bar. "One thing we like to do is amplify the accomplishments that Time's Up is doing, so that hashtag is #MuteRKelly. We've got Spotify to drop his music. You can search him, but he's off anybody's playlist, which is a huge accomplishment."
She's currently months pregnant and the actor continues working tirelessly to bring issues surrounding sexual assault and gender inequality to the forefront. At the end of April, the Women of Color of Time's Up announced it would be supporting the #MuteRKelly hashtag. On Thursday, Spotify released a statement to Billboard explaining its decision to remove Kelly from popular playlists:
"Under the terms of a new public hate content and hateful conduct policy Spotify is putting into effect, the company will no longer promote the R&B singer's music in any way... We don't censor content because of an artist's or creator's behavior, but we want our editorial decisions — what we choose to program — to reflect our values. When an artist or creator does something that is especially harmful or hateful, it may affect the ways we work with or support that artist or creator."
Longoria sees this major victory as hope for what's ahead. "There are so many things being done for Time's Up, everything from legislation to policy," she explains. While the momentum is going strong, Longoria is now focused on encouraging women to apply what they're learning in their real lives to actively create change.
"We get together some really great women, not just famous women... taking the lessons and advice and guidance that we hear and this room and applying it to the world and applying it to your workplace and your home life," she says at the luncheon. She also puts focus on the buzzword "empowerment" to shift the perception of its meaning and how it's used, explaining:
"The definition of empowerment really is, I look it up today, is to enable and permit. But we don't need permission. We don't need permission to speak out, to be who we are, to want gender equity in the workplace or at home. You don't need that permission."
While Time's Up has moved mountains, Longoria acknowledges that there's still work to be done, across all occupations, and still in Hollywood. "I was in a DGA meeting, we were talking about how more women need to direct and more female stories need to be told," she recalls to the attendees. "This one female director said a director, a guy, was complaining that women are going to take more jobs. And he goes, 'Welp, there goes another one of my jobs that a woman took,' and she said, 'Well there's your mistake. Who said it was your job?'"
Hearing stories like this are imperative to recognize and call them out in the future and in our own lives. "That's the mentality we're dealing with. No, it is a job. And I earned it," Longoria continues. And with a little one on the way, her efforts will continue going strong in her personal life. "I'm having a son, I think I have 85 onesies that say, 'I'm a feminist,'" she jokes. After all, it's never too early to start.