Evan Rachel Wood's First SAGs Dress Was Prom Goals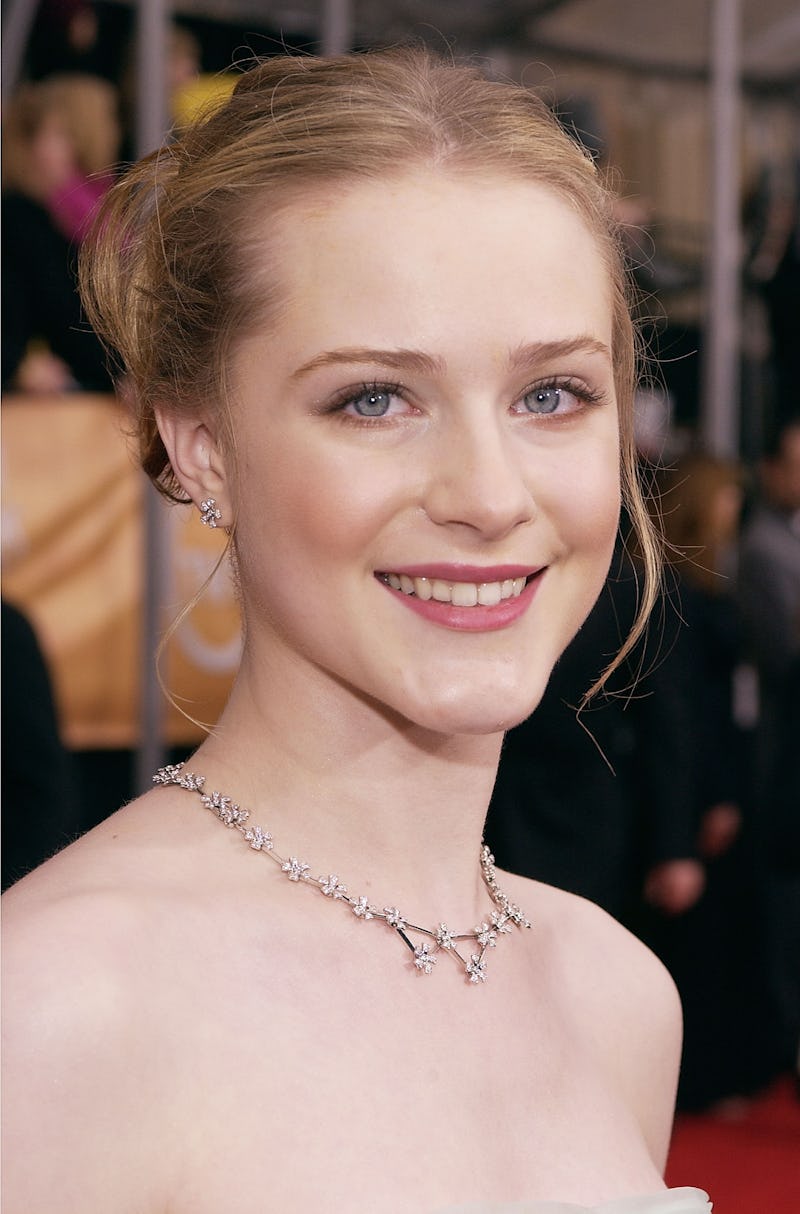 Vince Bucci/Getty Images Entertainment/Getty Images
Most recently, she made a splash on the Golden Globes red carpet in a tux, but do you remember Evan Rachel Wood's first SAG Awards outfit from 2004? The Westworld star was still a teenager at the time, and was attending the show as a nominee for Outstanding Performance by a Female Actor in a Leading Role for her star-making turn in Thirteen.
As rocky as a period it was for fashion, Wood looked every bit as stylish in 2004 as she does now in 2017. Like Stranger Things star Millie Bobby Brown does so well today, Wood was a master of keeping her red carpet style youthful yet elegant, age appropriate and front page of the style section-appropriate.
For her first SAG Awards ceremony over a decade ago, Wood went for a look that was at once ethereal and classic, donning a floaty mint green strapless dress with a full skirt that hit just above the ankle for a stylish tea-length hemline. The design of the gown itself featured a ruched bodice, as well as a tastefully embellished skirt covered in feather-like detailing. Certain things about the gown, like the color and ruching, make it very on trend for its time — but it honestly wouldn't look out of place on the red carpet today.
She also accessorized the look to perfection, selecting a matching embroidered clutch, minimalistic gold strappy sandals, a simple bracelet, and a sparkly floral necklace with matching earrings.
Last but not least, she kept her makeup (fairly) natural, with subtly groomed brows and full eyelashes accented with a touch of charcoal eyeliner — though her lips and cheeks amped the simple look up a few notches, with a cheekbone-enhancing swath of terracotta, as well as a deep berry-mauve matte lipstick.
Altogether, it was a look that would have made your early 2000s prom dreams come true (much like her first-ever Golden Globes dress) right from the face-framing tendrils, down to the pale green hemline — but its classic simplicity means that it stands the test of time as well.
Looks like Evan Rachel Wood has been a red carpet superstar pretty much since day one. Here's hoping that she'll up the ante even more at the 2017 SAG Awards!