Even The NFL Can't Stand Dallas' Anti-Trans Bill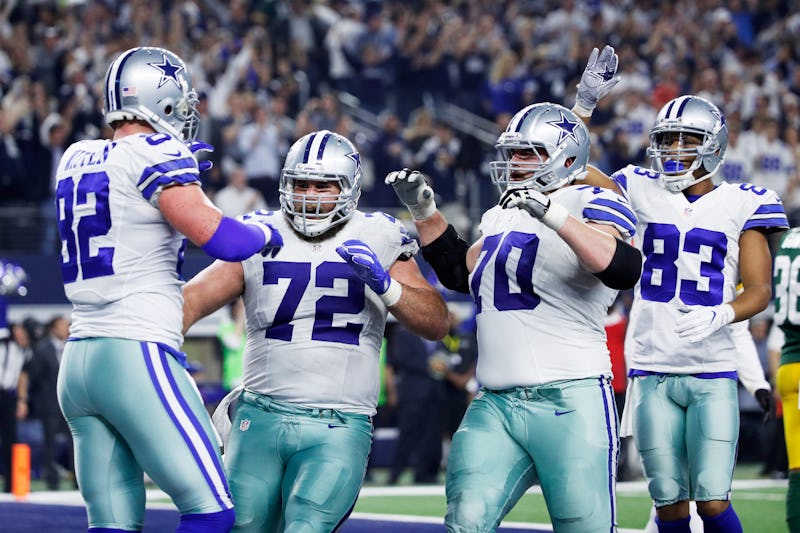 Joe Robbins/Getty Images Sport/Getty Images
According to a report by The Dallas Morning News, Texas's controversial anti-transgender bathroom bill, if passed, may put the city of Dallas at risk of losing its bid for hosting the 2018 NFL draft. Multiple sources told the newspaper that the NFL will consider an anti-transgender bathroom law as a drawback when making its decision for the event's location.
This suggestion comes after Texas Gov. Greg Abbott called for a special legislative session, partially so that the state's lawmakers could consider a bill that would prohibit transgender individuals from using municipal and school bathrooms that accord with their gender identity. The so-called "bathroom bill," which would require transgender people to use bathrooms that align with the sex they were assigned at birth, did not pass through both chambers of Texas's state legislature before the regular session's end on Memorial Day.
"At a minimum, we need a law that protects the privacy of our children in our public schools," Abbott said of the Texas bathroom bill in June, according to The New York Times.
In February, when specifically asked about the Texas bathroom bill, Brian McCarthy, the NFL's vice president of communications told reporters:
If a proposal that is discriminatory or inconsistent with our values were to become law there, that would certainly be a factor considered when thinking about awarding future events.
More recently, when asked about the location of the draft, McCarthy claimed that the league "expect[s] to have a decision on the location of next year's draft later this summer/early fall."
The NFL's hesitation to award Dallas the 2018 NFL draft comes after a slew of transgender rights activists have spoken out against the Texas bill. "Gov. Abbott has called a special session partly dedicated to discriminating against transgender Texans," said JoDee Winterhof, a senior vice president at the Human Rights Campaign, in a statement. "In doing so, he has caved to the demands of the fringe politicians who are using LGBTQ people as pawns to win cheap political points."
The bill has also drawn criticism from prominent business leaders in the tech industry. In a letter to Texas officials, tech CEOs (including Apple's Tim Cook) wrote:
Our ability to attract, recruit and retain top talent, encourage new business relocations, expansions and investment, and maintain our economic competitiveness would all be negatively affected.
In response to the NFL's comments about the bathroom bill, Texas Gov. Greg Abbott said the New York-based league needs to "get the heck out of politics." But truth be told, that would likely require the football organization to get the heck out of advertising — losing ad dollars over a Texas law is probably far too risky a bet for the NFL.