There's Already A 'Summer House' Feud Brewing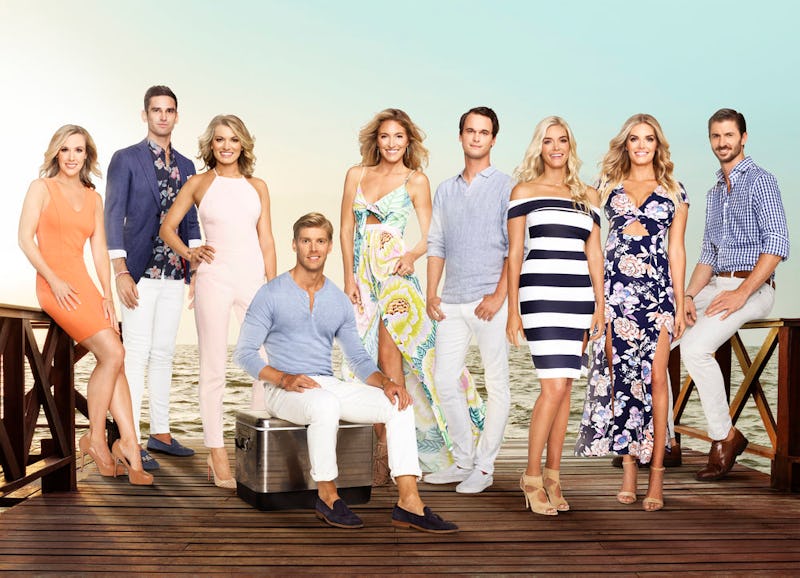 Virginia Sherwood/Bravo
It turns out that what happens in Montauk might not stay in Montauk on Bravo's new reality show Summer House. In the premiere, when Everett and Lindsay decide to move in together, it drives her roommate, Cristina, mad. And while she decides to bitterly spread the news to the whole group, disparaging the couple, she does have a bit of a point. Because within 24 hours, the lovebirds are already at one another's throats over some kind of text messaging scandal. Honestly, things were already on shaky ground when Everett jokingly brought up proposing, only to be met by Lindsay's serious rebuttal that it's more important to worry about moving in together first.
I think that Everett was expecting a more laid-back response, considering that he was accused of handing out his number to other eligible ladies while his girlfriend was literally at the same club with him. This is a conflict that's plagued every Bravo couple at some point: the person who's taking it too seriously vs. the one who just wants to play around with both a relationship and the freedom of singlehood. And it seems like the dudes staying at the Summer House seem far more invested in hookups than relationships, while most of the women feel the opposite.
Even after the big blowout, Cristina is still fighting for her right to lower rent. Seriously, she and Lindsay must have a pretty amazing apartment, because she seems desperate to hang onto her roommate, even if it means destroying her relationship with Everett. I mean, toilet seat etiquette is a pretty big deal, but is it enough to potentially fracture a friendship? Well, if you're Cristina, it just might be.
Honestly, I kind of admire how hard she's attempting to shoot her shot, roommate style, with Lindsay. However, I think only Lindsay can be responsible for slowing down this relationship, because Everett is already proving that being passive is not enough to dissuade her from moving forward with something she wants to do.