Donald Trump's Inauguration Lineup Is Here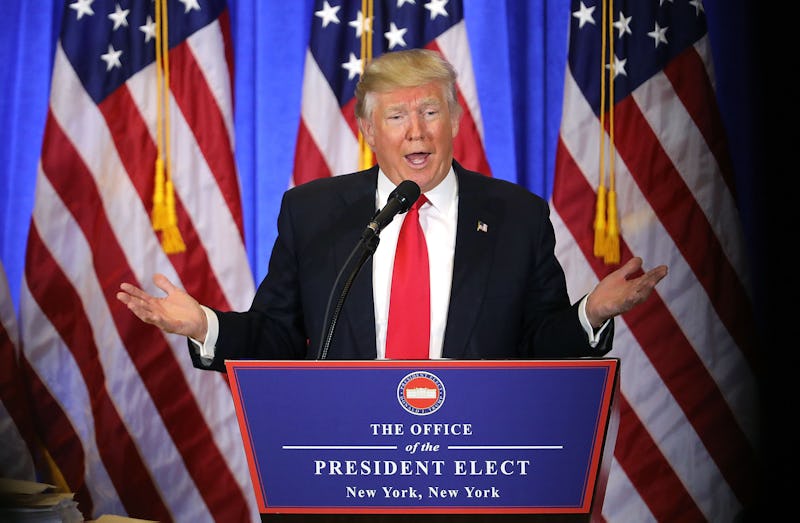 Spencer Platt/Getty Images News/Getty Images
Prepare to party like it's 2001, guys. The Donald Trump inauguration performance lineup is here, and it's — well, it's definitely going to take you back to your emo teen years. According to CNN, Trump's inauguration will include performances by country star Toby Keith and 3 Doors Down. Other celebrities reportedly attending include Jon Voight, Broadway singer Jennifer Holliday, and 16-year-old soprano Jackie Evancho.
Update #1: While Holliday was included on the list of inauguration performers, her rep told heWrap on Friday, "Jennifer has been asked to perform but she hasn't officially agreed to do so yet. I'll let you know later this afternoon for sure if she'll be performing."
Update #2: In an open letter published on TheWrap on Saturday, Holliday confirmed she is not performing at the inauguration, apologizing for what she called "lapse in judgment." Holliday's publicist told Bustle via email, "Jennifer did write the letter in the middle of the night and it's authentic. She is definitely not performing and the inauguration committee is aware of her decision not to perform."
Earlier: The president-elect has reportedly had difficulties finding celebrities to perform at his inauguration. At one point, The Beach Boys were in talks to make an appearance, but the famed group is not on the current list of performers. The New York Times reported other famous names to turn down an inauguration invite include Elton John, Andrea Bocelli, Charlotte Church, and George Lopez, among others.
As for the celebrities who have agreed to make an appearance, they are not exactly A-listers. In fact, if you have forgotten 3 Doors Down was ever a thing, you are forgiven. The moody rock band likely spoke to your soul when you were 14, but they have not spent much time in the spotlight since the early '00s.
Here is a quick rundown of all the stars set to appear or perform at Trump's inauguration, and a reminder of what they are famous for in the first place.
3 Doors Down
The band rode the wave of alt-rock popularity in the early '00s, and gained success for songs like "Kryptonite" and "Here Without You." The band has lost most of its original members in recent years.
Toby Keith
Keith is popular country artist, best known for songs like "Beer for My Horses" and "How Do You Like Me Now?" He also appeared in Stephen Colbert's 2008 Christmas special.
Jackie Evancho
Evancho has been singing since a young age, but she is perhaps best known for coming in second place during Season 5 of America's Got Talent.
Jon Voight
Academy-award winner Voight is a legendary actor known for his roles in Midnight Cowboy, Deliverance, and Heat. He most recently starred in Fantastic Beasts and Where to Find Them.
Jennifer Holliday
Holliday is a Broadway star and Grammy winner known for her role in Dreamgirls. As noted above, it's currently unclear whether Holliday is actually performing at the event.
The Piano Guys
They're a YouTube group known for melding covers of popular songs with classical music.
Lee Greenwood
One-hit wonder Greenwood has made a career out of singing his popular patriotic song "God Bless the USA" at events since 1984.
The Frontmen Of Country
This country band includes singers from other popular groups Lonestar, Restless Heart, and Little Texas.
Rounding out the musical numbers will be a performance by the Mormon Tabernacle Choir. If you can't say anything else about the Trump Inauguration headliners, you can at least say they are an eclectic bunch of performers.