These 7 Tributes To Princess Diana At Prince Harry & Meghan Markle's Wedding Are So Moving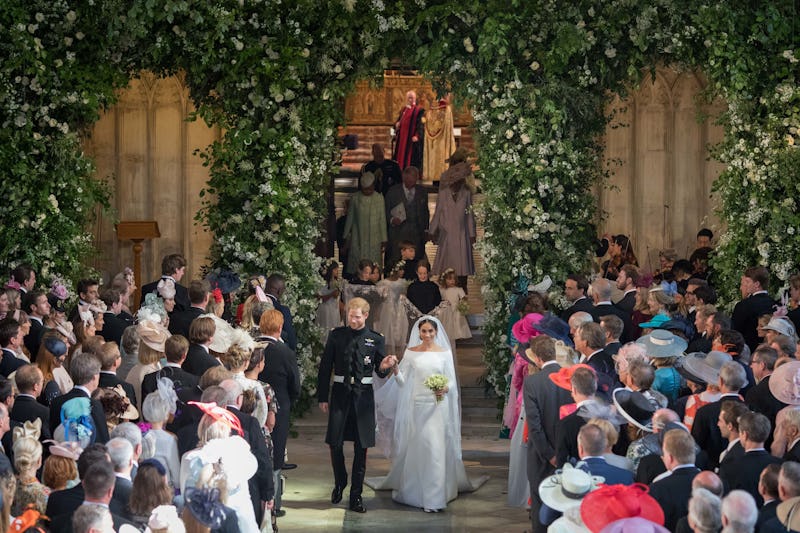 WPA Pool/Getty Images Entertainment/Getty Images
No one following the royal wedding can forget that Prince Harry lost his mother, Diana, Princess of Wales, when he was only a child. At his wedding to Meghan Markle, Prince Harry made it absolutely clear that he had also not forgotten his beloved mother. There were numerous tributes to Princess Diana at Meghan and Harry's wedding, according to Vanity Fair, and all of them were meaningful in their own particular ways.
A wedding, after all, is one of the more symbolic life events. Almost everything involved can take on an additional meaning — the white wedding dress to symbolize purity, the language of flowers, the history behind a bridal veil. Beyond the traditional symbols, though, brides and grooms can personalize their wedding to pay tribute to loved ones and their lives together — and that's exactly what Harry and Meghan have done.
In their engagement interview, Harry said that he thought that Meghan and his mother would have been "thick as thieves."
"It is days like today when I really miss having her around and miss being able to share the happy news," Harry said during the interview. "But ... I'm sure she's with us, jumping up and down somewhere else."
Princess Diana was definitely a part of their engagement, and they made sure to also include her at their wedding. Here are all the ways that they managed to do that.