Meghan Markle's Engagement Ring Is Definitely Too Expensive For You To Afford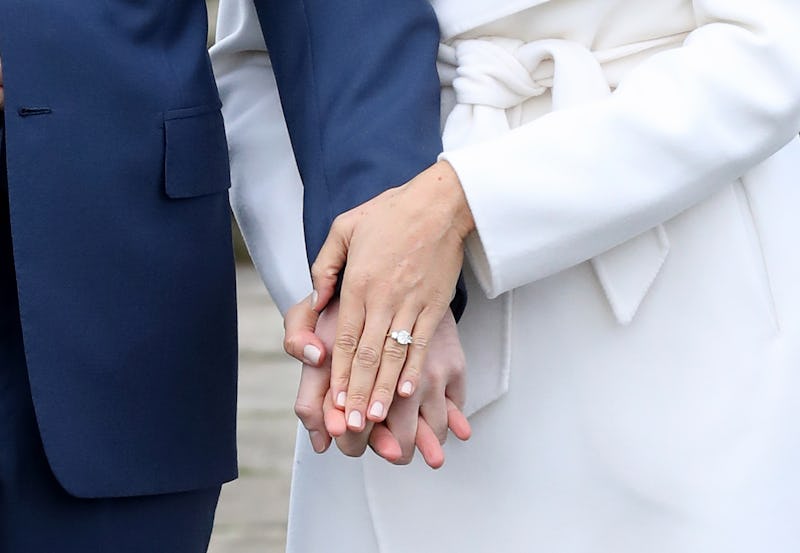 Chris Jackson/Getty Images Entertainment/Getty Images
The internet has had its eye on Prince Harry and Meghan Markle for some time now, speculating that an engagement for the couple was imminent. Finally, the speculation is over because, indeed, a royal wedding will take place soon.
Now that it's official and the rock has been seen by the masses, there's only thing left to wonder. How much is Meghan Markle's engagement ring worth?
The couple just announced their engagement and the custom piece of jewelry is already the talk of the town. Sharing their big news at the Kensington Palace memorial sunken garden, which was dedicated to Harry's mother in honor of the 20th anniversary of her death, the couple honored the late Princess Diana in the sweetest way. But it wasn't just their announcement location that paid homage to Diana; the rock that is now sparkling on Markle's ring finger is also a tribute to Harry's mother.
Prince Harry designed the ring himself, Us Weekly reported, using diamonds from Princess Diana's personal collection. The center stone originates from Botswana, a place that's near to Prince Harry's heart, flanked by two diamonds from a brooch belonging to Princess Diana. The trio of stones rest on a gold band crafted by Queen Elizabeth's jeweler, Cleave and Company.
Needless to say, "pricey" is an understatement when it comes to describing this one-of-a-kind stunner.
Since Princess Diana won't be around to witness the excitement of the royal wedding, Prince Harry's decision to gift his fiancé jewels he inherited from her are the the perfect way to keep his mother near, as he and Markle embark on the road to marriage.
"This is a classic three stone design that will be completely timeless," said Grant Mobley, a gemologist and Director at Pluczenik, one of the world's leading diamantaires. "The perfect bit of old and new have been combined in this ring to match the style of Miss Markle. Changing up the traditional three stone design with a new cushion cut diamond, and adding precious diamonds from his mother's collection, provides a perfect combination that is both modern and traditional, and one she [Markle] can truly call her own."
Markle isn't the first to tote a gorgeous rock. The newly engaged American actress joins the ranks of women in Britain's royal family to receive immaculate engagement rings.
When Prince William proposed to Kate Middleton in 2010, he beat his younger brother to the punch by borrowing jewels from their mother. Princess Diana's sapphire engagement ring now belongs to Middleton, carrying on her legacy in such a beautiful way.
A 12-carat sapphire surrounded by 14 diamonds, the stunning ring comes with a hefty cost. The worth of Middleton's bling increased tenfold from what it was valued in 1981, the year it was purchased by Prince Charles, according to E! News. The ring weighed in at £28,000 ($47,000) back then and now has a £300,000 ($500,000) price tag. Although sentimental value could never outweigh its true cost, this inherited piece of jewelry sure is worth the big bucks.
Markle's sparkle is nothing to scoff at, though. Despite the ring's priceless nature, most are still dying to know how much it's worth in physical dollars. Mobley estimates the center stone is approximately three or four carats and the side diamonds are roughly .75 carats each.
"While it is very difficult to tell the clarity without examining the stone, one would imagine Prince Harry would pick something close to flawless," Mobley comments. "In that case, we would estimate that the value of the center stone would be around $95,000 - $155,000 (£70,000 - £115,000) while the side stones would have an intrinsic value of around $5,000 (£3,750) each.
Of course, anything belonging to the "People's Princess" is going to be worth more, so the stones from her brooch would appreciate in value, "due to their rich history and inherent value".
"Although many people may not know it, diamonds not only maintain their value over time but they actually appreciate in value, unlike laboratory grown diamonds that have recently emerged in the diamond marketplace," added Mobley.
In other words, Markle's engagement ring could already be worth nearly as much as Middleton's rock, if not more.
Now that the cat is out of the bag, expect to see more of Markle's ring finger as she and her prince prepare to hear wedding bells ring. The Guardian reports the royal wedding will most likely take place in March, so there really isn't much wait time before one of Princess Diana's boys make headlines with a grand ceremony yet again.
For a pair that initially received a ton of harassment, they're clearly laughing at the haters and going strong. Prince Harry and his bride-to-be are beating the odds. And Markle now has the priceless stones weighing down her finger to prove it.