Meghan Markle & Prince Harry's First Interview Is Wonderful, Duh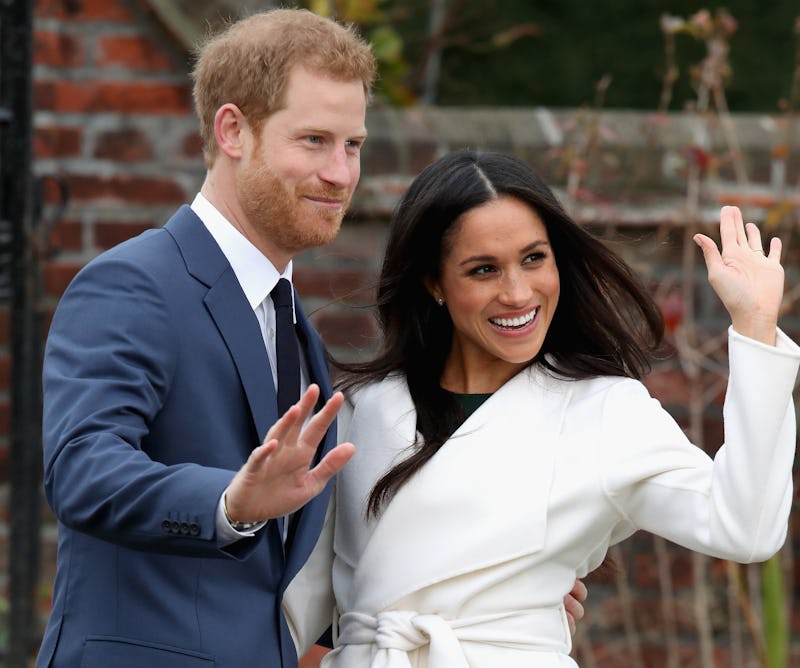 Chris Jackson/Getty Images Entertainment/Getty Images
On Monday, after Kensington Palace released the news that Prince Harry and Meghan Markle are engaged, the world lost it's collective mind. That became even more true when Prince Harry and Markle's first post-engagement interview aired, especially considering what a great and loving team the pair already seem to be. "We want to carry out our work," Prince Harry said of his relationship with Markle. "And try to encourage others and the younger generation to be able to see the world in the correct sense rather than a distorted view."
Harry, who is fifth in line for the throne, and his new fiancée spoke with Mishal Husain of the BBC, just a few hours after appearing together outside of Kensington Palace in London, following the royal family's official announcement. During the conversation, the newly engaged couple literally finished each other's sentence a number of times while talking about their courtship, how Harry proposed, and the significance of the ring Harry gave to Markle.
According to Harry and Markle, they were introduced by a "mutual friend," who's name they did not share to protect her privacy, back in July f 2016. "It was definitely a blind date," Markle told the BBC during the interview. Apparently Markle, who is a U.S. citizen and was starring on Suits, a scripted television series, was not very familiar with Harry or the British royal family prior to their first date. "I didn't know much about him," she explained. Markle then noted that she only had one question for her friend before meeting Harry, "Is he nice?"
Likewise, Harry had not been following Markle's career before being introduced to her. "I'd never watched Suits," he recalled. "I'd never heard about Meghan before, and I was beautifully surprised when I walked into that room and she was sitting there."
After a number of dates, Prince Harry then offered an invitation to Markle to visit him in Southern Africa. "I think about three," Harry continued, "maybe four weeks later I managed to persuade her to come and join me in Botswana." While the two camped out underneath the stars, according to Harry, they were able to really get to know each other.
"We were really by ourselves," Harry explained of their time in Botswana. "To be able to get to know someone who isn't really in your circle ... Then basically going on holiday together in the middle of no where, it was fantastic to get to know her as quickly as I did."
Markle echoed Harry's thoughts on how their relationship began. "It was really refreshing," she said of having not known much about Harry before meeting him.
"It was a really nice moment," Harry said of proposing to Markle. "It was just the two of us." According to Harry, Markle interrupted him to accept the proposal. "She didn't even let me finish," he recalled. "She said 'Can I say yes?'"
During their interview with the BBC, Harry and Markle also spoke on the significance of the ring Harry gave the Suits star and future Duchess. The engagement ring features three diamonds, one of which is from Botswana and the other two from his mother's personal collection. "I think everything about Harry's thoughtfulness and the inclusion of that," Markle noted of her ring, "And not being able to meet his mom, it's so important to know that she's a part of this with us."
During their conversation with Husain, Harry explained that he thought Markle and his late mother, Diana, Princess of Wales, would have been best friends, "thick as thieves" he said.
As the official royal announcement noted, Harry and Markle are planning to get married in the spring of 2018, which leaves a good four to six months for these two to do plenty of interviews together in the lead up to their wedding.