A Look Back At Every Show & Movie Meghan Markle Appeared In Before Becoming A Royal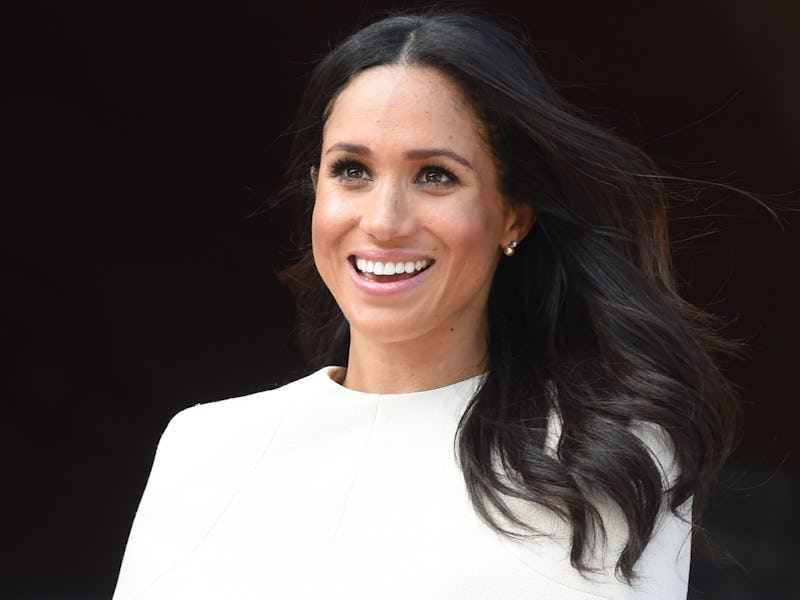 WPA Pool/Getty Images Entertainment/Getty Images
Prince Harry and Meghan Markle's relationship was like a movie moment IRL — and Markle had experience, with over a decade-worth of appearances on-screen. If you've ever wondered about every show and movie Meghan Markle ever appeared in, from her early guest roles on CSI to her well-known role on Suits, this is the list for you. Markle wasn't afraid to try a new movie or and she took on many parts over her acting career, so it's fun to look back to see where she started. It makes sense that the Duchess of Sussex, who has long worked behind the scenes with important organizations, would bring the same determination to her acting career.
Since Markle was born and raised in Los Angeles, it's no surprise she became interested in the entertainment industry. Her father was also a director of photography, and growing up she spent a lot of time on the set of Married...With Children, according to a February interview in Esquire. She pursued acting in college as well, and earned a degree in theater and international studies at Northwestern University.
Given her work with the United Nations, Markle has been sure to pursue both of these interests in the time since graduating. After leaving school, she returned to LA and started to take on small roles in film and TV. While Prince Harry was growing up across the sea, Markle was starting to appear on-screen for the first time. Of course, there's her memorable appearance on Deal or No Deal, but she was actually in many shows and movies.
1. General Hospital
In 2002, Markle made her television debut in a guest role in General Hospital. She was just 20 years old when she made this short appearance as a nurse on the popular medical drama.
2. Century City
Markle also appeared as a character named Natasha on this short-lived television show, which followed a team of futuristic lawyers solving cases in 2030.
3. Deal Or No Deal
It wasn't a typical TV role, but like most actors, Markle would take on work in commercials and game shows. For one of these gigs, she was a presenter on Deal or No Deal.
4. Love, Inc.
Markle had another one episode appearance in Love, Inc., a CW sitcom about a full-time dating consultant. Her character's name was Teresa Santos, and her appearance was during the show's first season.
5. The War At Home
In yet another sitcom, Markle had appeared in one episode of The War At Home. The show was about two parents struggling to make their teenagers behave, and the actor appeared as a character named Susan during Season 1.
6. CSI: NY
It's basically an actor right of passage to appear in CSI or Law & Order. Like many before her, Markle had a role in the procedural drama in 2006. Her character's name was Veronica Perez, and appeared for just one episode.
7. 90210
Of course, Markle also had an appearance on another long-running series — 90210. This role was actually recurring, and she appeared in two episodes as Wendy, a love interest for Ethan.
8. 'Til Death
In yet another niche sitcom, Markle had an one-episode appearance on the show 'Til Death. The show followed a cynical married couple, and the now-Royal played a character named Tara in the episode "Joy Ride."
9. The Apostles
TV movies hit the screen hard in the mid-2000s, and Markle starred in more than a few during her acting career. In 2008, she had a role as Sophie Calhoun in the TV movie The Apostles, a crime drama about cops and their personal lives.
10. Good Behavior
In 2008, Markle also appeared in Good Behavior, which was yet another crime drama. The film also starred Mae Whitman, who went on to have a successful career as well.
11. Knight Rider
In 2009, the actor appeared in one episode of the NBC series Knight Rider, a show about a high-tech crimefighter with a very fast car. Markle played Annie Ortiz on an episode called "Fight Knight" about an underground fight club.
12. Without A Trace
Long before Suits, Markle was getting well acquainted with the procedural drama. She had a one-episode role as Holly Shepard in Without A Trace, a show about a Missing Person Squad.
13. Fringe
This popular television show about the a special bureau FBI agent Olivia Dunham was on air for five years. Markle appeared in two back-to-back episodes as FBI agent Amy Jessup.
14. The League
Markle had a small role alongside comedians Nick Kroll and Mark Duplass on The League, a sitcom about a group of friends trying to balance their fantasy football league with adult life. Her character even had her own name, Meghan.
15. Remember Me
Given yet another role with her own name, Markle appeared in Remember Me. Her role was pretty small, but it was still billed as part of the main cast.
16. CSI: Miami
Markle added yet another city to her CSI credits, appearing in CSI: Miami many years after her role on the New York version of the series. Her character's name was Officer Leah Montoya and appeared in one episode.
17. Get Him To The Greek
While she appeared in many dramas and procedurals, Markle did occasionally take on a comedic role. In this movie, she played Tatiana, and even smooched Russell Brand as part of the role.
18. The Candidate
Markle starred in this spooky short film where a businessman who becomes part of a scheme by a creepy organization.
19. The Boys & Girls Guide To Getting Down
This return to television was for the made for TV movie The Boys and Girls Guide to Getting Down. The film followed a variety of young people navigating night life in Los Angeles, and her character's name was Dana.
20. Horrible Bosses
This Jason Bateman, Charlie Day, and Jason Sudeikis comedy featured a brief appearance from Markle. The actor played a FedEx employee named Jamie, who was a love interest for Sudeikis' character.
21. Dysfunctional Friends
The same year as her comedic role in Horrible Bosses, Markle took a part in Dysfunctional Friends. The dramatic film followed a group of friends who suffer a loss and reconnect.
22. Castle
Castle was a popular series that followed a mystery novelist who teams up with an NYPD detective to solve crimes. Markle has had roles in many procedural shows, and this one is no exception. In one episode called "Once Upon a Crime," she plays Charlotte Boyd.
23. Random Encounters
In this romantic comedy, Markle played the best friend, Mindy, to the main character, who's trying to maintain a relationship while in show business. Oh, how prescient.
24. When Sparks Fly
Enter the Meghan Markle Hallmark movie years. In 2014, she was the star of When Sparks Fly. The movie follows a big city journalist who returns home for the 4th of July to discover her longtime love is engaged to her best friend. It's has all the makings of a traditional romantic-comedy, and fans finally get to see Markle in a starring movie role.
25. Dater's Handbook
The second installment of Markle's Hallmark movie career is in Dater's Handbook. The movie follows a woman who dates according to a book, only to find out that there's no real formula for finding a partner. It's the perfect romantic-comedy to round out her TV movie career.
26. Anti-Social
Markle appeared in yet another crime drama in 2014 with a role in Anti-Social. She plays the girlfriend of a rebellious street artist who gets involved in a major crime with his brother. It's also the last film to star Markle before she becomes a royal and retires from acting.
27. Suits
The most beloved and longest-running role that Markle ever took on was as Rachel Zane in the USA series Suits. The series followed corporate lawyer Harvey Specter who hires a college drop-out named Mike Ross and must cover up this secret. Markle's character was a senior associate at the firm, and eventually married Ross on the show. She appeared on the show from 2011 to 2018, when the show wrote her character off.
Now that Markle is the Duchess of Sussex, she will be retired from acting. Luckily, this leaves more room for her many philanthropic pursuits, including working to promote the equity of women with the U.N. It's still worth revisiting her film and television career, which spanned over 10 years and featured a variety of roles. Markle worked hard during her acting career, and no matter what her next pursuit may be, she's sure to put in that same effort.