Why 'Suits' Fans Will Totally Love Meghan Markle's Final Scene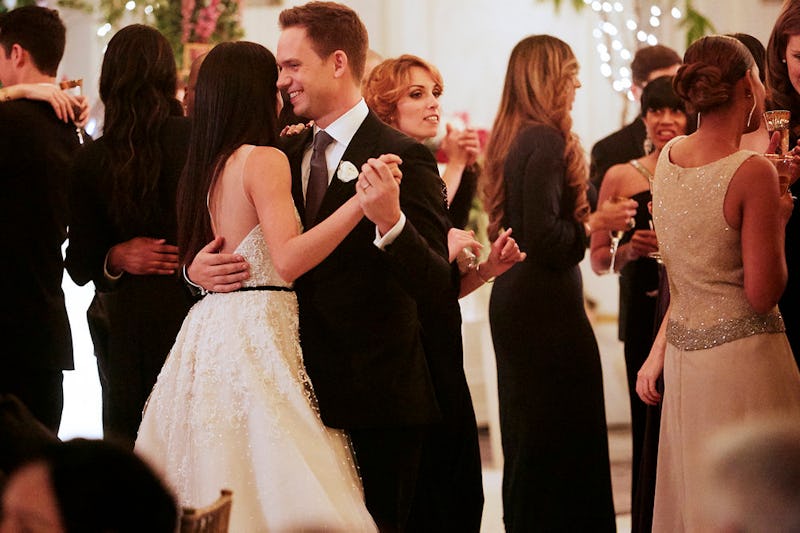 Ian Watson/USA Network
The season finale of USA Network's Suits ended with a joyous occasion. Meghan Markle's last Suits scenes as Rachel Zane gave her and Mike Ross the perfect sendoff. In the episode titled "Good-Bye," they tied the knot with Harvey Specter and Donna Paulsen by their side. The couple also revealed their plan to leave New York City and build a legal firm specializing in class-action suits in Seattle. Their time on the show is done, but they went out in the best possible way.
Season 7 slowly built toward this resolution as it explored Mike's passion for helping disenfranchised people. His prison stint and work with a not-for-profit legal firm started putting him at odds with the corporate work he was doing at Specter Litt. Rachel also began to sympathize with his human rights cases and used her skills to support his endeavors. She can continue to sharpen her legal skills and maybe become a senior partner in their new firm.
But, their long-term desire to get married was fulfilled in their last-minute ceremony. The people they loved the most, including Louis Litt and his girlfriend Shelia, were in attendance as they happily exchanged vows. The ceremony was a relief for many fans who thought the couple's relationship could be in peril in the midst of career chaos and delayed wedding plans. And, since actors Meghan Markle and Patrick J. Adams are leaving the series, their characters' joyous ending is perfect sendoff towards the next phase of their lives outside of the law firm (and off the show).
Mike and Rachel's decision to leave is a bittersweet moment for their best friends. Mike dropped the news to Harvey about leaving the firm and moving to Seattle during the wedding reception. Harvey tried to convince Mike to stay, but the conversation ended with a supportive handshake. The finale didn't show the last moments between Donna and Rachel. But, Donna is the most supportive co-worker/friend in the world, and fans know she would encourage them to follow their dreams.
Meghan Markle's final Suits scene gave Rachel Zane everything she deserved. The dimmed, hanging lights in a open room created a romantic ambiance as she walked down the aisle. Her last outfit on the show was her wedding gown — a simple, sleeveless white ensemble with a small black sash around the waist. She gushed over her excitement about the couple starting a new journey together and said Mike was "the strongest man she had ever met."
The couple's final scene capped off a perfect ceremony as they danced and whispered in each other's ear. The camera panned around them to show their closest friends and family having a great time as everyone celebrated their new union. It was a sweet, satisfying ending to a complicated love story.
People revealed that Markle was leaving Suits to marry Prince Harry back in 2017, so she has been a little too busy to talk about the final season. But, Adams opened up about his reasons for leaving the show. In a recent interview with The Hollywood Reporter, he said he wanted to spend more time at home with his wife Troian Bellisario. Adams also felt like the journey for Mike Ross was coming to an end.
"I thought we'd come so far and now Mike is going to work to be a lawyer and he's engaged to the woman of his dreams and he's got the means and opportunity to do whatever he can imagine," Adams said. "I had this voice in my head that said that we've told his story and if he hangs out longer, Mike is just going to be another lawyer on television. That didn't feel right for him."
So, it was just time for this couple to move on, and they get to do so together. The end of Season 7 wrapped up many loose threads in Mike and Rachel's story. It's bittersweet to say goodbye, but this love story will live on in the heads (and fanfiction) of Suits fans forever.