A Breakdown Of Every Song In Shakira & J.Lo's Epic, Career-Spanning Halftime Show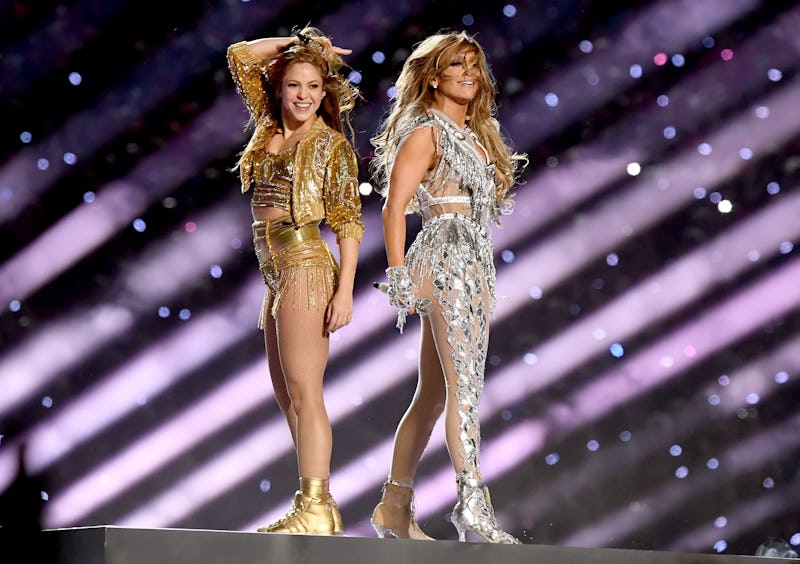 Kevin Winter/Getty Images Entertainment/Getty Images
If you're still trying to process J.Lo and Shakira's 2020 Super Bowl halftime performance, you're not alone. The two took to the stage on Sunday evening for a whirlwind, career-spanning medley of their greatest hits, including guest appearances from Bad Bunny, J. Balvin, and Lopez's daughter Emme Muniz. It all happened so fast, you may not have caught every song they performed — or it's possible you blacked out from sheer excitement. Whichever the case, here's a breakdown of each track.
"She Wolf"
Clad in an ultra-sparkly red fringe two-piece, Shakira kicked things off with "She Wolf" from her 2009 album of the same name.
"Empire"
She then transitioned to this rock-tinged power ballad from her self-titled 2014 LP.
"Whenever, Wherever"
Shakira carried right on into her infectious 2001 single, which helped her break big in the United States.
"I Like It" By Bad Bunny, J Balvin, And Cardi B
After bringing Bad Bunny onstage, Shakira subbed in for Cardi B on the ubiquitous, Latin-infused "I Like It."
"Hips Don't Lie"
Finally, before ceding the stage to J.Lo, Shakira full-on crowd-surfed to her irresistibly danceable "Hips Don't Lie."
"Jenny From The Block"
Enter J.Lo, who made. an. entrance. by ripping off a flowy pink satin skirt to reveal a black, studded leather one-piece with matching chaps, all while singing her timeless 2002 track "Jenny from the Block."
"Ain't It Funny"
She followed it up with the slow-bounce "Ain't It Funny," which she originally recorded for The Wedding Singer but instead featured on her self-titled 2001 album.
"Get Right"
J.Lo accompanied this horn-accented 2005 number with a knee slide across the stage.
"Waiting For Tonight"
After a quick change into a silvery, mirrored bodysuit, she pole-danced to "Waiting for Tonight" in an homage to her (sadly not Oscars-nominated) Hustlers role.
"Love Don't Cost A Thing"
Next up was this prime early 2000s R&B staple...
"Mi Gente" By J Balvin And Willy William
... which J Balvin interpolated with his Latin crossover hit "Mi Gente."
"On The Floor"
Then came the semi-more recent, Pitbull-featuring 2011 tune "On the Floor" (although Pitbull was not in attendance).
"Let's Get Loud"
And at last, J.Lo's daughter — alongside an entire children's chorus — joined her onstage for a rendition of "Let's Get Loud," which they paired with the chorus of "Born In the U.S.A."
"Waka Waka"
To close it all out, Shakira returned for a hip-shimmying, aerobatic-filled duet of "Waka Waka."