A Lin-Manuel Miranda 'Gilmore Girls' Musical? Nah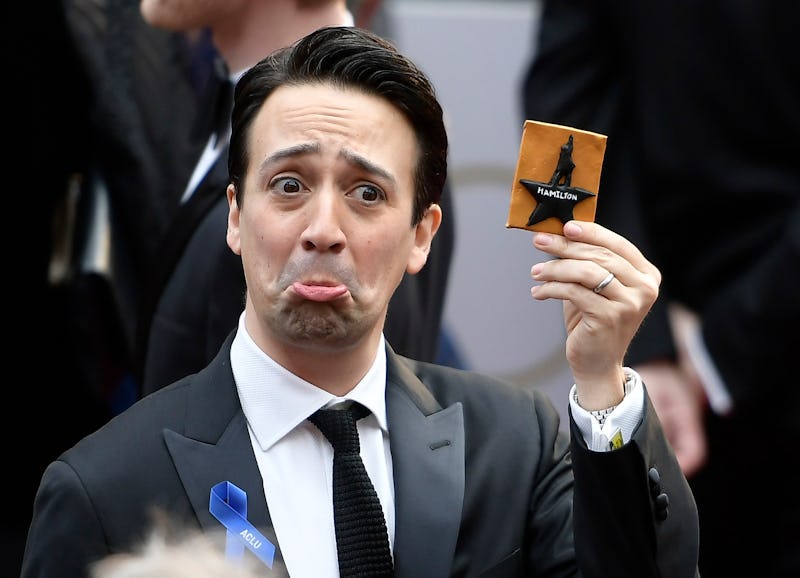 Matt Winkelmeyer/Getty Images
If you were of those people who felt utterly enchanted by Stars Hollow: The Musical during the Gilmore Girls revival, A Year In The Life, then you're going to love what I'm about to tell you. In fact, pour yourself a coffee, pull up a chair, and have a notepad, pen, and some creative input at the ready, because people on Twitter are suggesting that Lin-Manuel Miranda should create a Gilmore Girls musical. But, before we all get carried away with this phenomenal idea, let me back this story up to the start.
On Twitter, early on Friday morning, Miranda shared that he'd just finished Gilmore Girls' first season, saying: "I stayed up very late, but I'm done with season one of Gilmore Girls," with the hashtag, "Priorities" and an apt gif of Lorelai Gilmore yawning. Which is so relatable, but also, perfectly innocent. No musicals to see here, guys.
Except, soon afterward, people on Twitter clearly inspired by Miranda's love for Gilmore Girls were immediately suggesting that the Hamilton creator and Moana songwriter make a musical version of the show. Which, clearly tickled by the idea, Miranda responded to with some understandable eye roll emojis. Sometimes I read these things all wrong you guys, but I think Miranda might not be interested in making our dreams come true and creating Gilmore Girls: The Musical. What do you think?
Here's Miranda's original tweet:
And here's the first of a few people acting like Taylor Doose and seeing the good sense in wringing a musical from the joys of Stars Hollow:
To which Miranda invoked his inner Gilmore and responded with this nugget of passive brilliance:
And by the time that Miranda had retweeted this next message of support to the idea...:
...he was so totally over it:
The whole wonderful event was summed up perfectly by this Twitter user who has likely realized that Miranda may never want to share his likes with the internet ever again. This is why we can't have nice things:
So yeah, disappointing as it may feel, it doesn't seem likely that a Gilmore Girls musical will be part of Miranda's future body of work any time soon, if ever. But that doesn't mean that those of us who happen to worship at the dual altars of Gilmore Girls and Hamilton can't still enjoy daydreaming about the sort of musical that Miranda could create out of the show.
Even if we concentrate solely on the events of season one of Gilmore Girls (which Miranda has just finished), such a musical still has the powerful potential for some pretty terrific songs. Just imagine, if you will, an upbeat duet between Luke and Lorelai firing off the kind of quick witted rapport that speeds up in tempo with every sip of coffee she enjoys. Or Paris Gellar indulging in a rap battle with Rory Gilmore, and Madeline and Louise provide a catty chorus line. Or, sweet mercy, Taylor singing a completely different tune to the rest of Stars Hollow during a painful town meeting. Damn, maybe I should write this thing myself.
Anyway, it's heartening to hear Miranda continue to celebrate his fandom of Gilmore Girls. But more so when you consider that there was a brilliant Hamilton reference made during Stars Hollow: The Musical itself, in A Year In the Life. Where, not only is Taylor shown in his determination to feature a Hamilton style rapping character, but said character also begins his part with the line, "Ay yo look I'm rapping. Just like Hamilton on Broadway." Because now I truly feel like we've come full circle with this, people.
Basically, I'd just like to live in a World where Stars Hollow: The Musical is a thing, but also where Gilmore Girls: The Musical is one, too. So, if there's any slight possibility that Miranda might ever rethink those eye rolling emojis and make these musical Gilmore Girls dreams a reality, then I fully support him doing so.