'Everything, Everything's Interracial Romance Matters So Much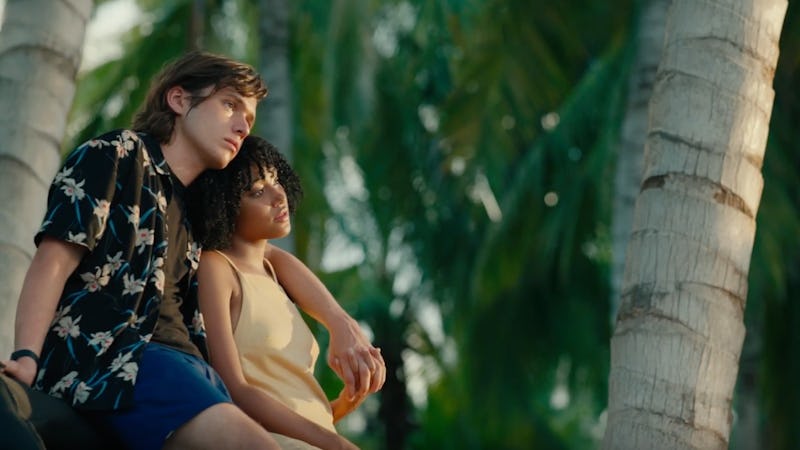 Warner Bros.
For millennials looking for representation on-screen, the new film Everything, Everything is a pretty big deal. The movie stars Amandla Stenberg, who's biracial, as its teen heroine Maddy, and when the character falls for Olly (Nick Robinson) who is white, they begin a romance — normal teen movie stuff, except that interracial relationships are rarely seen in movies. For the young generation of viewers, seeing a film that reflects the changing landscape of relationships in today's society truly matters, and will hopefully have an effect on the way our society views the connection between romance and race.
Everything, Everything featuring an interracial relationship between its main characters is a major deal, and it reflects the changing views towards race and romance held by Americans. Interracial dating is considered more acceptable and mainstream than ever, and a 2012 survey by the Pew Research Center showed that 43 percent of all Americans believed the rise in interracial marriages had been a good thing for society. And among 18 to 29 year-olds, a 61 percent approved of interracial marriage, with 93 percent favoring interracial dating.
it's so important for movies to reflect this changing reality and provide representation. Seeing interracial couples in pop culture won't rid some Americans of racist ideas and perceptions, of course, but it will help in chipping away at them gradually. Television has already showcased several interracial couples, like Olivia and Fitz on Scandal and Mindy and Danny on The Mindy Project, and celebs like Kim Kardashian and Kanye West are constantly in the spotlight, but movies have lagged farther behind in this regard. Everything, Everything is, sadly, an anomaly, but like the other examples, it reflects the world's changing attitudes towards race in romance in a great, much-needed way.
It's even better that the actor playing Maddy is Stenberg, who's been a strong voice when it comes to race and representation for several years now and has become something of a teen role model. Her presence in the film will hopefully convince young viewers to check out the movie, and thus experience its important message.
In a perfect world, race in romance would not be an issue, but the unfortunate truth is that as much as interracial relationships have become more accepted by society, there are still people who believe these kind of romances are wrong. It's up to the younger generation to change these attitudes, and having pop culture that represents all types of relationships is key to this. Match.com did a study in 2011 with several mixed-race partners and found that each couples' individual families became more accepting and less prejudiced the more they interacted with significant others of different races; what's to say seeing movies and TV shows featuring interracial couples is any different?
Everything, Everything's love story could have a huge impact, and hopefully, more Hollywood films and TV shows will feature interracial couples to reflect the world's changing attitudes towards romance and provide some severely needed representation.