Here's What You Need To Know About The Meghan Markle & Prince Harry Lifetime Movie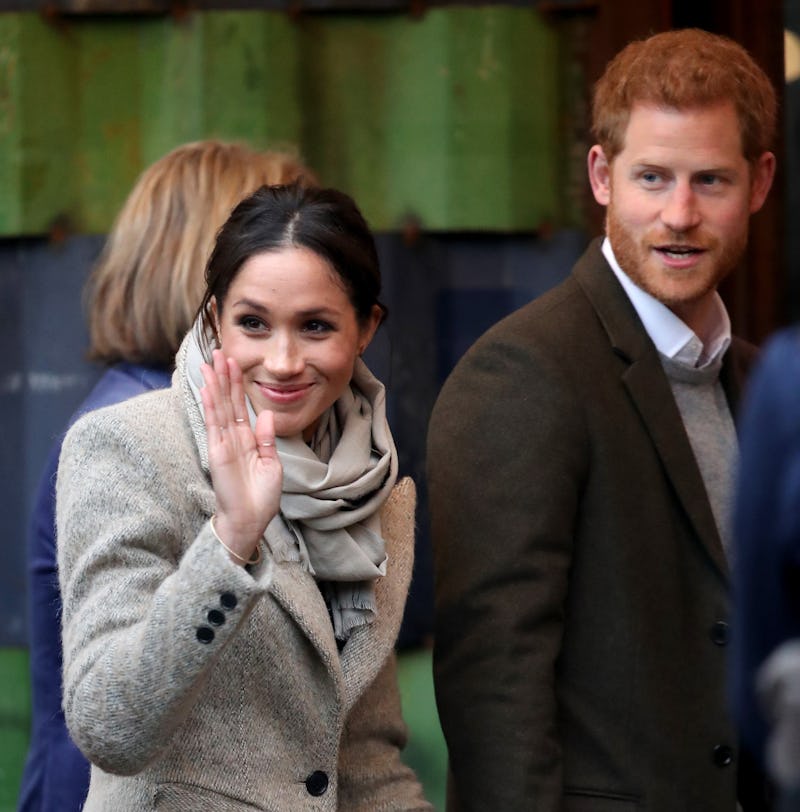 Chris Jackson/Getty Images Entertainment/Getty Images
On Monday, Jan. 14, Deadline reported that Lifetime made a royal announcement at the Television Critics Association winter tour: the network is making a Meghan Markle and Prince Harry Lifetime TV movie. The title will be Harry & Meghan: The Royal Love Story and there is no premiere date or cast set just yet, but Deadline noted that it may air before Markle and Prince Harry's May 19 nuptials. Lifetime's TV movie about Prince William and Kate Middleton, William & Kate: The Movie, aired 11 days before their April 29, 2011 wedding.
According to Deadline, Harry & Meghan: The Royal Love Story will follow the now-engaged royal couple through dramatizations of their first meeting on a blind date set up by a friend in July 2016, and their courtship, which was initially private before being revealed to the public. This means there could be dramatized versions of that blind date and subsequent dates, the couple's travels to Africa, Prince Harry's proposal as they were roasting a chicken, and maybe even scenes of Markle filming her former role as Rachel Zane on USA's Suits. Flowers In the Attic's Merideth Finn and Michele Weiss are executive producing the movie.The Royals' Menhaj Huda, a British director, is helming the Markle and Prince Harry movie, which is currently casting the roles now, reported Deadline.
Even though Markle is a former actor, it looks like Lifetime is looking for another actor to take on her role in the movie. In addition to the Markle and Prince Harry roles, there are many other roles that the movie may likely feature, such as Markle's mother Doria Ragland and father Thomas Markle. Could Queen Elizabeth be making an appearance during a dramatized version of Her Highness' first meeting with the American actor? Will there be corgis? To refresh your memory, Prince Harry said in a BBC interview that the Queen's corgis were a big fan of Markle and Queen Elizabeth adores her corgis.
This isn't Lifetime's first foray into movies about the life and times of the British Royal family. Previously, the network made the William & Kate TV movie, which dramatized the courtship and engagement between Prince William and Kate Middleton (now Duchess Catherine); actor Justin Hanlon played Harry in that movie. In 2007, Lifetime aired the TV movie The Murder of Princess Diana, which dramatized the final moments and death of Prince Harry and Prince William's beloved mother, who died at age 36 in a Paris car crash in 1997; neither prince appeared in the film. It's currently unknown who Lifetime will cast as Markle and Prince Harry, along with the other roles.
Markle and Prince Harry became engaged in November 2017 to much celebration after a whirlwind, globe-spanning relationship. Markle was based in Los Angeles, where she worked as an actor, and Toronto, where she filmed her former role on Suits; Prince Harry was based in England. Together, they traveled to Botswana, a country that means a lot to Harry, and scheduled their wedding for May 2018.
Soon, their courtship will have a Lifetime TV movie to go along with it and Twitter has some casting suggestions.
Many Twitter fans are asking if Markle can play herself in the movie, even though it seems very unlikely. After the engagement announcement, the former actor announced her retirement from Hollywood, so she can focus on her royal duties.
"I don't see it as giving anything up. I just see it as a change," Markle told the BBC in a televised interview. "It's a new chapter, right? And also, keep in mind, I've been working on [Suits] for seven years. We were very, very fortunate to have that sort of longevity on a series…I've ticked this box, and I feel very proud of the work I've done there, and now it's time to work with [Harry] as a team."
We'll have to wait to see who gets cast as the royal couple, but already Harry & Meghan: The Royal Love Story is a highly-anticipated Lifetime movie.