A Former ICE Agent Allegedly Sexually Assaulted Women, Then Tried To Silence Them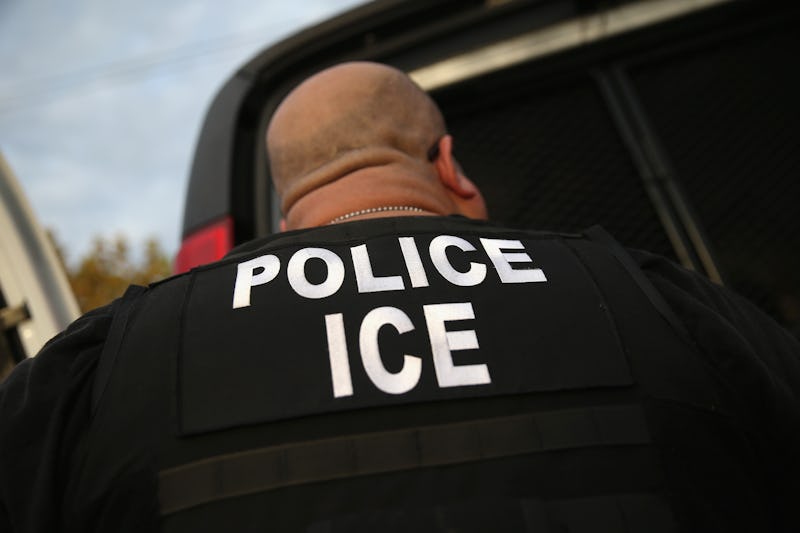 John Moore/Getty Images News/Getty Images
On Wednesday, a former ICE agent was arrested on suspicion of sexual assault. According to an indictment from the U.S. Attorney's office, the man told his alleged victims that he wouldn't be punished if he raped them because he was a federal agent at the time. He has pleaded not guilty to three charges of deprivation of rights under color of law, BuzzFeed News reports, and was released on $50,000 bail.
ICE told Bustle in a press release that its own agents, acting in concert with the FBI, helped arrest the man in Riverside, California, on Wednesday. It also said that ICE's Office of Professional Responsibility is investigating the allegations against the former employee.
The 43-year-old man in question worked for ICE from 2007 to 2015, according to the indictment. Prosecutors allege that in January 2012, he attempted to rape a woman and told her that the police wouldn't arrest him because he is an ICE agent. The indictment says that in September 2012, the man raped a second woman and told her the same thing, and then raped her again in November of that year.
The crime that the man was charged with, deprivation of rights under color of law, is a statute applied to law enforcement officials who commit any number of crimes while pretending to be acting within their legal authority. The language of the statute itself raises the possibility that the man's victims were undocumented immigrants, though this has not been reported.
Little is known about the circumstances under which the man arrested Wednesday allegedly assaulted the women in question. However, there have been rampant reports of sexual abuse at ICE's detention centers.
A public records request by the Intercept found that between 2010 and 2017, there were 1,224 complaints of sexual harassment or assault at immigrant detention centers in the United States. A separate report in the New York Times put those numbers even higher, finding that ICE reported 1,310 claims of sexual abuse against detainees in its facilities between 2013 and 2017.
In 59 percent of the instances reported by the Intercept, the alleged perpetrator was an ICE agent or contractor. Only 43 of those complaints — less than 4 percent — were subsequently investigated by officials, the Intercept found.
There have also been several reports of child abuse at detention facilities that didn't involve ICE employees. The Nation reported that a 6-year-old migrant girl was sexually abused by another child at a detention center in June after officials separated her from her mother at the border. In August, a staff member at an Arizona facility was arrested for allegedly molesting a 14-year-old, determined in July that staffers at the infamous Shiloh detention center in Texas violated child welfare laws by forcibly injecting psychotropic drugs into child detainees' without their parents consent. Both the Arizona and Texas facilities and their staffers are contracted by the U.S. Department of Health and Human Services.
The man who was arrested on Wednesday is scheduled to appear in court in October, according to BuzzFeed News.