An Arizona Detention Center Worker Was Arrested For Allegedly Molesting A Migrant Girl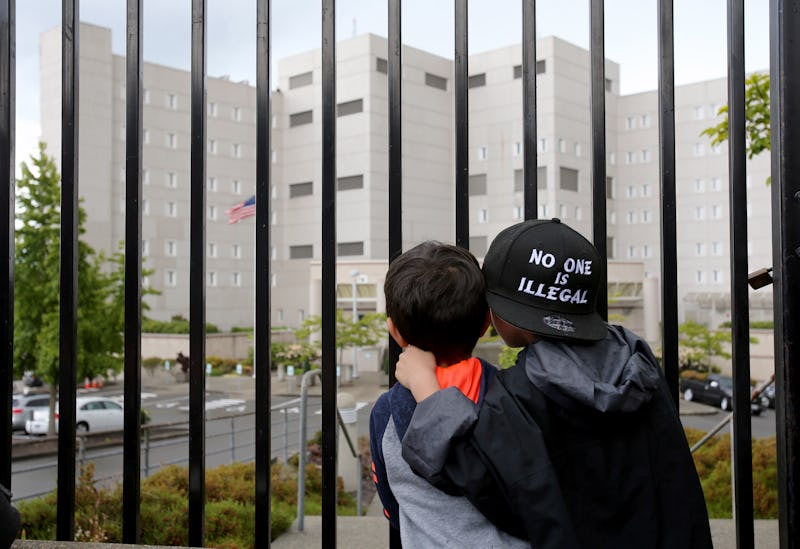 Karen Ducey/Getty Images News/Getty Images
Phoenix police have arrested a staff member at a detention facility who allegedly molested a 14-year-old immigrant while she was detained. The staff member was arrested Tuesday and now faces charges of charges of child molestation, sexual abuse, and aggravated assault, according to a statement by police. It's the second report in less than a week of an immigrant minor being sexually assaulted at an Arizona detention center after being separated from their family by the Trump administration.
According to court documents reviewed by ABC 15, the detainee's roommate at the facility said that she saw the staff member touching the 14-year-old detainee inappropriately and kissing her in June. Surveillance video also depicted the staff member entering the child immigrant's room multiple times throughout a night.
In a statement to Bustle, the Phoenix Police Department said that its officers contacted and questioned the suspect on Tuesday. The suspect "made statements regarding his involvement" and was subsequently booked, police said.
A spokesperson for Southwest Key Programs, which manages the facility in question, says that it takes reports of "inappropriate behavior" seriously.
"When a child tells us of inappropriate behavior, we immediately call law enforcement and start an internal investigation as appropriate," Jeff Eller tells Bustle. "That's what happened in this case. Southwest Key always works with law enforcement to bring the full force of the law to bear when it is warranted."
ProPublica has identified at least 125 reports to police of sexual abuse at child immigrant detention centers from the last five years. On Wednesday, Rep. Ruben Gallego wrote a letter to the Department of Health and Human Services demanding an investigation into these allegations, and specifically named Southwest Key as a subject for scrutiny. The Texas-based nonprofit operates 26 detention facilities in aCalifornia, Texas and Arizona, and collectively houses around 5,000 child immigrants, or roughly half of those detained in the United States.
In his letter, Gallego cited four separate reports of sexual abuse allegations at Southwest Key-managed facilities, including one in which a six-year-old was allegedly sexually assaulted twice by an older detainee. As Gallego noted, facility staff members responded to the allegations of abuse by making the six-year-old sign a statement affirming that it was her responsibility to avoid sexual abuse during her detention.
"After the first instance of abuse was reported, despite the absence of a parent/guardian, Southwest Key reported required the victim to sign a document acknowledging her responsibility to comply with a facility-generated 'Safety Plan,'" Gallego wrote. "The document makes no mention of preventative safeguards to be undertaken on the child's behalf. Ten days later, another instance of abuse was allegedly perpetrated by the same individual, demonstrating the clear inadequacy of these measures."
The Trump administration has also faced criticism over accusations that immigration officials have forcibly given psychotropic drugs to immigrant children it has detained. A lawsuit was filed against the administration over this in April, and on Tuesday, a federal judge ordered officials to stop administering such drugs to immigrant minors without their parents' consent.
Over 2,000 immigrant children have been split up from their parents as a result of the Trump administration's family separation policy. That policy has since been repealed and a federal judge has ordered the administration to reunited the families it split up; however, the administration has missed several court-imposed deadlines for complying with this ruling, and according to CNN, hundreds of immigrant children remain separated from their parents.