This K-Pop Band Has Had SO MANY Members & They're Still Going Strong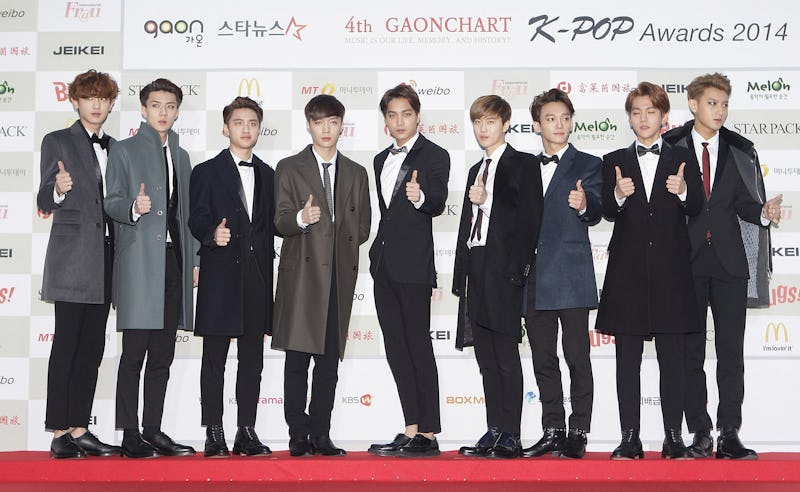 Chung Sung-Jun/Getty Images Entertainment/Getty Images
There's nothing quite like Korean pop music, and there's really nothing quite like Exo. The Seoul-based boy band was formed back in 2011, and it's not just the hits that have kept on coming, but the band members have grown too. The number of Exo band members in 2018 is staggering in the best way. After all, what's better than your favorite boy band? Your favorite boy band, super-sized. The 2018 Winter Olympics in PyeongChang helped bring the gospel of Exo to an even wider audience, which means that you don't have to be a K-Pop know-it-all to know and love Exo in 2018. In fact, getting to know the Exo band members isn't a bad introduction to the fandom in general.
With nine bandmates total, Exo is roughly double the size of the average international boy band sensation. Since they've been around for so long, though, the lineup has shifted over the years. Performers have come and gone, and spinoff groups have formed within Exo. It can be hard to keep track, even for the band's devotees. According to the bands website, as of 2018, the official Exo lineup includes the following performers, all of whom use a mononym: Xiumin, Suho, Lay, Baekhyun, Chen, Chanyeol, D.O., Kai, and Sehun. Luhan, Kris, and Tao are no longer part of the group. They're still in the hearts of fans, though.
The beautiful union of Exo wasn't always one whole. When the group first formed, they were Exo-K and Exo-M, as discussed in this Reddit thread. Exo-K released music in Korean, and Exo-M put out music in Mandarin Chinese. As K-Pop fanpage Amino Apps explains, there was more than just a divide between the languages: The Exo-K group projected a younger, more wholesome image, and the Exo-M clique were marketed as a more "mature" Exo-K. (The "K" could be for "Korea" or "kids; the "M" for "Mandarin" or "men", suggests a popular fan theory.) Today, though, the crew is a nine-man pop powerhouse. They have fans all over the world, including Olympic competitors, and even earned a coveted spot in the closing ceremonies of the 2018 Winter Olympics.
To put the size of the Exo fandom into perspective: What if One Direction had twice as many dudes and never went on hiatus? Or if *NSYNC was only Justin Timberlakes? Imagine the style coordination of the Backstreet Boys, only with well-tailored suits in place of whatever else their "look" was. That's Exo. They are a delight. The Exo band members genuinely seem to like one another, too, which is impressive. Seven years of working together, recording music, doing press, and more? That could wear down even the peppiest of pop stars.
By 2018, the members of Exo seem used to being famous. You don't spend seven years as part of one (or more) beloved pop groups without getting the hang of it. They're talented and hilarious, and their accessibility endears them to fans. It's always cool to watch mega-celebrities stay true to their personalities — for instance, comedian Tiffany Haddish proudly continues her use of Groupon — and even though the performers of Exo have international recognition, they seem like the same goofy, stylish heartthrobs they've been since the beginning.
When most bands start out, they likely don't picture themselves one day performing at Olympic ceremonies and meeting potential gold medal athletes. Exo probably didn't either, but here they are in 2018: making it happen. It can be tough for international fans in the Western hemisphere to keep up with Exo, though, as the group (in its various incarnations) mostly tours East and Southeast Asian countries. In 2017, they played their first dates in the United States — in Newark, NJ and Los Angeles, CA — and haven't returned just yet.
The new wave of K-Pop appreciation in the U.S., though, will hopefully bring them stateside again before too long. K-Pop and its many K-stars, welcome to global domination.