BTS Just Made Music History & Their Fans Are Hyped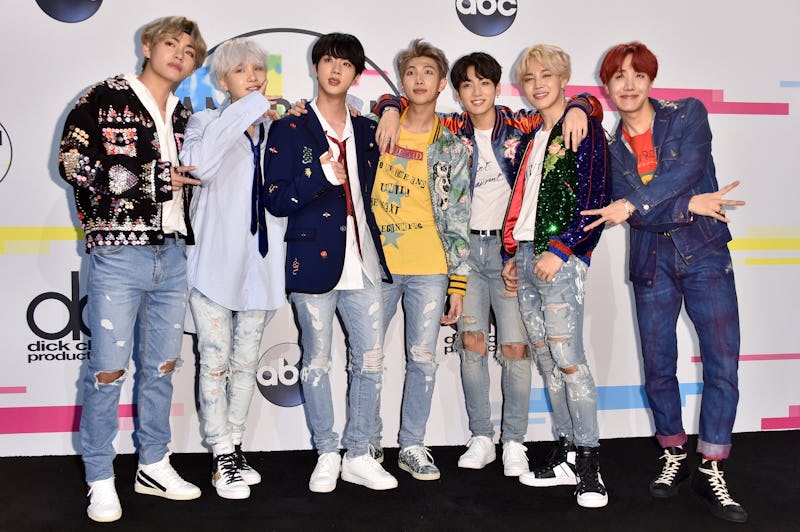 Alberto E. Rodriguez/Getty Images Entertainment/Getty Images
The BTS Army has an excellent reason to celebrate this Monday. As reported by Billboard, BTS is making K-pop history with their hit single "MIC Drop." The South Korean band's catchy song debuted on the Hot 100 list at No. 28. Not only is this the group's first entry in the top 40 half of the list, it's also the first for any K-pop group.
Consisting of seven members, BTS has amassed a passionate fan following stateside. The band made their American live-performance debut on Nov. 19 at the American Music Awards where they delivered a show-stopping performance, and on Nov. 27 they performed "MIC Drop" on The Ellen DeGeneres Show. Their popularity in America has been growing steadily for some time — especially on social media where the band's passionate group of fans is especially active. In May, BTS won Top Social Star at the Billboard Music Awards —where they made their American red carpet debut — in large part thanks to the fandom's support.
There's no doubt that 2017 has been a breakout year for BTS and the band's fans couldn't be happier. The news that "MIC Drop" debuted at No. 28 on the Hot 100 list has been met with excitement, enthusiasm, and a drive to keep the band's momentum going. It's clear from the Twitter reaction to BTS' success that being in the BTS Army is a way of life, and the band's triumph is a win for the fandom as well.
Need further proof of just how much the BTS Army is freaking out right now? Check out the best Twitter reactions below.
Fans Are Hyped For The Future
Why stop at No. 28? The BTS Army is ready to see their favorite band go all the way to number one on the charts. There may still be a few people who have yet to be swayed by the K-pop band's charms, but at this rate, it won't be long until everyone is jamming out to "MIC Drop" — at least not if the Army has anything to do with it.
And They're Talking Strategy To Keep The BTS Love Flowing
Members of the BTS Army should consider a future in campaign management, because they're organizational skills will leave you in awe. They're not just idly enjoying the band's achievement, they're actively thinking about how to continue propelling BTS forward in the future.
Now that's how you fandom, people.
But They're Also Celebrating This Triumphant Moment
BTS and their fans have worked hard for this moment, and they're not letting it pass by without some serious celebrating. The K-pop band's rank on the Hot 100 is a testament to just how far they've come since they began their career in 2013.
They've gone from success in their homeland of South Korean to becoming one of the most popular boy bands in the world. Their new chart location also puts them in the same league as artists like their chart neighbors, Ariana Grande and Imagine Dragons. If that's not a reason to have a GIF party, nothing is.
Fans Can't Stop Congratulating The Band
It's not every day that your favorite band makes history, so the BTS Army's excitement is totally understandable. Seeing a band that primarily sings in a foreign language make a major splash in the American music scene is still all too rare, but BTS could be breaking down barriers for bands to come.
"MIC Drop" is helping propel BTS into the pop culture zeitgeist in new and exciting ways, and it's clear that the band's incredible fanbase couldn't be happier to be along for the ride.