The Music At The Opening Ceremony Was A K-Pop Extravaganza & Twitter Was So Pleased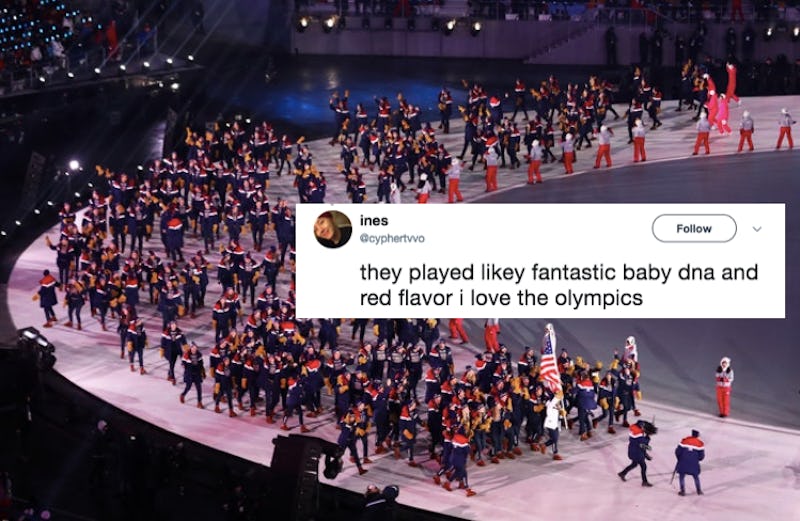 Getty Images/@cyphertvvo/Twitter
What music do you play while thousands of athletes parade into a stadium at the Olympics? If you are the organizers behind the PyeongChang Olympic opening ceremony, you go for one of the country's most popular musical exports: Korean pop, or K-pop. The songs playing during the opening ceremony's Parade of Nations were a huge part of the show; as athletes filed in, the soundtrack that boomed around the PyeongChang stadium included international hits like Psy's "Gangnam Style" and K-pop sensation BTS's "DNA", which the hugely popular boy band recently performed on Ellen to screaming fans. More hits were thrown in as well; Twice's "Likey" sent fans on social media into a frenzy, as did female K-pop favorites Red Velvet's "Red Flavour" and boy band BigBang's "Fantastic Baby." Predictably, Twitter exploded.
It may seem like an odd choice, but K-pop is one of South Korea's most successful cultural exports. Bloomberg estimated in 2017 that it was worth $4.7 billion, and with BTS's explosion into the American market — one of the first K-pop bands to find mainstream success in the U.S. — it looks to get even bigger. K-pop acts even are beating artists like Justin Bieber and Miley Cyrus to international awards. Placing K-pop favorites alongside traditional Korean tunes makes perfect sense for a ceremony that celebrates Korean cultural values and achievements — and it is a seriously good way to get very cold athletes in below-zero conditions dancing.
Wondering which songs were playing, exactly? Here's a quick list of some of the tunes you heard playing while the world's greatest Olympic athletes entered the stadium.
"Red Flavour" — Red Velvet
"DNA" — BTS
"Likey" — Twice
"Fantastic Baby" — BigBang
"Gangnam Style" — Psy
Other areas of Korean music were also featured. Two young indie-rock singers, Ahn Ji Young and Ha Hyun-Woo, both members of hugely popular Korean bands, were featured as part of a live medley of John Lennon's "Imagine".
Even if K-pop isn't your thing, there were still other sights and sounds to behold throughout the ceremony. The show got off to a beautiful start as the games' mascot, a stunning faux white tiger Soohorang that represents protection, entered the stadium along with five children in an act meant to symbolize peace and wonder. Other notable acts that took place throughout the event included everything from a highly lauded performance by Korean opera singer Su-mi Hwang to an instantly meme-worthy troupe of pink-suited dancers in hats who ushered in athletes during the Parade of Nations. South Korean figure skater Yuna Kim was also there to light the Olympic cauldron, as was the viral shirtless Tonga flag bearer, who once again managed to steal the show.
Still, it was the K-pop soundtrack that some people on Twitter seemed to latch onto most.
Many people took the opportunity to post videos and screenshots of athletes marching into the stadium as their favorite songs played. Team USA entered the stadium as Psy's "Gangnam Style" was on and Twitter collectively started freaking out.
Others wondered why their go-to K-pop tunes WEREN'T included throughout the ceremony.
Mostly, though, people seemed to just want to hear even more.
The Olympics is all about international togetherness and excellence — but it looks like the opening ceremony was a particular delight for K-pop fans the world over. Watching people do unbelievably risky, difficult athletic feats to the dulcet tunes of K-pop stars sounds like a recipe for a great Olympics to me.
The games officially started on Feb. 8, but it seems clear that there were already plenty of winners coming out of the Olympic opening ceremony alone.