Explore The Psychology Of 'The Girl On The Train'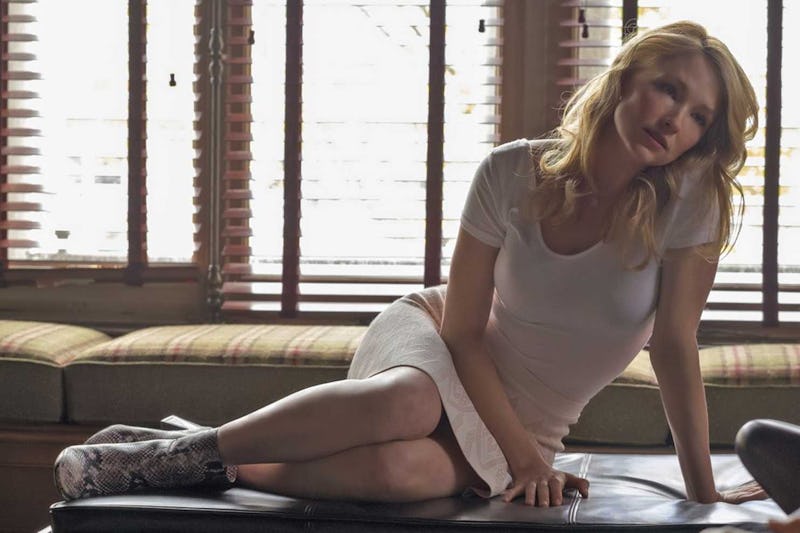 As with many anxiety-inducing psychological thrillers, The Girl on the Train gets deep into the brains of the characters. In a video exclusive for The Girl on the Train, the film's creators dive into the psychology of the films' female characters. The most discussed character in the short video is Megan, played by Haley Bennett, a married woman who goes missing on in her New York City suburb town.
The protagonist of the film, Rachel (Emily Blunt), has an obsession with Megan's "perfect relationship" with her husband and stalks them — alongside her ex-husband and his new wife. This makes her a prime suspect in Bennett's murder, but really, anyone could be a suspect. The obsession, addiction, and deceit of the characters in the film comes to light because of Megan's disappearance. As director Tate Taylor puts it in the video, "she's a catalyst to many people. You can apply her state of being to the people circling her and realize that anyone or everyone could want something harmful to happen to her for many different reasons."
Director of photography Charlotte Russ Christensen discusses how the production team made Megan feel like a "a girl that's running away" and someone who "doesn't have her feet on the ground." They used a steadicam, a camera stabilizer mount, while following Bennett on her many runs around, to give her a "floating feel and movement."
It's fascinating to learn the different steps that come all together to create interesting characters and a suspense-filled story. But suspense and intrigue isn't the only item offered. Producer Mark Platt reminds us that one of he reasons we're so engaged with the female characters, specifically the enigmatic Megan, is that in them, "all the different complexities and insecurities, and vulnerabilities of women are demonstrated in different ways. it's almost as if three different characters are a composite of one."
If you haven't gotten a chance to catch The Girl on The Train, or want to relive the suspense over again, the film will be available on Blu-ray on Jan. 17. For now, you can get a digital download.
Watch the behind-the-scenes featurette below.