Facebook Adds Exciting New Live Features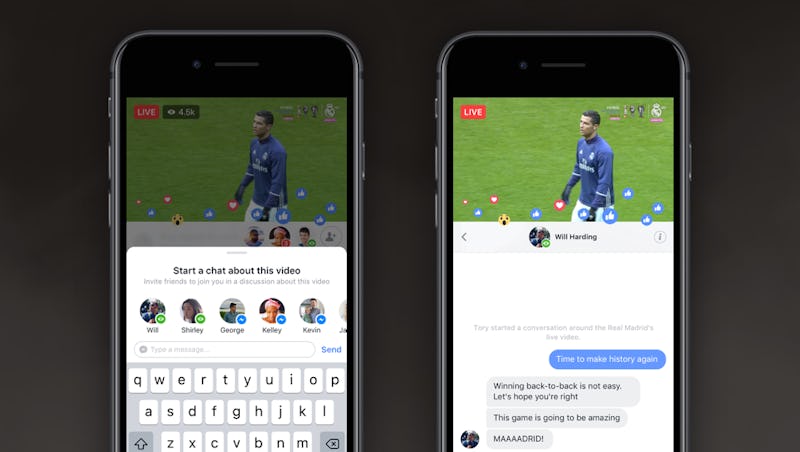 Courtesy of Facebook
As if Facebook Live didn't connect you enough with your favorite celebrities, publications, or sports teams, you can now share the experience with your close friends! That's right — Facebook Live rolled out two new features called Facebook Live Chat With Friends and Live With, both meant to give Facebook users a unique experience that have yet to be seen on other live-streaming apps for social platforms.
Live Chat With Friends allows users discuss any broadcast with your friends during the actual real-time video. According to a press release through Facebook's Newsroom, "When it comes to compelling public broadcasts — such as a breaking news event, a Q&A with your favorite actor or behind-the-scenes action after a big game — watching with the community and reading comments is an exciting part of the experience. We know sometimes people also want the option to interact with only their friends during a public live broadcast, so we're rolling out Live Chat With Friends."
During an actual broadcast, Facebook users can click "chat" with any of their friends and chat about the broadcast while it is happening. Think like some sort of infinity screen where you can attempt multiple actions at a time, but specifically inside a live Facebook broadcast. Instead of letting your comments get lost in the mix, you can now send your snarky comments to friends whom you know will appreciate it. Pretty sweet, right?
Along with Live Chat with Friends, Facebook also rolled out Live With — a feature that allows public figures to go live with a guest right there inside the broadcast. "Live With lets you invite a friend into your live video so you can hang out together, even if you're not in the same place," wrote Product Managers Erin Connelly & Fred Beteille through Facebook's Newsroom. "Sharing the screen with a friend can make going live more fun and interactive — for both you and your viewers."
To add someone to your live broadcast, just select someone from your "Live Viewers" list and invite the viewer. They can either accept or deny the request. Once accepted, the screen will either go portrait mode (where one video is placed within another) or landscape mode (for a side-by-side video).
Live Chat With Friends will not be available until later this summer, but Live With is officially available! Sign on now and see which of your favorite celebs or public figures are going live, hop in on that conversation, and cross your fingers for a chance to get personally selected to join the convo.