Facebook's 2017 Year In Review Proves The Women's Movement Is Just Getting Started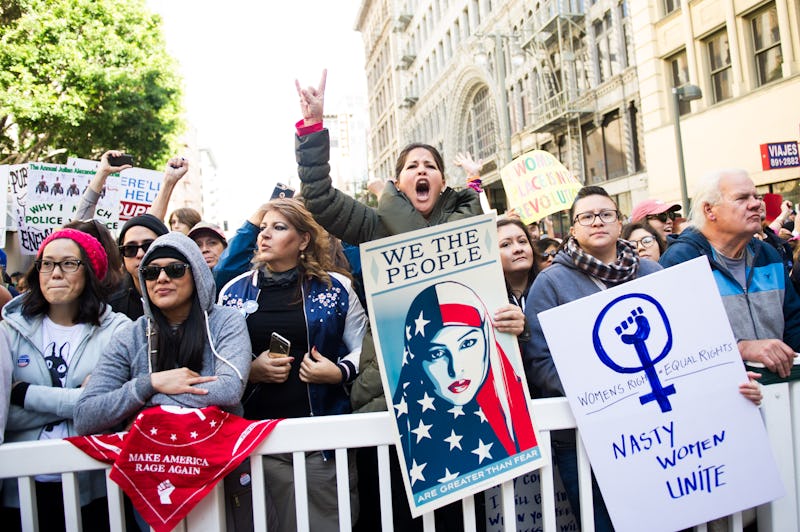 Emma McIntyre/Getty Images Entertainment/Getty Images
This year was an unprecedented one for the women's movement — and, Facebook's 2017 Year in Review further proves that women are taking the world by storm. And with such a strong foundation, there are lots of opportunities to keep the momentum going in 2018.
The review revealed that International Women's Day was the most-talked about topic on the network all year, and that the Women's March on Washington constituted the largest Facebook event for a cause in 2017.
To determine its most "talked about" moments of the year, the HuffPost reported that Facebook examined the number of times users employed keywords or status updates related to a moment on a single day throughout the year — and then looked for moments that had significant jumps in discussion from last year to this year.
Ultimately, over 165 million people discussed International Women's Day worldwide on March 8. That's nearly double the amount of people who talked about it in 2016 that day. The review also found that women (and men) heavily relied on Facebook to organize for women's advocacy causes.
The company also reported that the Women's March on Washington marked the "largest Facebook event for a single cause in 2017," as it brought over 500,000 people together. And, of course, the event brought even more people together nationwide and worldwide, with millions of attendees making it the single largest day of protest in U.S. history.
Women began the year with a record-setting march, and continued it with a spate of intensive advocacy. Indeed, the Women's March developed into an advocacy organization that supported numerous other efforts throughout the year, like the Day Without A Woman and the Hear Our Vote Initiative, in which thousands of people participated. The organization also recently hosted the first-ever Women's Convention in October, which focused on preparing the movement for the 2018 midterm elections.
Moreover, women have also made their mark on 2017 by running for office in record numbers at all levels. According to The Hill, over 15,000 women have contacted She Should Run, a nonpartisan organization that promotes women candidates, to express interest in running for office in 2017. More than 20,000 women have also contacted EMILY's List, a pro-choice, Democratic women's organization, to express interest in running as well, marking an enormous jump from last year.
Furthermore, women are not only more interested in running for office — they are also entering into campaigns and winning. The November 2017 state and local elections, in which many women, people of color, and members of the LGBTQ+ community were elected, serve to illustrate this point.
Essentially, the women's movement has made incredible progress in 2017 — and there are many ways you can work to ensure that this momentum continues and expands in 2018. First and foremost, it is important to be involved in the electoral process. Make sure you are registered to vote. Educate yourself about candidates participating in the 2018 midterm elections. Take the time to research where they stand in regards to women's rights.
Moreover, consider campaigning for and/or financially supporting candidates who support a pro-women platform, especially women and minority candidates. And, of course, be sure to vote (and make sure your friends and family vote) in the 2018 midterm elections, as the results of these elections could profoundly impact the trajectory of the United States and the policies it advances.
Secondly, you should continue to monitor Congress and the Trump administration, and take part in resistance movements if policies that lie counter to women's rights are being proposed. Some examples of such policies from this year include the Affordable Care Act Repeal bills and the rollback of campus sexual assault protections, among others.
On the flip side, it is also important to continue to proactively advocate for new policies to protect and empower women. You can look to a variety of women's organizations, like the Women's March, The National Organization for Women, the Feminist Majority Foundation, Planned Parenthood, and the National Women's Law Center, among others, for guidance on advocacy and resistance actions.
On this note, it is likewise imperative to continue to support women's organizations, like those mentioned above. Many women's advocacy organizations, especially Planned Parenthood, saw unprecedented funding surges this year that helped fund resistance movements and programs benefitting women. It is crucial to continue donating to these organizations to ensure that they can have their maximum impact in 2018.
Finally, it is crucial that you continue to share information as a way of ensuring that the women's movement moves forward, something which certainly ties back to Facebook and social media. You can use your online presence to share information about upcoming elections and women candidates as well as to raise awareness about policies that could be detrimental for women. Furthermore, you can also consider using social media platforms — like Facebook! — to organize resistance and advocacy initiatives, something which users readily did in 2017 and can absolutely continue in 2018.
Overall, it is clear, by many measures, that 2017 was a groundbreaking year for the women's movement — and that 2018 stands to be potentially even more impactful if women and men make a concerted effort to keep it going.