This Subscription Box Delivers Sheet Masks To You Every Month For $5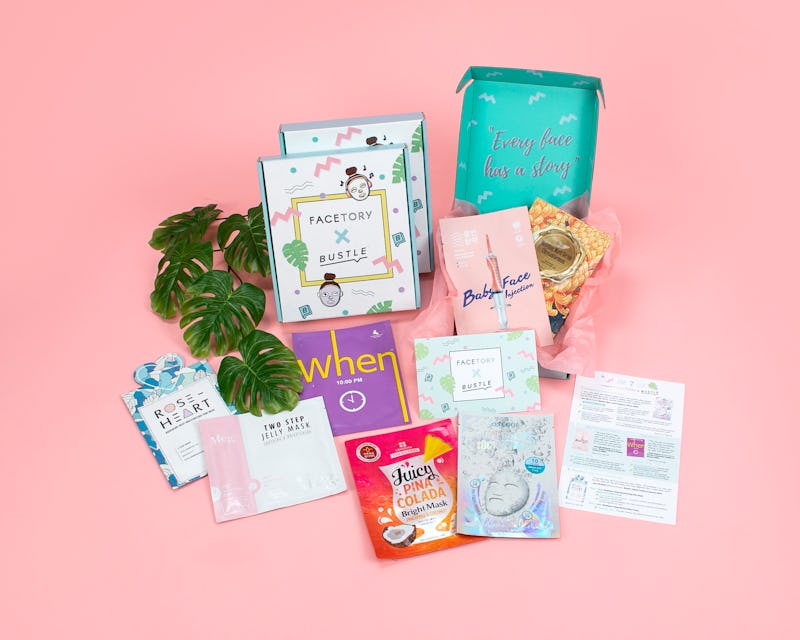 Courtesy FaceTory
Here at Bustle, we're avid fans of the sheet mask. Pop by any one of the Beauty Editors' Instagram stories on a Sunday and you're likely to find us lounging around, with masks draped over our faces and cups of our nighttime beverage of choice in hand. So, to share our love with the rest of the beauty world, we teamed up with FaceTory, a monthly Korean skin care subscription service, to create two boxes filled with Bustle-approved sheet masks — and you can snag them both right now.
If you're already a FaceTory subscriber, you know there are two different price point options available: The FOUR-Ever FRESH kit is about $5 per month, and includes four sheet masks great for skin care beginners that are delivered right to your door. Then there's the Seven Lux kit, which is about $14 per month and comes with seven sheet masks that are a little more advanced — think multi-step masks and hydrogels. The Bustle x FaceTory collab will span across both levels, so it'll end up in the hands of all the site's subscribers. Or, you can purchase a one-off kit for $9 and $20, respectively.
To choose the masks we ultimately wanted in the boxes, Bustle editors tested out 25 masks each from FaceTory. After a super hard week of doing one or two masks per day, each member of the team had their favorites that ranged in effect from moisturizing, to brightening, to soothing, and everything in between. Check out a few of our selections for the boxes below, then head over to FaceTory to pick a box up for yourself.