Experts Think Fake Eyelashes Will Be The Biggest Beauty Trend In 2018 & Things Are About To Get Weird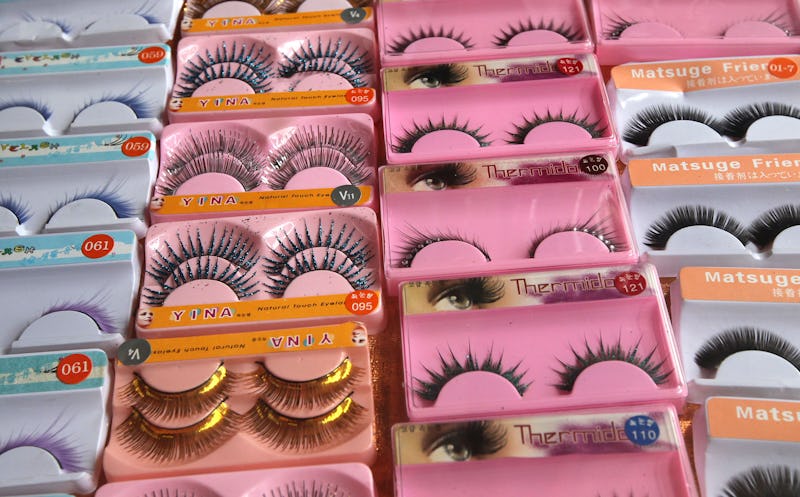 Dan Kitwood/Getty Images News/Getty Images
YouTube and Instagram seem to be a haven for beauty gurus and cosmetic lovers, but don't sleep on Pinterest. The still ultra popular site is the perfect place to see what people are interested in, and as it turns out, lashes are 2018's most popular beauty trend, and that may explain why lash brands are getting super creative and lash hashes are reigning supreme online.
According to Allure, Pinterest rounds up their biggest trends in beauty, and lashes topped the list with a 152 percent increase in searches. The magazine explains that the social media site is able to track pins in real time giving them the perfect insights into what people are interested in, and good news, they share their knowledge via the Pinterest 100.
According to the Pinterest Newsroom, beauty saw an overall increase in searches by 75 percent, but it was lush lashes that garnered the greatest increase in interest. While lashes weren't alone (apparently people are also super into facial oils and colorful liners), they certainly seem to inspiring brands to brand out and create innovative new ways to apply and wear fluffy accessories on yours. Hey, if Pinterest can inspire new lashes, then why not give them a chance?
Perhaps one of the most recent development in the world of eyelashes is the magnetic lash trend. Magnetic lashes? Yes, actual magnets on your eyes. The creative design has been going viral thanks to Ardell's launch of their iconic wispy style lash getting a magnetic makeover.
How do they work, though? You actually get four lashes with this new creation. Each eye has two sets, one for the top and one for the bottom of your upper lashes. To apply, you clamp the set together over your natural lashes using the magnets, and viola! You're supposed to have easy, non-glue, highly accessible lashes.
The issues, however, is that not everyone is loving the magnetic lashes. In fact, the YouTube beauty jury seems to be giving the creative products a resounding no. If, however, you want to shop them, the Ardell Magnetic lashes are available at CVS and online.
Magnetic lashes aren't the only creative lash method that's come on the scene in the last few months. Flirt Cosmetics False Lash Applicator was declared one of Allure's Best of Beauty 2017, and it could make your life much easier.
According to the brand, the tool takes all the hard work out of applying falsies. All you need is the tool and lash glue. You simply roll up the individual lashes, lock them into place, apply lash glue, and then apply the lashes in place. Super simple, right?
Flirt Cosmetics Flashes False Lash Applicator, $28, Bloomingdales
Even more of an asset for Flirt? They offer multi-colored lashes! You can officially get rainbow hued falsies perfect for upcoming festival season. If you have issues applying traditional glue-on falsies, Flirt could be your new best friend.
Don't think that regular false lashes have been left out of the 2018 beauty trend, though. Hacks for the more traditional route are also going viral. Only a few days ago, makeup artist Paloma Garcia garnered attention from the likes of Jackie Aina and NikkieTutorials thanks to her hack to make cheap, drugstore falsies look like some of your high-end faves.
In a video posted to her facebook page, Garcia used a common spoolie to take stiff falsies to gorgeous wispy lashes. While they were still in their packaging, she brushed them through repeatedly with the spoolie until they were her desired level of fluffy. The result had the internet shook.
While your typical glue-on falsies will always be classic choices, brands are definitely getting creative when it comes to how to apply them. From machines that simplify the process to putting literal magnets on your eyes, if you're not comfortable trying out 2018's biggest beauty trend, never fear. Brands are coming to your aid.