Trump's Executive Order Didn't Actually Stop All Family Separations — Here's Why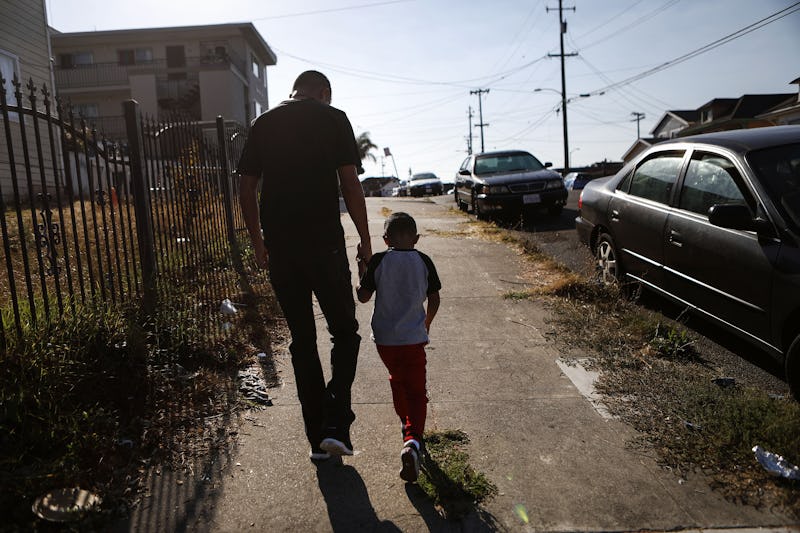 Mario Tama/Getty Images News/Getty Images
Nearly six months later, it's clear that President Donald Trump's executive order didn't stop all family border separations. The Department of Homeland Security (DHS) released data on Thursday indicating that an additional 81 kids have been taken from their family members since Trump declared an end to the practice on June 20, according to CNN.
In a statement, DHS said children are separated at the border for four reasons: "the adult is not the parent or legal guardian, the child's safety is at risk, urgent medical reasons, or serious criminal activity by the adult."
"The welfare of children in our custody is paramount," DHS spokesperson Katie Waldman said in a Thursday statement. "As we have already said - and the numbers show: separations are rare. While there was a brief increase during zero tolerance as more adults were prosecuted, the numbers have returned to their prior levels."
Immigrant families have many times been separated at the border in the past. And it's undeniable that family separation has always been an instrument of U.S. policy, from enslavement to mass incarceration to forcibly sending Native American kids away to boarding schools. But as CNN points out, there is little evidence to support the claim that family border separations were going on at the same level in earlier administrations. According to the DHS, the agency did not track separation figures until the 2017 fiscal year (a few months of which occurred during President Barack Obama's tenure). CNN reports that 1,065 family members out of the 75,655 families apprehended during that time period were separated. The public doesn't have hard data to judge that number against, so it's tough to compare Trump's policies with those of his predecessors.
Speaking from his own experience and research, though, immigration expert David Bier told CNN in November, "No administration has institutionalized the practice of family separation on such a scale, as intentionally and as broadly as the Trump administration attempted over the summer."
Of the 81 child separations that have occurred since June 20, DHS said that most happened for medical reasons or because the adult was linked to a gang or criminal activity, according to CNN. But while DHS said "the numbers we have recently compiled show unequivocally that smugglers, human traffickers, and nefarious actors are attempting to use hundreds of children to exploit our immigration laws in hopes of gaining entry to the United States," the outlet noted the agency provided "no evidence" to support that claim.
The administration says it separated more than 2,600 kids from their parents during the period of "zero tolerance" earlier this year. According to a recent CBS 60 Minutes investigation, though, the numbers may be much higher. Records from federal agencies show that at least 5,000 have been taken away since Trump entered office, according to that report.
Democrats have indicated they may investigate the administration's separation policies when they take control of the House in January. "We will hold the Trump Administration accountable for their inhuman policy of separating families," Rep. Nancy Pelosi, the most likely candidate for speaker of the House, said in a Nov. 30 statement. She condemned "the trauma and anguish they have inflicted on vulnerable children and families at our border."
CORRECTION: A previous version of this story mischaracterized the Trump administration's zero-tolerance policy and the scenarios in which children were separated at the border after that policy ended. It has been updated.