Jack's Funeral On 'This Is Us' Had Twitter Sobbing Buckets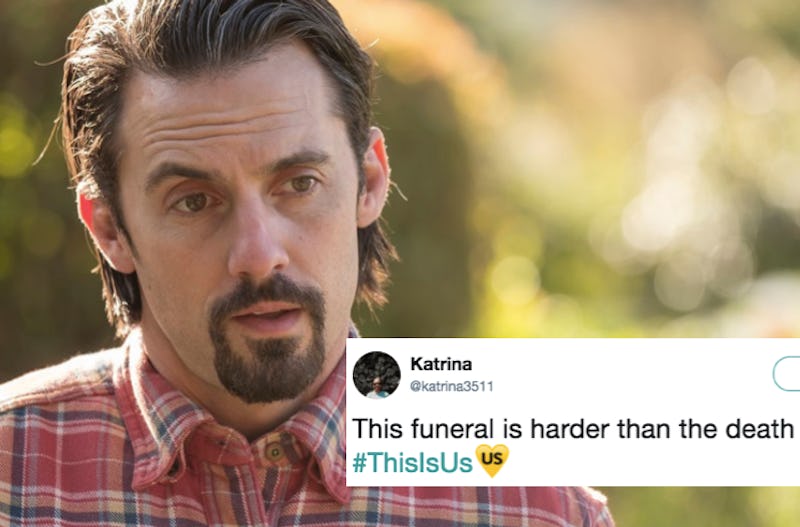 NBC
As if watching Jack Pearson die on This Is Us wasn't hard enough, three days later, viewers had to watch his funeral. I'm still raw from the Super Bowl episode, and I barely had time to re-up my Kleenex stockpile. Jack's funeral on This Is Us was poignant and sad and rage-inducing all at once, with plenty of familiar faces there mourning Jack, too. And the fans were just as sad as the actual characters on This Is Us.
We've known since the beginning of Season 2 that Jack died from something having to do with a fire, but the post-Super Bowl episode of This Is Us finally revealed Jack's fate. No, he wasn't drunk and fell asleep. No, he didn't purposely start a fire. A slow cooker plugged in in the kitchen sparked and set the house ablaze — they just happened to be without batteries in the smoke detector. Jack's last acts were those of saving his family. He got all of his children and his wife out of their burning home, and he even went back in for the mementos and the family dog, Louie, much to Kate's delight. But all of that smoke inhalation put such a strain on Jack's heart, and it couldn't take it. Jack died from a massive coronary episode. And now the Pearsons bury their father and husband.
How hasn't Mandy Moore won an Emmy for playing Rebecca yet? She better this year, because she is so devastating in this role. Rebecca is scared to leave Jack's urn alone, Kevin is acting out, Kate is blaming herself, and Randall is just trying to hold it all together. It's pretty much how they are all in adulthood. Watching them all stand around Jack's urn... well, there were sobs. A lot of them. And the fans on Twitter felt the same way.
Most People Were Just Crying
Been there, done that.
Some Were Touched By The Speeches
I'm surprised anyone got through the eulogies.
Jack's Prediction Was Just Too Real
Ugh, he knew, didn't he?
It Was Really All Too Much
Don't hold in your feelings, guys. Let it out.
Everyone Was Agreed That Kevin Was A Jerk
Yeah, Kevin wasn't on his best behavior here.
Talk about a cathartic show. In the end, Rebecca opts to leave the funeral early in order to talk some sense into her kids — namely, it's not Kate's fault that her dad died, and neither Kevin nor Randall have to take over as "man of the house" now. They all just have to keep living, because that's what Jack would have wanted.
Of the funeral, Moore told Entertainment Weekly, "I think that it's more gut-wrenching than [the Super Bowl episode] because people knew what to expect. They were like, 'All right — this is it.' You're bracing for impact... It's rip-your-heart-out sad. I thought when we were shooting that this was even more challenging, as an actor." Milo Ventimiglia echoed Moore's statements, saying, "There is still another level of … pain. The audience is going to experience living through the funeral of Jack, and living through what Rebecca and the kids are experiencing immediately after ... God, it's such a beautiful episode."
I would agree with you, Milo, but I (and most of the other fans watching This Is Us) were too busy crying over saying goodbye to Jack to notice. I think we all need a rewatch, later, when our eyes aren't leaking and we can actually notice the beautiful storytelling on This Is Us. For now, we'll just gather up all of our tissues.