Fans Are Convinced Drake Is Working On A Sequel To 'Take Care'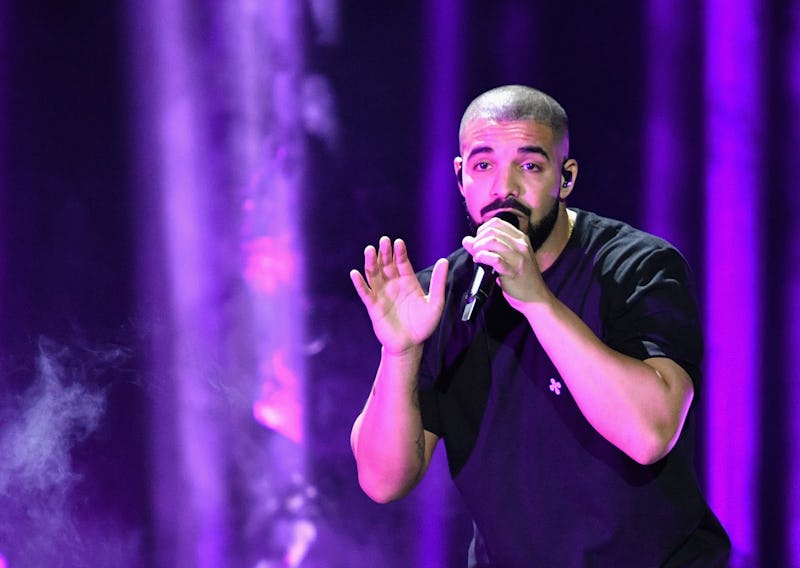 Mike Windle/Getty Images Entertainment/Getty Images
In the last two years, Drake has dropped four projects, but fans believe that right now Drake's working on the sequel to 2011's Take Care. The evidence seems to come from Drake's Instagram, where he appears to be recreating that legendary Take Care cover with the same all-black look and haircut. Or, at the very least, updating that cover since this new shot has him looking a bit more bearded and way more world weary. But will he be updating his sound with a new Drake album called Take Care 2?
The rumor actually started earlier this month when a fan noticed that Drake seemed to be going to his Take Care roots, quite literally. "Rihanna got a man and Drake letting the curls grow," one fan joked on Twitter. "Take care PT 2?" Another tweeted a photo of Drake and his curls with the message: "Take Care Drake is back. Classic on the way."
Once Drake dropped this new photo, others seemed to agree that this familiar look could mean Drizzy was returning to a familiar sound. "If Drake makes Take Care 2, my life will be complete," one fan tweeted along with a side-by-side comparison of the Take Care cover and Drake's new Instagram. All that's missing is the goblet.
Adding some fuel to this fire, Drake didn't just post one image, but five photos of him wearing that terry cloth tracksuit in a series that could totally find its way into an album booklet. "Woodbridge Papi," he captioned one photo of him back in the kitchen that has him shouting out his Toronto roots.
His sullen look in nearly every one of those shots definitely bring back that emo Take Care feel that everyone loved. But sometimes it feels like Drake is more meme than man, which makes it hard to take these photos of him wearing a OVO sweatsuit as anything more than a fun nod to his past. Or as a way to give the people what they want.
Drake is always on top of what the internet is saying about him. Remember him embracing his meme status with album covers that feel ripe for parodying? That font on If You're Reading This It's too Late and Drake's head in the clouds on Nothing Was The Same? He's trolled everyone with a photo of him and Taylor Swift hanging out and sparked those J. Lo dating rumors with a suggestive Instagram late last year.
Drake is someone who gets how this whole thing works and finds ways to use it to his advantage. Since people were already talking about how much they wanted a Take Care sequel, it's possible he staged this for the Insta Likes, which he's definitely getting. At the time of posting, this Drake shot had over 913,000 Likes.
Or maybe Drake is polling his fans to see the interest in another Take Care. If that's the case, he's been getting good responses from those who don't mind him getting a little nostalgic. "Drake has really been looking like he's about to give us Take Care 2.0 & I'm definitely for it," one fan tweeted.
Others are joking that the return of "Sad Drake" feels right, but the title Take Care 2 feels like a missed opportunity. As one person tweeted, "It wouldn't be Take Care 2 anyway. It gotta be some ol' sentimental sh*t like Take Care Too."
Whether Drake is making Take Care 2 or Take Care Too or is just masterfully trolling us all, this is another friendly reminder of what a time it is to be alive.