Chrissy Metz Might Have Teased A Huge Spoiler About Kate & Toby's Future On 'This Is Us'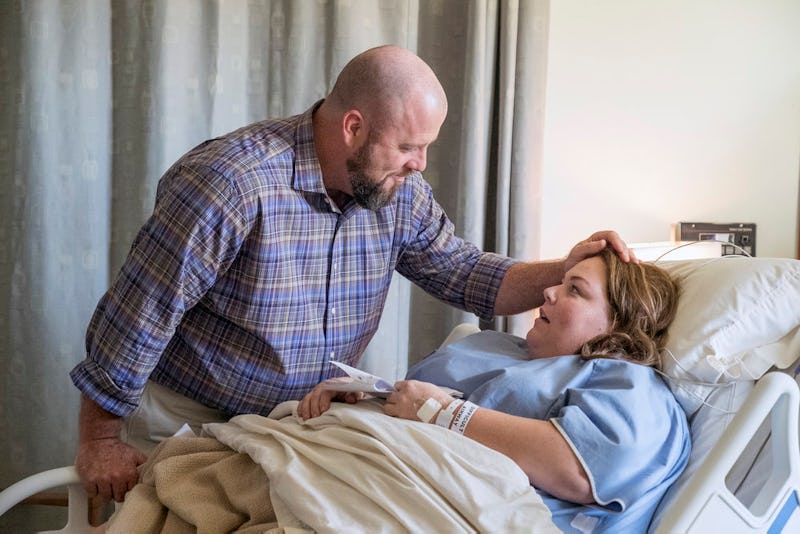 Ron Batzdorff/NBC
Married life is never easy and no couple knows that better than Kate and Toby from This Is Us. These two have overcome a lot of obstacles since their relationship first began, and most recently suffered through a miscarriage. And while Toby's flash-forward scene has made fans worry about the future of their relationship, there could still be better days on the horizon for these two in the not-so-distant future. Thanks to Chrissy Metz's latest Instagram post, fans think Kate and Toby could be pregnant on This Is Us and Metz's caption certainly seems to imply that this could be the case.
Of course, it's important to take any predictions with a grain of salt, given this show's propensity to throw curveballs into the narrative at almost every turn. But that doesn't mean we, as viewers, can't get it right every so often, and Metz's seemingly innocent caption could prove to be a helpful teaser in regards to what Kate and Toby's uncertain future may hold. As fans know, Kate just underwent a semi-risky surgery in order to obtain a decent number of eggs for the in-vitro fertilization (IVF) process. Thankfully, it went very well and the next step will be to fertilize the eggs with Toby's sperm. As for whether or not it proves to be a successful, Metz may have ended up revealing the answer to that question already.
"What in the world could #Katoby be smiling about?!" Metz captioned the image of the two characters smiling, lovingly at each other. "Tune in tomorrow on @nbc at 9/8c to find out."
It may not seem like much to an outsider, but for diehard fans, the fact that Metz brought Kate and Toby's happiness to the forefront could be very telling about what happens next. The one thing Kate wants most in the world is to become pregnant again. That would definitely be something for Katoby to smile about, which could be the implication Metz was going for. Sure, it's entirely possible she's just messing with her followers to make them think this image means one thing when it really means another. But what if this clue is legit? A photo is worth a thousand words and this one seems to speak volumes.
Fans were quick to take note of Metz's interesting caption and were tempted to jump to the same conclusion that a Katoby pregnancy is on the horizon. "Baby news," Instagram user ljkerr58 wrote, while ljohnson1223 posted a baby emoji in the comments section, adding: "At least I hope so" alongside it. Meanwhile, Twitter user @KymMcgeein jumped to a similar conclusion and tweeted a response to Metz's post, stating: "I think it's because Kate is pregnant."
We won't know for sure whether or not this is a red herring until Tuesday's brand new episode of This Is Us airs, but it'd certainly be nice to see Kate and Toby get some happy news for a change. Could it all just be wishful thinking from a fan who thinks about this show far too much in her downtime? Maybe. Or perhaps it could be everything Kate's ever hoped for. We'll find out soon enough.