Why Fans Think Nicki Minaj Is Pregnant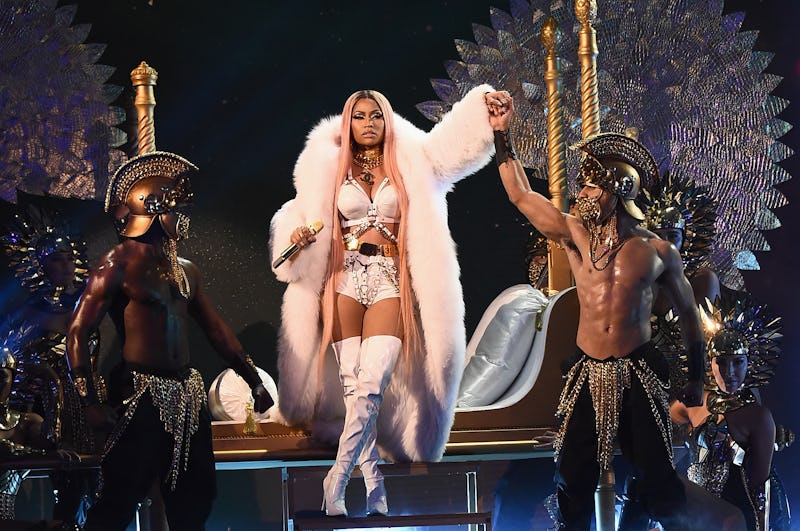 Michael Loccisano/Getty Images Entertainment/Getty Images
Texting is one of the most confusing forms of communication today. A misplaced period, a response sent minutes or an hour later, or a misinterpreted emoji can send a recipient into a tailspin. Celebrities know this all too well, considering their every move makes their fans go crazy. Nicki Minaj tweeted a baby emoji on Monday, June 10 and her loyal fanbase a.k.a. the Barbz lost it. The rapper didn't give any explanation as to what her tweet meant. Bustle has reached out to a rep for Minaj for comment, but did not receive a response at the time of publication.
The simplicity and mystery surrounding the 34-year-old's tweet led many to believe that it was her subtle way of announcing a pregnancy. This conspiracy theory seems to be the most literal explanation. However, that didn't stop the rumor mill from coming up with a few more reasonable theories, too.
Some assumed she meant she was working on new music with Asahd Khaled, DJ Khaled's busy baby boy and up-and-coming executive producer. Khaled told Entertainment Weekly he gave his son EP credits on his new album Grateful based on his reactions to songs he likes. Little Asahd lets his daddy know a song is a hit by "bobbling his head" or smiling. Minaj has two singles with DJ Khaled on Grateful including "Nobody" featuring Alicia Keys and "I Can't Even Life" featuring Future.
Other fans thought Minaj was affectionately referring to her new music as her baby. For example, on Tuesday, June 11, she posted a photo on Instagram of herself posing inside of a refrigerator. However, her caption included a baby bottle emoji adding to her air of mystery: "#RakeItUp has been the #1 most added record on urban radio for 2 weeks in a row. #SwishSwish is the #1 record on Billboard's Dance/Club chart 🍼 cc: [ @yogottikom ] [ @katyperry ] 💛"
Pregnancy-crazed fans are creating polls as to who the father of Minaj's alleged baby could be. From hip hop legend Nas to her rapper ex-boyfriend Meek Mill, the "Feeling Myself" star's fans suspected either might be a viable option. However, as the Barbz continue to go berserk, Minaj is staying mum.
Some Barbz have admitted they "don't speak emoji," while others are still recovering from their shock, awe, and utter confusion. One fan tweeted, "Nah for real don't be playing with my heart like that." Another simply implored her to dish the deets, "Let me tell you something. You not gonna come on here and have us thinking you pregnant if you not. Do not play with me. So what's the tea?"
However, it's worth mentioning that this isn't the first time Minaj has seemingly trolled her fans with babies involved. Back in 2015, she referred to her then boyfriend Meek Mill as her "baby's father," and fans went wild while she just laughed along on social media. Whatever the rap queen meant by her baby emoji tweet this time, she certainly knows how to keep her Barbz on the edge of their seats.