One Choice May Have Doomed This Potential 'Big Brother' Showmance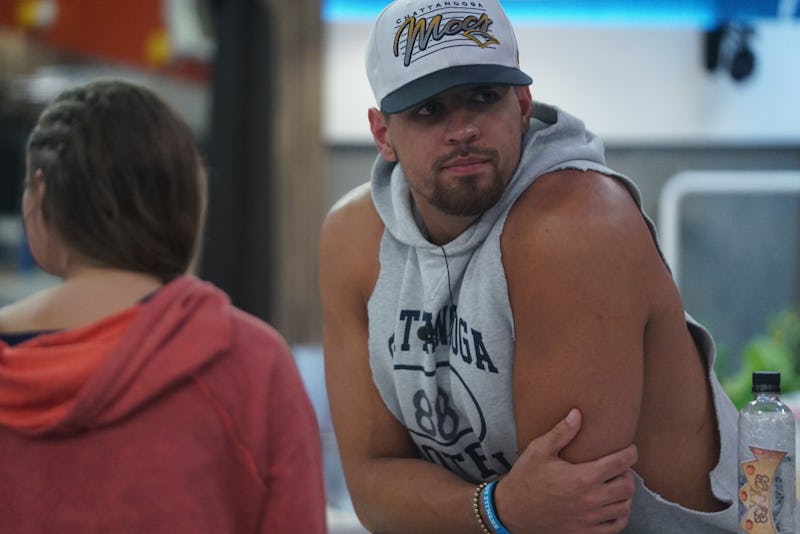 Sonja Flemming/CBS
This season of Big Brother has already produced some of the most memorable ceremonies in the series history, but Faysal's recent BB20 POV ceremony may go down as one of the most surprising. Although they've been close all summer long, Faysal turned on Kaitlyn after promising that he would fight for her safety. Now, Kaitlyn claims that her number one goal in the Big Brother house is to survive the eviction and evict Faysal. How did these two go from best of friends to public enemies?
Faysal found himself between a rock and a hard place by winning the week's veto competition, considering that his two closest allies, Haleigh and Kaitlyn, had been nominated for eviction by Sam. Once the POV ceremony arrived, Faysal had three options in front of him. He could not use the power of veto and spare himself the difficult choice, although this would have left both nominees rightfully angry at him. Faysal's second option was that could save his long-time ally and "best friend" Kaitlyn, and leave Haleigh — who he's been crushing on for weeks — on the chopping block. Finally, Faysal could save Haleigh, and risk being on Kaitlyn's bad side. Faysal eventually chose to save Haleigh, leaving Kaitlyn in tears and the Big Brother audience in stitches.
The veto meeting was just the latest example of how difficult it must be for Faysal to be in the middle of a semi-showmance triangle, as Kaitlyn's attachment to Faysal has been affecting the game since the very first eviction. After feeling hurt that Faysal had been spending more time with Haleigh than with her, Kaitlyn flipped on her alliance and was the deciding vote that sent Steve home in the first week of BB20 instead of Sam. Nearly a month after Steve's eviction, Kaitlyn's friendship with Faysal is still in conflict with Faysal's connection to Haleigh. Kaitlyn was so trusting of Faysal leading up to the POV ceremony that she even admitted throwing the competition because she was so certain that Faysal would use it on her, which likely makes his betrayal even more difficult to swallow.
Things don't look great for Kaitlyn on the block, but she may not be going home quite yet. Sam initially tried to nominate JC as a replacement, confident that JC was so well liked that Kaitlyn would absolutely be going home. However, JC quickly informed Sam that nominating one's closest ally for eviction may be a bad idea, and Sam put Rockstar up instead. Rockstar hasn't been popular with some of the other houseguests, which may allow Kaitlyn to fly under the radar and convince other's that Rockstar is the bigger target. Even if Kaitlyn is evicted, Sam's "Bonus Life" power will be activated following this eviction, meaning that Kaitlyn could re-enter the house following her eviction. If things work out in her favor, Kaitlyn could get her revenge on Faysal in the coming weeks.
The biggest lingering question now, other than whether or not Kaitlyn will stay, is whether or not Faysal will fight for her to stay. She's declared that Faysal is now her top target, and Faysal's connection with Kaitlyn seems to be taking a toll on him. At one point he even called Kaitlyn by Haleigh's name during a conversation, proving that Kaitlyn doesn't take up as much mental real estate in Faysal's head as she may think. Faysal's already betrayed Kaitlyn by leaving her on the block, but will he vote to send her out the door as well? These two seemed to be inseparable at the beginning of the season, but the dissolution of their friendship delivers on Big Brother's promise that fans should always expect the unexpected.