Arkansas Can Block Medicaid Funds From Planned Parenthood Now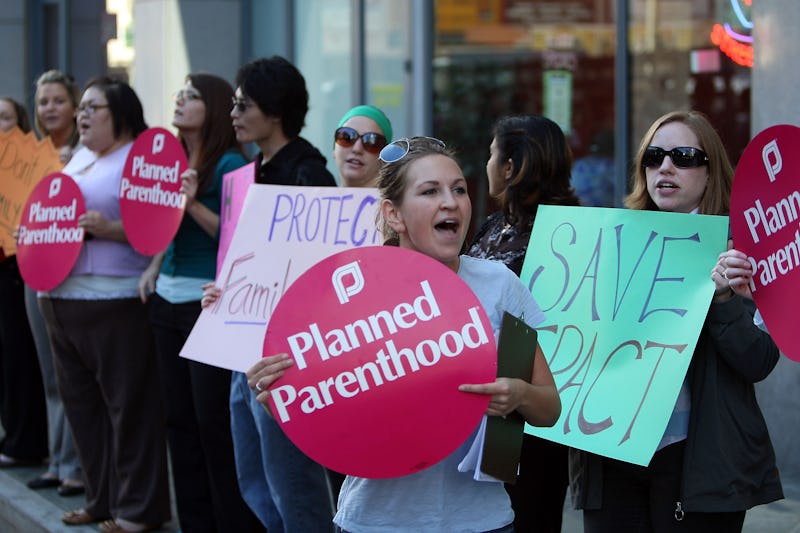 David McNew/Getty Images News/Getty Images
On Wednesday, a federal appeals court ruled that Arkansas can stop giving Medicaid payments to Planned Parenthood, the women's health organization that relies on federal funds to provide vital reproductive health care to millions of women across the country. The ruling is the direct result of a 2015 undercover video that multiple investigations have determined was doctored in an attempt to spread false information about Planned Parenthood.
The video, created by two anti-abortion activists, appears to show the organization agreeing to sell fetal tissue for profit, though these claims have since been disproven. Although the two activists are now facing felony charges for filming Planned Parenthood without permission, their work has had a major impact on anti-abortion legislation nationwide.
The same year of the video's release, Arkansas Governor Asa Hutchinson ended the state's Medicaid provider agreements with Planned Parenthood's local affiliate — even thought the outrageous claims made in the doctored video have been disproven, and no federal funds to Planned Parenthood go towards abortion.
After a lawsuit was filed against the Arkansas government by three Planned Parenthood's patients, a district court blocked the state from withholding Medicaid payments from the organization. That injunction was vacated on Wednesday, making it officially legal for Arkansas to withhold these payments moving forward. The court ruled 2-1 in the case, arguing that PP patients don't have the right to challenge the state's Medicaid contract decision.
According to Governor Hutchinson, the decision is a "legal victory" that will ensure that "Medicaid providers are acting in accordance with best practices." But the decision also means that thousands of low-income women across the state will likely not be able to afford services like STD testing and cancer screenings.
This is just the latest court decision in a series of measures across the country intended to restrict women's access to safe and affordable reproductive health care. On Tuesday, Texas Governor Greg Abbott signed a bill that will prohibit insurance companies from covering non-essential abortion in the state, instead making women pay an extra premium for an additional plan that will cover abortions that are not medical emergencies — even in the case of rape or incest.
Women's reproductive rights have been threatened by conservative lawmakers for decades; in fact, many states are currently discussing strict anti-abortion legislation. But the recently passed bills in Arkansas and Texas prove that many of these proposed laws are not just being debated, they are actually being passed — and that can have a devastating effect on women's health.