This Is What Trump-Loving Women Thought About Stormy Daniels' Bombshell Interview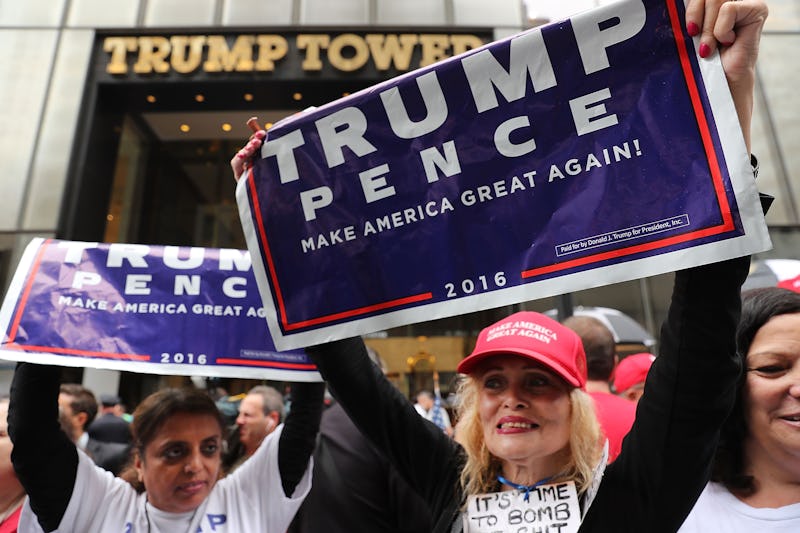 Spencer Platt/Getty Images News/Getty Images
It's become a common question among Trump's detractors: How can his evangelical supporters reconcile themselves with the president's seemingly not-so-family-values-oriented way of life? CNN figured out a way to get some answers to this questions, by gathering a panel of female Trump fans to respond to the Stormy Daniels interview as they watched it.
The women, CNN said, mostly believed that God had ordained Trump to be president, so they would support him through thick and thin. When confronted with the claim that the adult film industry titan had a drawn out affair with Trump and then was paid by his lawyer Michael Cohen to keep the story secret, their overall responses fell into two categories: 1. It didn't happen, or 2. It doesn't matter.
"This is a porn star! Why are we giving it any credibility?" said Sherry Massey, one of the women in the group.
"I don't believe it because I haven't seen any hard proof," said Gina O'Briant, another Trump supporter and member of the Texas Women For Trump Coalition. "Should we believe the president of the United States or a stripper porn star? I go with the president of the United States."
Denying the validity of potentially unfavorable stories is a strategy that Trump often employs himself. At the same time, Trump also lied or made a misleading claim over 2,000 times in his first year in office, a Washington Post fact-checking project found.
Even though several of the women chimed in to say that the story wasn't true, a few seemed to consider the possibility that it was.
"I knew that when I voted for him, I wasn't voting for a choir boy," said Dr. Lynette Bryant, who once filed as a Democrat to run for governor of Arkansas.
More common, though, was the idea that the whole Stormy Daniels scandal was essentially created and fanned by the media, or by Daniels herself.
"Someone is looking and shopping for these people to come out of the woodwork, because it is demeaning to our president," said Jill Newsom.
"She was shopping her story for money, just like all the other people who have tried to make money off the Trump name," said O'Briant.
Another woman, Sylvia Guzman, believed it had to do with who was taking control over the narrative of Trump's administration. "This is the media defining the narrative," Guzman said. "The people — we the people — are ready to define the narrative. And it's not about tawdry, sexual peccadillos."
Whichever way you cut it, Trump's alleged affair with Daniels and all of the fallout from it that's still continuing now doesn't seem to have had any affect on these Trump supporters' belief in the president.
"You can throw all that stuff up in our face as many times as you want, but it means that we will work harder for Trump," said Dr. Bryant, to a murmuring of agreement. "In order for somebody to come forward, you can be pushed by somebody else, right? So I think the thing is ... you're looking for a way to impeach my president, that I worked very hard for."
Finally, Christian author and motivational speaker Linda Churchwell had the last word. "Worst case scenario, if he slept with her, whatever," Churchwell said. "That's between him, the Lord, and his family. That's not about the job he's doing running the country. Which — he's doing an amazing job."
The consensus, then, was that Trump didn't have an affair with Stormy Daniels — or if he did, it didn't matter. While the coverage of Daniels and the various layers of her story will surely continue for a while still, it doesn't seem that it poses any threat to Trump's support from his base.