How The Stereotype Of Feminism As Anti-Men Started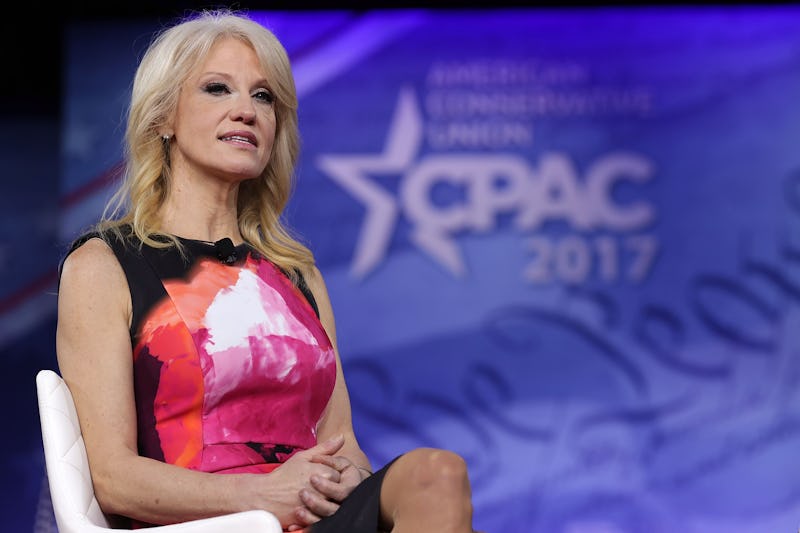 Chip Somodevilla/Getty Images News/Getty Images
Kellyanne Conway, who spearheaded President Trump's campaign for the White House and currently works as his counselor, said some mighty confusing things about feminism at the conservative gathering CPAC last week, and it's time to do a little unpacking. As well as lambasting people for their "negativity about women in power," she noted to the audience, "It's difficult for me to call myself a feminist in a classic sense because it seems to be very anti-male, and it certainly is very pro-abortion, and I'm neither anti-male or pro-abortion." Facepalm.
The part of her comments I'm going to deal with here is the anti-male segment; whether or not feminists can also oppose abortion is a complicated issue all of its own, with significant differences about the topic within the movement itself (I personally do not believe pro-life feminism is possible, but that's only individual opinion). No, what concerns me here most is that yet again, a white blonde lady has stood up and said that she doesn't think feminism is sufficiently nice to dudes, and why that false idea is now over a hundred years old (and extremely tired, might I add).
We've dealt with this before when Taylor Swift said it, and though I hope that the Women's March movement and other demonstrations of the power and political clout of women might lessen its frequency, I'm not without skepticism. Let's have a look at why anti-feminists came up with the anti-male stereotype, and how it's stuck around for so long.