Low-Budget Fenty Body Lava Spoofs Are Taking Over Twitter & You Have To See Them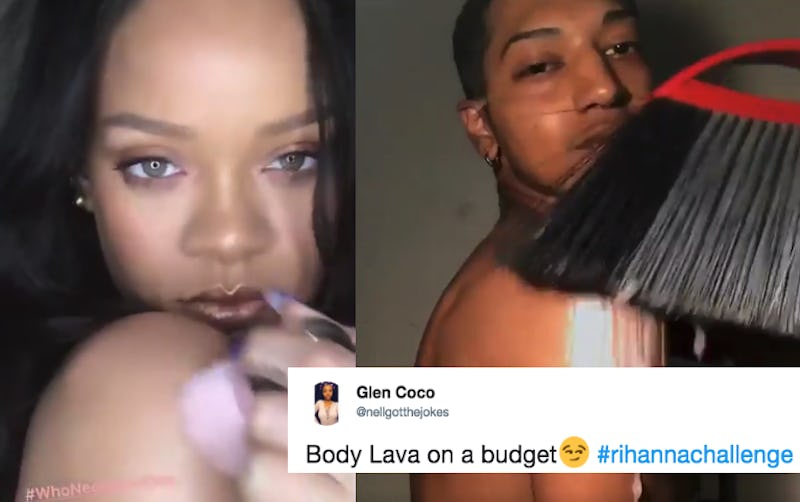 @badgalriri on Instagram/ Twitter
Everyone wants to be Rihanna. Whether it's her style you love (hello, thigh high Uggs from Coachella) or her mission to craft inclusive cosmetics, she's a bonafide shero. Now, Twitter users are imitating the artist via Fenty Beauty Body Lava spoof videos that may just be one of the greatest things on the internet this week. Considering social media is just coming off the glory that is #Beychella and the TLC homage that was #Boachella, that's saying something.
A few weeks ago, Rihanna unveiled her latest Fenty Beauty products which included an adorable pom pom filled with body glitter named Fairy Bomb, a face and body kabuki brush, and two shades of a body luminizer called Body Lava. In her reveal in an Instagram story, Rihanna sensually applied the body luminizer to her shoulder using the kabuki brush. While the product looked incredible on the actor and singer, and fans have certainly responded well to the new product, it has also spawned some of the best videos on the internet.
Users have started to spoof Rihanna's reveal video, and from kind of disturbing to straight up hilarious, the spoofs have quickly become some of the best content available on Twitter this week.
The brand certainly seems aware of the spoofs, or at least aware of fans trying to recreate Rihanna's Instagram tutorial. They've tweeted out memes about people's attempts to apply the new product like their founder.
The spoof videos have gotten so popular, in fact, that they seem to have spawned their own hashtag and challenge. If you search Twitter for #RihannaChallenge, you'll find multiple videos of people recreating her now iconic video, and they're honestly kind of hilarious.
One Twitter user even went so far as to use ketchup as his own personal brand of Body Lava, and then subsequently used it as a condiment. Hey, Body Lava may be a versatile product, but can you eat it on a sandwich? That's the real question.
Speaking of tasty, why not just go ahead and use whipped cream as your own body lumizier? Sure, it may not exactly luminize you, but it'll taste good, and you may end up smelling like vanilla, so there's no problems there, right?
Shaving cream? Well, it is a product for the body, and hello to that duster. Very clever, right?
Isn't there just something that much more special about getting that last bit of lotion out when you're trying to do it like Rihanna? Add a bit of plastic free glitter to this, and you just may have a Body Lava alternative on your hands.
If you don't have Body Lava, at least this user seems to have a stock of LUSH cosmetics (peep that bottle), and hey, that's not too shabby at all. All you need is one of their glittering bath bombs, and you could just be good to go.
As for this users, let's all take a minute to appreciate the brilliance that is his total commitment to recreating Rihanna's facial expression in the video. It's kind of spot-on to be honest.
If you want to glow like Rihanna and not take part in the #RihannaChallenge, you can head over to Sephora and Fenty Beauty's website to purchase the real Body Lava in Who Needs Clothes?! and Brown Sugar. Unfortunately, Who Needs Clothes?! is sold out, but Brown Sugar is still available on both sites.
You may want to shop while you can, too. These products are reportedly limited edition, and unless you want to do the #RihannaChallenge forever, you need Body Lava in your hands stat.