Beyonce's Coachella Performance Videos Might Just Bring You To Tears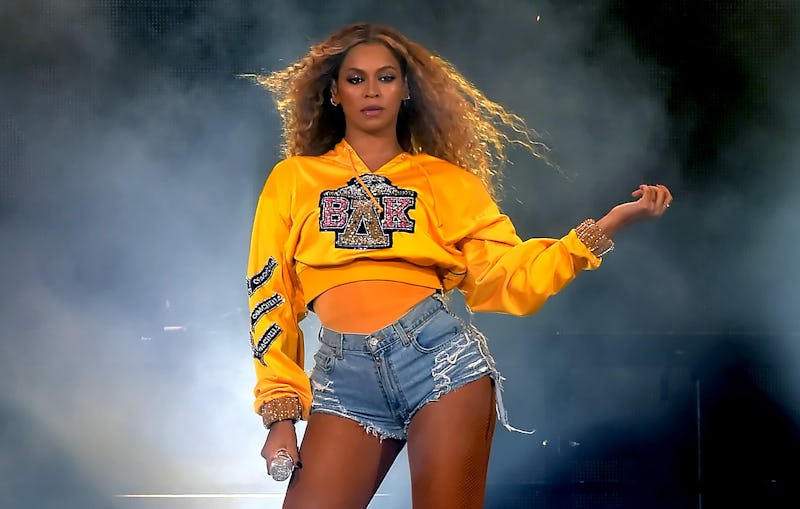 Kevin Winter/Getty Images Entertainment/Getty Images
In 2017, Beyoncé was slated to perform at the Coachella Valley Music & Arts Festival, until she canceled her performance due to concerns about her pregnancy. On April 14, 2018, Beyoncé became the first black woman to ever headline Coachella, and the video of Beyoncé's Coachella performance will absolutely blow you away. At the very least, it will help you understand why even the farthest corners of the internet are calling for the festival to rebrand as Beychella moving forward.
Beyoncé is an incredible performer, obviously, and she knows how to put on a show. Even so, no one could have predicted the size and scope of her Coachella performance. She had dozens of uniformed backup dancers, an enormous brass band, a towering set of risers, and pyrotechnics to die for. There was a distinct "Beyoncé Knowles University" feel to the introduction. That makes sense; in just five minutes, she took Coachella to school.
Queen Bey skillfully weaved through her discography, and the horns section filled in the gaps. As Twitter user @Chris_Hanna pointed out, the band backing Beyoncé with bars from "Ego" was enough to breathe a whole new life into one woman in the audience.
As if that wasn't epic enough, Beyoncé also united Destiny's Child to perform at Coachella, and it was a move that honored every aspect of her career. Check out the mind-blowing videos below:
So much to talk about, right? Beyoncé's unbelievable voice. Her movement. Her presence. The way she confidently marched down those enormous bleachers in front of thousands of people — surrounded by roughly one hundred more on stage — and she does it all in metallic silver high-heeled fringed boots. The variety of Beyoncé Knowles-themed crests. The Destiny's Child of it all. If there's one reason to keep Coachella going, it's performances like this.
Beyoncé is the first black woman to headline the festival in its nearly 20-year history, and she absolutely owned every moment of her history-making night. She's in a league of her own, and fans were lucky to be blessed with such an iconic performance.
The "Formation" singer has long made it clear that she'll never forget her roots, and she proved that yet again by bringing out her former bandmates onstage for a medley of their old hits. Kelly Rowland, Michelle Williams, and Beyoncé wore coordinating outfits that echoed the legendary "Lose My Breath" music video, and performed parts of "Lose My Breath", "Soldier", and "Say My Name" together. It's truly unreal to watch. Since Queen Bey is perfect, she declined to make the Destiny's Child reunion about her reuniting Destiny's Child; you can see in the footage that she emphasizes all of them being there together. Try not to melt — but it's okay if you do.
Writer and A Black Girl's Guide To Weight Loss founder Erika Kendall observed on Twitter that Beyoncé's performance was "a love letter to black people" in a setting often dominated by white performers and attendees. Even Beyoncé's five looks (including polish changes!) were meticulously crafted to be a celebration of history, color, and heritage rarely seen on the Coachella main stage. It's no question that people will be talking about #Beychella for years to come. And that was only the first weekend of the festival — that's right, there's more Queen Bey goodness to come.
Award-winning musicians and celebrities like Questlove and Chance the Rapper, have lavished praise onto Beyoncé's Coachella performance. As you can tell, it's for good reason. While the festival probably won't rebrand itself as "Beychella" just yet, they'd be remiss not to learn from her groundbreaking performance. It's proof that women — particularly women of color — deserve every festival headlining opportunity that white men have been offered over the years. All hail Queen Bey.