Sarah Ferguson's EPIC Reactions At Eugenie's Wedding Have The Internet In Stitches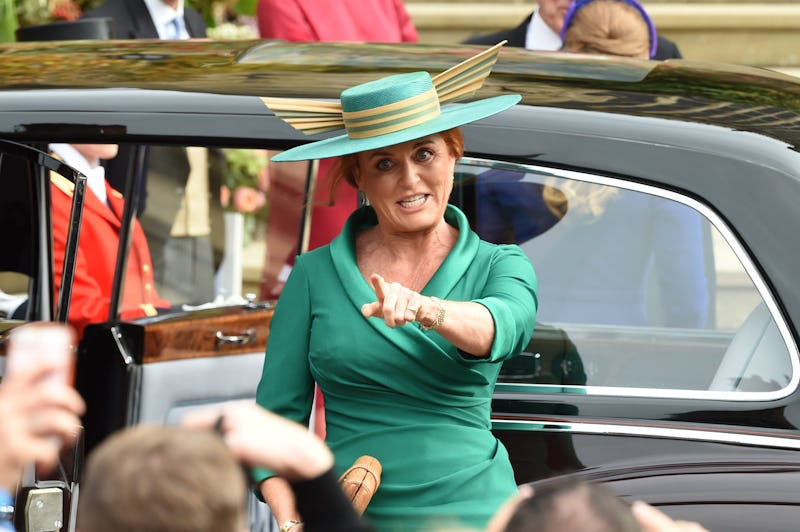 WPA Pool/Getty Images Entertainment/Getty Images
What some might describe the day of your daughter's nuptials as one of the proudest of your life. A day to be remembered. A day when the cup of excitement overfloweth, when you could burst with pride. Yes, our girl Fergie's face during Princess Eugenie's wedding shows all of the above and is 100 percent meme-worthy. Dressed in emerald green with a low-key audacious hat, she went in at the deep end with excited expressions that let the world know that she is here to celebrate her daughter's wedding and y'all better be ready for this.
Fergie, the slightly controversial ex-wife of Prince Andrew, has been outspoken of her excitement to see her daughter Princess Eugenie walk down the aisle, and even went on ahead and revealed a few choice details about the wedding when she appeared on BBC's The One Show before the big day. However, her excitement before the big day didn't even come close to how proud she was at the actual event itself.
Although she obvs didn't stop to give interviews, she didn't have to because Fergie's face said it all. She was one proud mama. And Twitter has been loving Fergie's super extra facial expressions, with lots of users bringing the LOLs when talking about the Duchess of York. Just check out some of the reactions on Twitter:
Fans obviously adore this characterful display, and how (let's be honest) like, fun she seems. She is 100 percent the one you want to be doing the conga line with at the reception, am I right?
The thing is though, isn't Fergie, like, everyone's mum at their child's wedding? Super excited for the big family event? Gleefully waving at guests— old family members and friends she maybe hasn't seen for years or perhaps people she totes didn't think would be sat opposite her. IMHO, she was just cute AF, and it looks like Twitter agrees:
Her low key tiny waves and tittering, indicating she is too warm by flapping her hand in front of her face is actually everyone's mum and I for one absolutely love her for it.
However, she definitely broke royal protocol when she ran over to two people who were sat waiting to see guests arrive, and (shock horror) hugged them. Guys this is where that funny pointing pic came from. fergie rushing to hug someone in the crowd. Aw I love this woman. Watch the clip below:
Such Fergilicious behaviour, if you will, from the slightly controversial ex-wife of Prince Andrew. Fergie, or Sarah Ferguson as she is more formally known, has proven to be a bit of a rogue since she joined the royal family after marrying Andrew back in 1986. The pair married after only a short while dating and they sadly divorced after two children and a decade of marriage. However, the pair have been an actual iconic vision of how to co-parent after divorce.
Personally, I've always totes love Fergie. And after watching her bring the LOLs and being lovably eccentric at Eugenie's big day, my soft spot for her just got bigger.