Sarah Ferguson Sent A Revealing Letter To An Instagram User About Eugenie's Wedding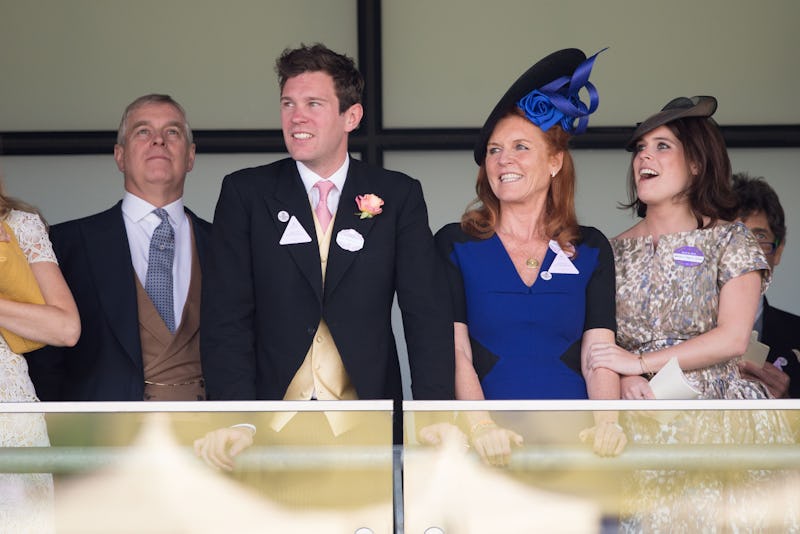 Shutterstock
The next royal wedding of the year is almost here, and I'm still on high alert for the smallest of hints regarding the big day. And thanks to my royally-inclined searches on Instagram, I have come across such a beautiful gem. No, it's not a peak at the dress nor is it a conformation that George and Amal Clooney will be rocking up to Windsor for a second time. Instead, it's a beautiful tribute from Sarah Ferguson to Eugenie and Jack that was sent to a royal fan on Instagram.
The page, @royalseuropaletters, began after the birth of Prince Louis in April, and most recently received a reply from the Duchess of York after sending a letter of congratulations to Eugenie and Jack.
Sent via a card with one of the many official engagement photographs of the couple, Sarah's reply is typed and reads: "Thank you so much for your thoughtful letter and kind wishes. It is wonderful to see and be a part of such great and happy news," Ferguson wrote.
"As you may well guess we are all very excited and thrilled to welcome Jack into our family," Ferguson she continues. "Eugenie and Jack make a beautiful couple: full of love, kindness and fun. They light up the room when they enter. We are so lucky that they found one another.
"Thank you for your kindness and loyalty over the years." How much more precious can she get?
Quite a lot more, actually.
For starters, Sarah's own Instagram — @sarahferguson15 — feed is full of love for her daughter and son-in-law, including a stream of beautifully personal photographs accompanied by heartfelt quotes directed at the happy couple when they first announced their engagement earlier this year.
Sarah then went onto pen a warm message of congratulations to her daughter and future son-in-law — aptly nicknamed "Jack The Man" — in Hello! magazine, a few days after the engagement. From the sounds of it, she's pretty damn proud of her daughter's relationship.
"When you walk into a room, you bring smiles to the faces of all who meet you. You both exude kindness, love and goodness. You have beautiful manners and go the extra mile to all who meet you. I was so proud of your pure love and joy shining through the press and television on Monday," Sarah wrote.
"Thank you for always making my day brighter and the laughter and happiness you bring to Papa, Beatrice and myself. The York family embraces the magic of Jack totally. Exciting times ahead. It is wonderful to see and be part of such great and happy news."
The Duchess also appeared as a guest on The One Show in August, where she continued to gush about the couple: "Jack and Eugenie are very contemporary, they are very inclusive, and they are all about love, and they want this wedding to be about that — to include everybody and to really absorb the love they have found for each other with everybody else."
She also gave a hilarious insight into the daily life of the York family, from sharing her excitement that Jack is "the European Manager for Casamigos Tequila", but also teasing him as he shares his name with the family dog.
"This is where Andrew's brilliant, you see, because he says 'Jaccck get off that chair!' Jack, son-in-law Jack, jumps up and says 'Argh what have I done now?' Then we all said, 'No, no that Jack!'"
Oh, what I would give to live a day with the York family. At least we'll see a glimpse of the hilarities that are bound to ensue between Sarah and her daughters on Eugenie's big day.