Fergie Sang The National Anthem At The NBA All-Star Game & The Reactions Are BRUTAL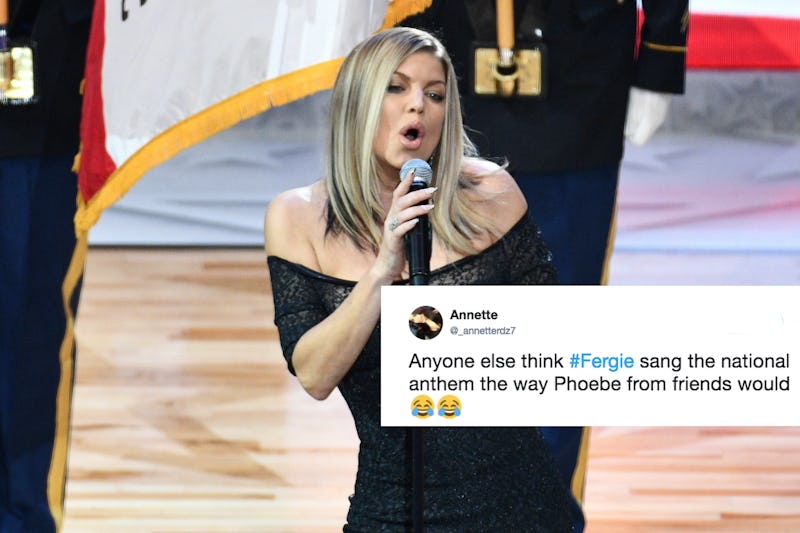 Allen Berezovsky/Getty Images Entertainment/Getty Images/Twitter
It takes a lot to eclipse one of the most-anticipated night in sports, but Fergie singing the national anthem at the NBA All-Star Game managed it. The former Black Eyed Peas singer turned in a jazzy rendition of "The Star-Spangled Banner" at Sunday night's game that left many fans scratching their heads. While there isn't just one way to sing the anthem, Fergie took some — let's say controversial — liberties with the performance.
You see, the singer adjusted the rhythm, tweaked many of the vowel sounds, left off some consonants, and added some scatting in unusual places. All of which were changes that had many in the stands and on the court breaking into outright laughter, which is still kinder to the reactions that can be seen all over Twitter. All in all, she took one of the most recognizable songs in the United States and made it almost unrecognizable, and the internet is not letting her off the hook for it.
At first, the singer seemed like a natural choice to many to perform at Sunday night's game. As the announcer reminded the crowds during Fergie's introduction, she's an eight-time Grammy winner and hails from California, where the All-Star game was held. It's shoulda-coulda-woulda been a perfect fit. But almost immediately, there were signs that this wouldn't be your average national anthem. The way that Fergie slinked up to the microphone was more reminiscent of a performance in a cabaret than on a basketball court. And, after the first few notes, that confusion only deepened.
"What so proud-lay way haiiiiled," the 42-year-old crooned into the microphone, as the camera panned slowly over the players, stopping for almost too long on the Golden State Warriors' Steph Curry, as if daring him to laugh. He passed the test, but his teammates and other members of the crowd weren't so lucky.
Of course, Twitter users were much less concerned about holding things in. Almost as soon as the broadcast began, they were tweeting their displeasure, and they haven't slowed down since. Folks joked that she made Klay Thompson's ear bleed, that the anthem was a form of protest, and that this anthem is what we deserve in the current political climate. And much, much more, because, as we all know, Twitter is never more creative than when it's dragging a celebrity.
1. This Savage Image
Fergie's rendition wasn't nearly that bad, but the hyperbolic image is hilarious.
2. This Rescinded Invitation
Not that Fergie strikes any of us as a singing-at-the-cookout type, but...
3. This Classic Gif
There's never a bad time to break out this gif, and this definitely wasn't a bad time.
4. This A+ Reference
Now that you've seen it, you absolutely cannot un-see it.
5. This Political Protest
Could it be that the jazz rendition was done on purpose? Was this Fergie's own form of protest? OK, probably not, but it's still a funny idea.
6. Well...
Which, sadly, wasn't all of them.
7. This New Meme
It speaks for itself.
8. This Harsh Fact
Just wait for it.
9. This Truth
If Fergie is indeed out there scoping out the vibe, trying to see if it's safe for her to make a triumphant return to social media, this should maybe be an indicator that the answer is "not quite yet."
However, there is also a silver lining to the poor reception of her performance; as an artist, you want your work to be noticed, right? Maybe not with quite the level of scorn that this take on "The Star Spangled Banner" is meeting with, but at least people are talking. Not everyone is going to like everything you do, but Fergie got out there, gave it a big swing, and oozed confidence throughout the performance, which is its own kind of victory.
This is a hard fall, but Fergie is in the midst of a long career, and she's been knocked down before. Every time, she's gotten back up again, and this time will likely be no different. And in the meantime, "Let's play some basketball!"