The Internet Absolutely Cannot Handle Fifth Harmony's "Angel" Music Video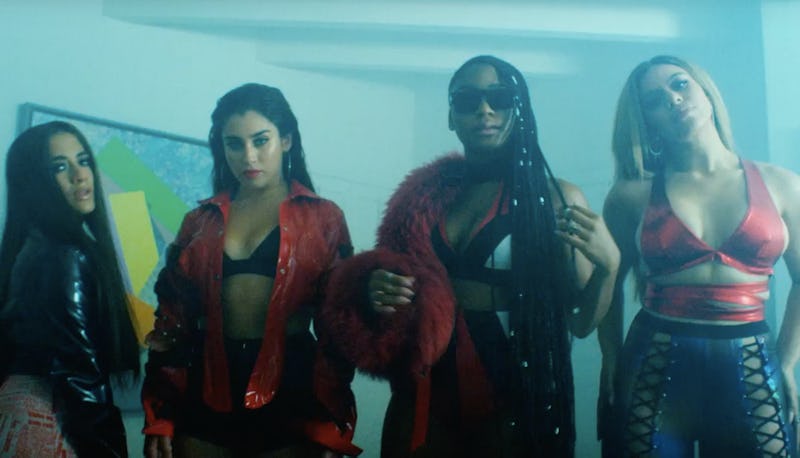 FifthHarmonyVEVO on YouTube
Well, we definitely didn't see this one coming. With the surprise arrival of their new music video "Angel," Fifth Harmony has literally sent Twitter into a complete meltdown. As the foursome gears up to release their first studio album since Camila Cabello's departure from the group last year, fans have been paying close attention to every move from the newly minted quartet. While many may have questioned their ability to successfully move forward sans Cabello's contributions, "Angel" seemingly swoops right in to crush any doubt about their ability to survive as a party of four.
Right off the bat, it's clear to see that "Angel" symbolizes a change for each and every member of the platinum-selling group. The air of badass feminism and solidarity that seems to have come over them is remarkable and certainly like nothing fans have ever seen from them in the past. Their new style is distinctively edgy, and their stance powerful and domineering as they seem to hold absolutely nothing back in the vid. It most definitely challenges the notion that the group may have had something to prove and signals an evolution which confirms that Fifth Harmony is in this thing for the long haul.
And fans are responding well, taking to Twitter to share their thoughts about the group's kick-ass return and making the #AngelVideo a trending topic on the social media platform.
1. They Did That!
One user made note of each individual member's impressive style change, as one should.
2. They're Lyrically Gifted
Another pointed out some of the very feminist lyrics from the single, while sharing the line, "Way too young to be up in handcuffs."
3. They're Serving Up Slayage
Many set their sights on the group's updated hairstyles, particularly Normani Kordei's glammed-out braids.
4. They're Pinnacle Pop Stars
One fan called "Angel" the best song and music video @FifthHarmony has ever released, and, honestly, that's valid.
5. They're On Point AF
Another Twitter user also vouched for the video's greatness, calling out the best attributes from the offering.
6. Four > Five
Addressing the elephant in the room in reference to Cabello's departure, one user joked about the now solo artist's departure.
7. G.O.A.T. Group
Referring to 5H as the "biggest girl group of the decade," one fan asked others to support the new video.
8. Dinah Came To Slay, Not Play
This tweet acknowledged that Dinah Jane is not playing any games in this video.
9. They Deserve Kudos
Excited about the release, this fan commended the group on a job well done.
10. Doppelgänger Divas
Some commented that Ally Brooke looked a lot like Ariana Grande in the new visual.
11. The Baddie Bunch
Taking notice to the badass-ness of the entire video, this fan expressed her love for the whole group of gals.
The evolution of Fifth Harmony is officially upon us, so feast your eyes because, quite frankly, it doesn't get anymore #SquadGoals than this.